Graveyard Pudding
Anyone out there needing an idea for a spooky and delicious Halloween treat? You've come to the right place! This Graveyard Pudding treat is a blast to make and they're sure to be a hit for parties and at home. Everyone can help make this pudding full of bones, tombstones, eyes, spiders, and fingers! You can even lay everything out and have each person create their very own graveyard pudding; this can be a fun family activity or a perfect addition to your Halloween party plan! There are so many ways to enjoy this fun and festive dessert you may have to try them all…just to be sure you know which one is best!
Ingredients:
1 package of Oreo cookies
1 box of chocolate instant pudding
1 package of PEEPS tombstone
Wilton's candy bones and eyes
zip lock bags
parfait glasses
milk
Gummy spider candy
Large Candy eyes
Directions:
Separate the Oreo cookies remove the filling.
Put the Oreo cookies into a zip lock bag; seal the bag and using a rolling pin crush the cookie into small pieces
Following directions on the back of the box prepare the instant pudding.
Begin to build the parfait buy putting a scoop of crumbled Oreo cookies on the bottom of the glass.
The second layer is a spoonful of chocolate pudding.
The third layer is more crumbled Oreo cookies.
Top this off with the tombstone, bones, and eyes.
Keep in the refrigerator until ready to serve.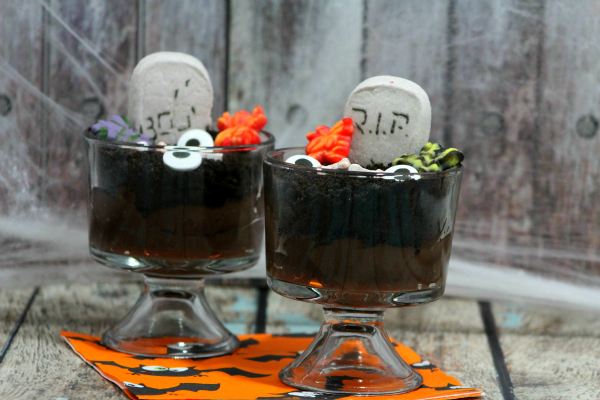 RELATED: Mickey Mouse Jack Skellington Cupcakes, Halloween Dirt Pudding Cups
Hocus Pocus Movie Night Ideas