Looking for the perfect Halloween dessert for adults? These Zombie Adult Pudding Cups are just what you are looking for. Simple dirt pudding cups with Vodka Gummy Bears or in this case worms, on top, and zombie hands reaching out of the grave.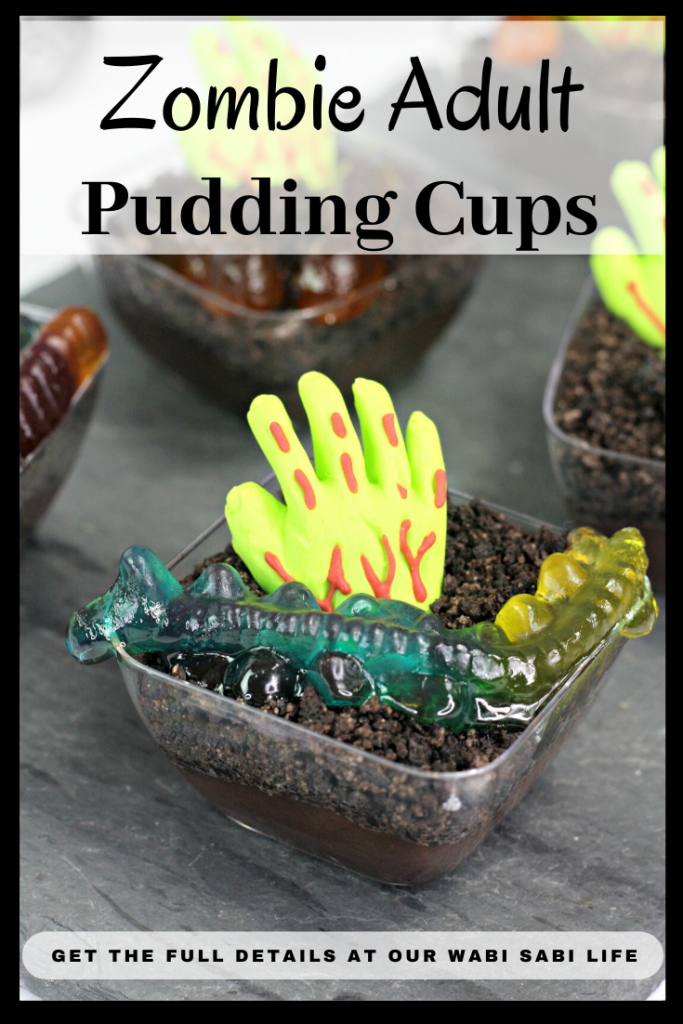 Zombie Adult Pudding Cups
For most people, they think of pudding cups, also known as dirt cups, as a kid's dessert. Not with this recipe. This is a simple dessert that uses Jello pudding cups and then topped with the Oreo dirt with Zombie hands. So far this is still a dessert that kids can enjoy. However, then you will be topping the Halloween pudding cup with gummy worms soaked in Sour Apple Pucker.
How Long Halloween Pudding Cups Last
Once you have made these Halloween pudding cups, it is best to eat them that day or the next day. However, if you cover the Halloween pudding cup well, you can store it in the refrigerator for up to 3 days.
Can I freeze these Halloween cups
You can make these cups ahead and store them in the refrigerator, but you can also freeze them. If you plan to freeze the cups, you want to make sure you use freezer safe containers from the beginning. You do not want to move the pudding from the cups to a freezer bag or another container because it will mess up the look of the pudding cup.
Can Kids Eat These Adult Pudding Cups
While the kids can eat the pudding cup, the reason these are adult pudding cups is because of the vodka gummy worm that is on top. If you want to make these Halloween pudding cups ok for kids. Follow all the steps until it is time to add the worms. Set the kids' ones aside and then make the rest for adults.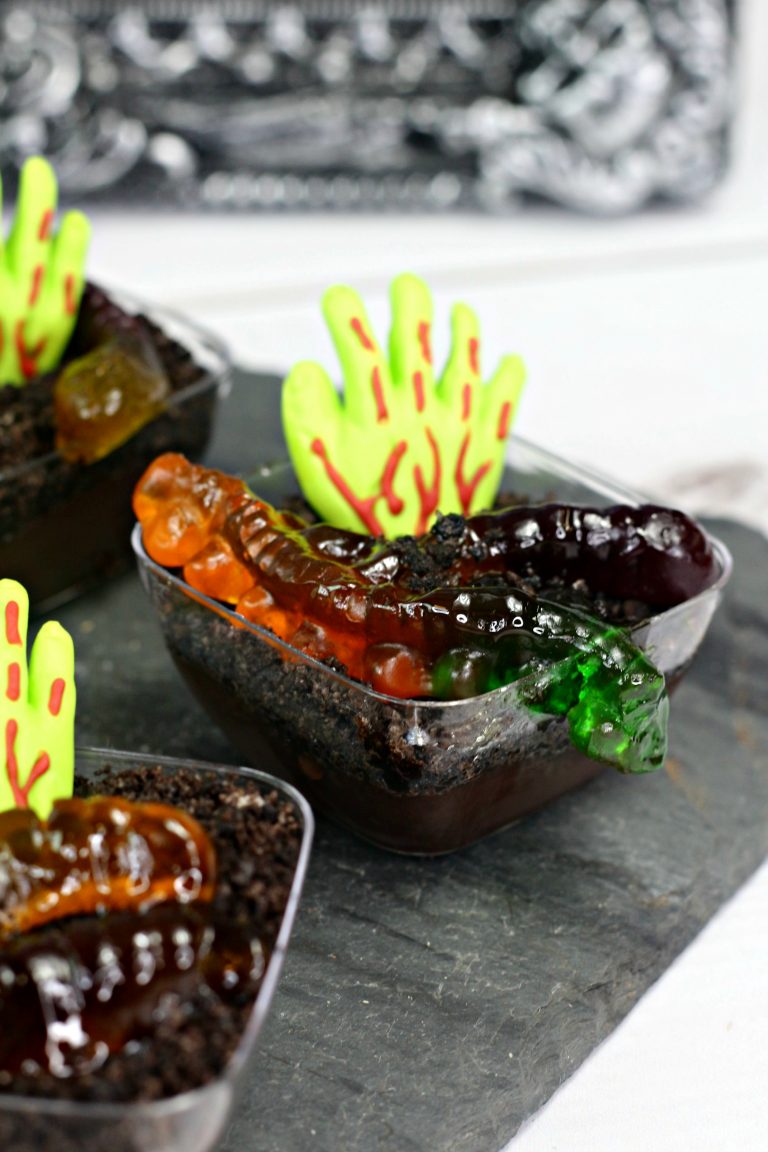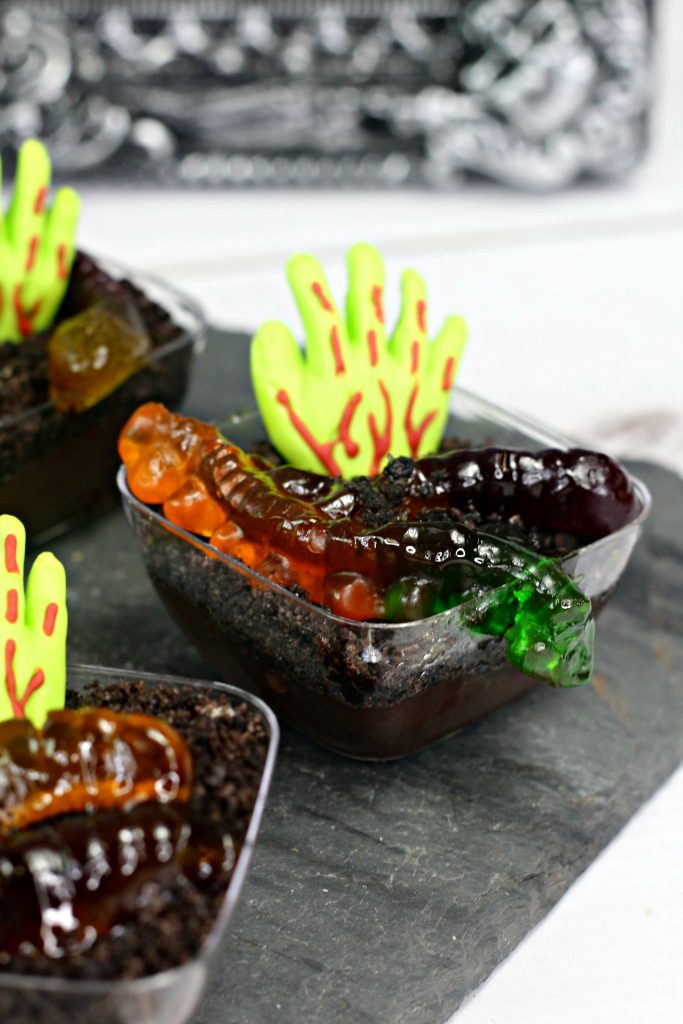 What do I use to make the dirt cups
The dirt on top of dirt pudding cups is made from Oreos. You crush the Oreos, usually in a food processor, into a sand consistency in order to spread it over the top.
Do I have to use chocolate pudding cups
Most people use chocolate cups when making any kind of dirt pudding cup because it looks like mud or dirt. You don't have to, however. If you want to make these dirt cups but want to use another flavor other than chocolate, you can. Use your favorite flavor. If you want to bottom to still look like dirt, you can color the outside of the Jello pudding cup or you can wrap it in black construction paper.
Having a Hocus Pocus Part?
if you love Hocus Pocus, like I do, you can use these zombie pudding cups as part of the party. These are perfect for Billy Butcherson, the zombie who helps the kids in the movie. Use the pudding cups as part of the Hocus Pocus drinking game and pair it with the Easy Witch Hat Cookies.
More Hocus Pocus Recipes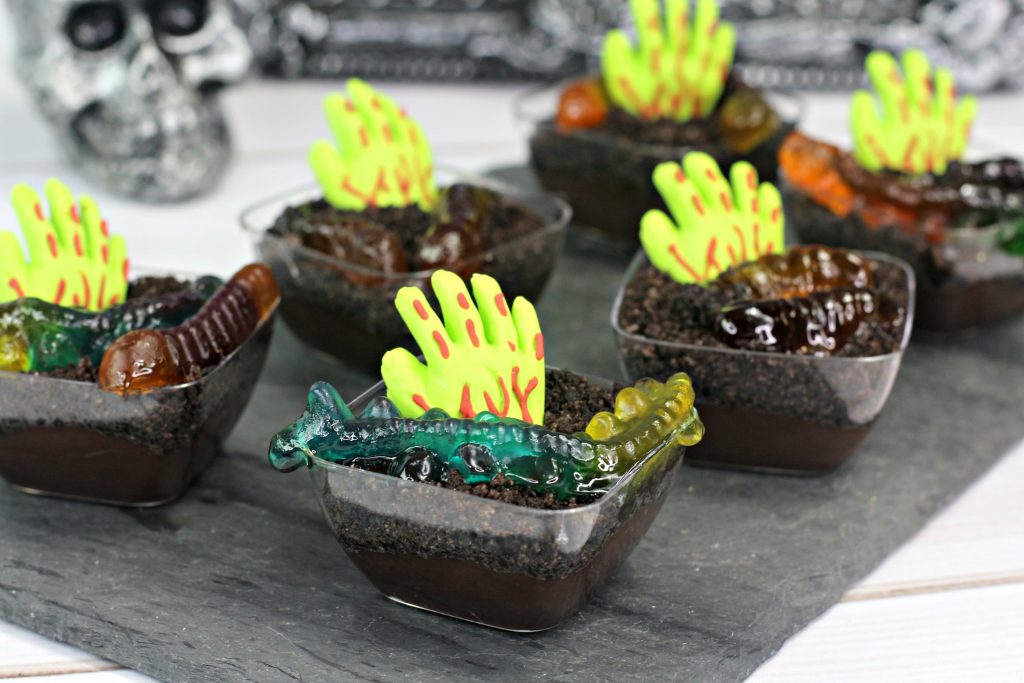 Ingredients in Zombie Adult Pudding Cups
How to Make Adult Dirt Cup
Place your Oreos in a sealable bag and smash into bits.
Scoop your pudding into the snack cups only 3/4 of the way full.
Add your crumbled Oreo's on top.
Add the liquor worms on top along with the candy zombie hand.
ENJOY!!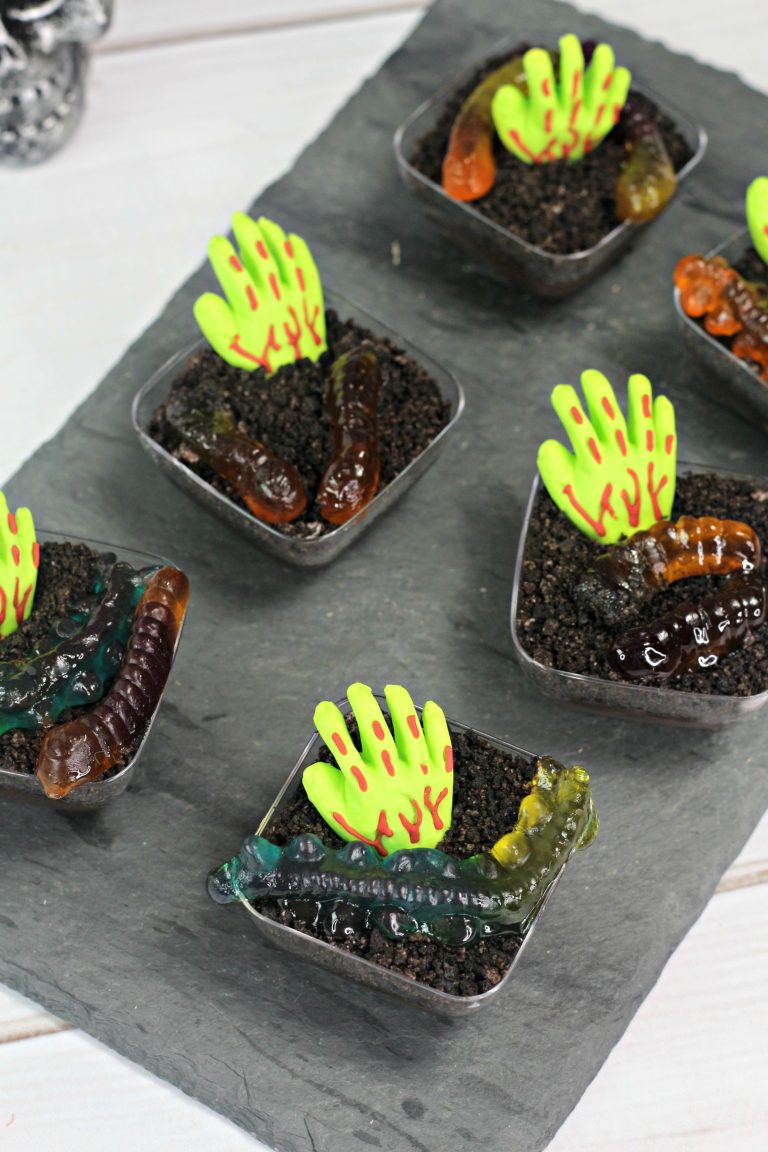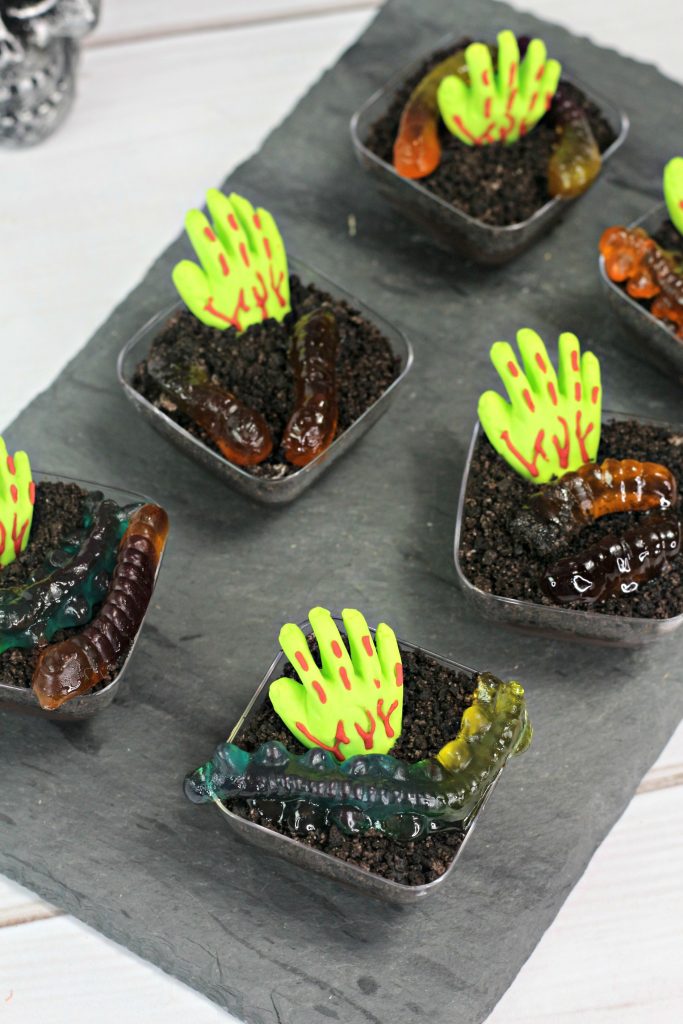 More Dirt Cup Ideas
More Halloween Cocktail Ideas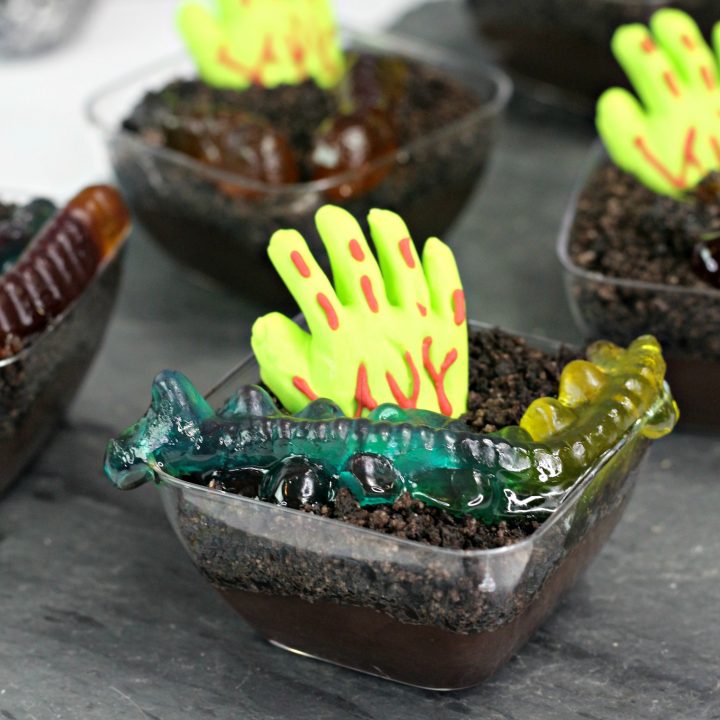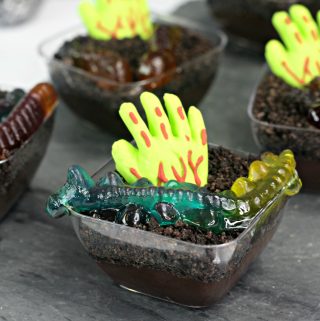 Zombie Adult Pudding Cups
Looking for the perfect Halloween dessert for adults? These Zombie Adult Pudding Cups are just what you are looking for.
Ingredients
2

snack size pudding cups

Crumbled Oreo's

Wilton Zombie candy hands

Small plastic snack cups
Directions
Vodka gummy worms

2 snack size pudding cups

Crumbled Oreo's

Wilton Zombie candy hands

Small plastic snack cups