Have you heard of the Hocus Pocus Drinking Game? You are going to love this adult drinking game that is perfect for Halloween. Gather your friends, put on Hocus Pocus and have some fun.
The Hocus Pocus Drinking Game for Adults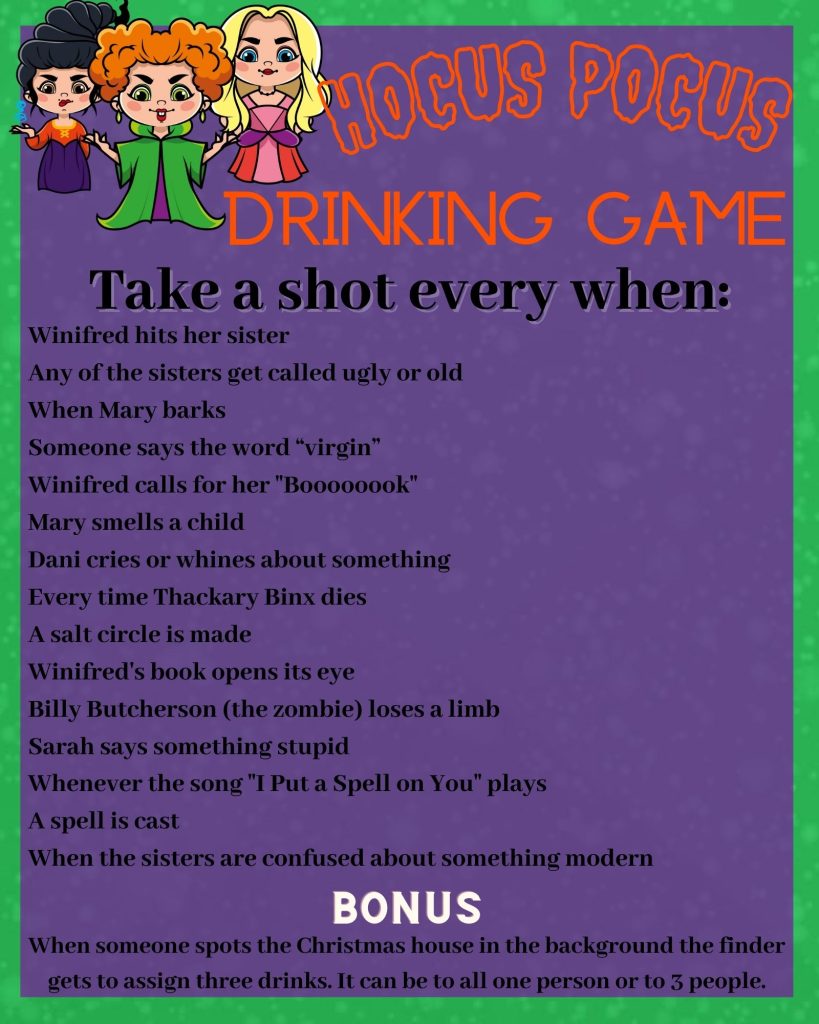 Hocus Pocus is a cult classic when it comes to Halloween. It is a fun movie that we remember from being kids that we are now introducing to the next generation. So whether you are a long time fan of the movie or this is your first year watching it as an adult, you are going to love this Hocus Pocus Drinking game. Based on different things that happen in the movie, everyone watching has to drink a shot or a beer at different intervals.
How to Play the Hocus Pocus Drinking Game
I like to use this Hocus Pocus Halloween Alcoholic Punch when we play. It is a great tasting fruity drink that is easy to make a large batch ahead of time. You can play this game with any of these cocktail recipes or using beer, or whatever drink you like.
Take a shot every time
Winifred hits her sister
Any of the sisters get called ugly or old
When Mary barks
Someone says the word "virgin"
Winifred calls for her "Boooooook"
Mary smells a child
Dani cries or whines about something
Every time Thackary Binx dies
A salt circle is made
Winifred's book opens its eye
Billy Butcherson (the zombie) loses a limb
Sarah says something stupid
Whenever the song "I Put a Spell on You" plays
A spell is cast
When the sisters are confused about something modern
BONUS: When someone spots the Christmas house in the background, the finder gets to assign three drinks. It can be to all one person or to 3 people.
I have included a printable version of this Hocus Pocus Drinking Game printable. Print it out to make it even easier to play along.
Hocus Pocus Movie Night Ideas