This shop has been compensated by Collective Bias, Inc. and its advertiser. All opinions are mine alone. #LoveDoveFruits #CollectiveBias
I have been trying to eat better this year. It can be such a challenge. Between the kids wanting special treats, birthdays and special occasions and just trying to resist all the goodies everywhere, this chocoholic struggles. I know it will be worth it, I always feel better when I eat better, but that doesn't make it any easier. In the past, whenever I would try to eat better, I would try an all or nothing approach. You know, where you feel like you have to give up everything that is even remotely bad for you in order to feel like you are succeeding in eating better. I always tend to fail when I do this. I just love sweets way to much. I do good for a little while, and then I get a taste of something "bad" and then forget it, all is lost and I am down this awful slope of eating everything bad in sight because it might be months before I eat it again. This year, I decided that I would not do that. I would make sure to treat myself often but with something that is a slightly better choice. That is how I decided to make this frozen yogurt, using DOVE® Chocolate Fruit & Nut products as add ins.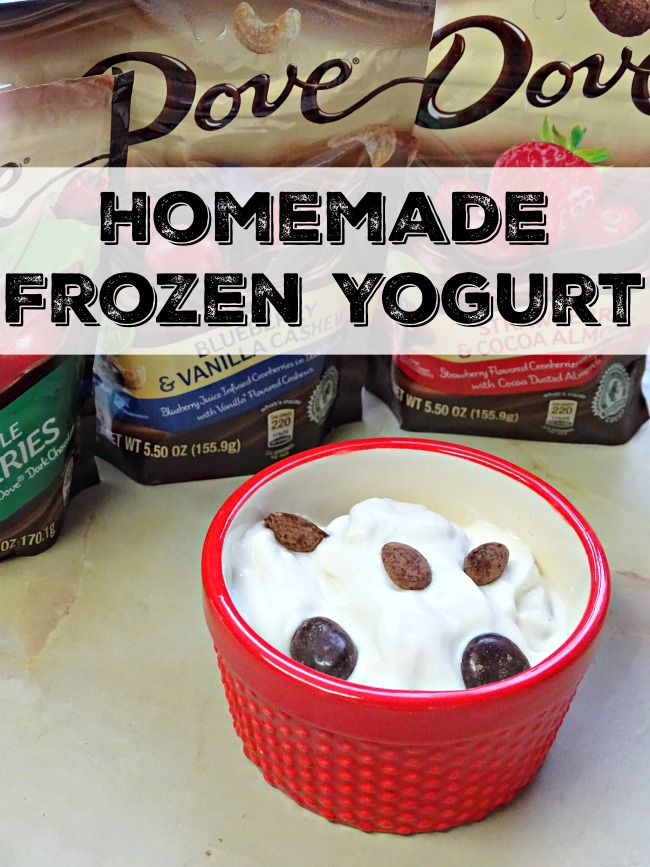 My frozen yogurt is actually just Greek yogurt that is frozen. Greek yogurt is a great snack because it is low in calories and is high in protein. To make the frozen yogurt even more special, I like to add in DOVE® Chocolate Fruit & Nut choices that I found at Walmart. There is a coupon to save $1 when you buy 2.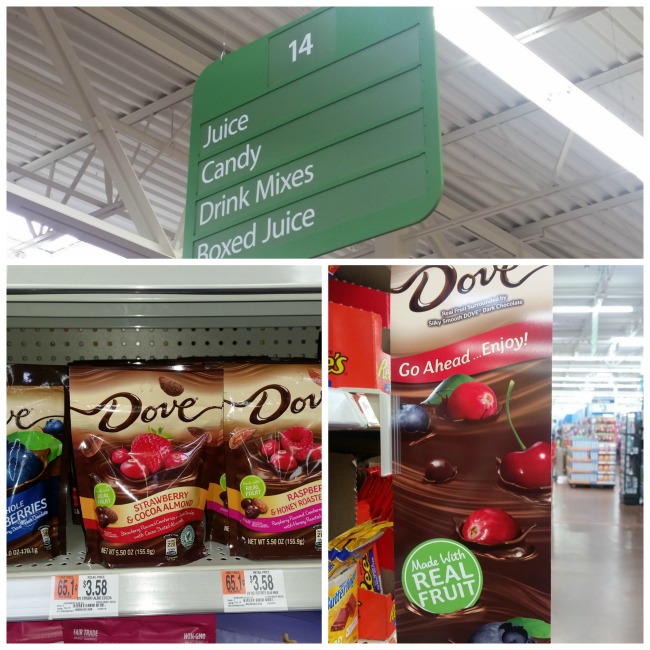 The DOVE® Chocolate Fruit & Nut choices feature tasty real fruit covered in dark chocolate. They make a great snack all on their own. Since I often times get those sugar cravings in the late afternoon when I am working, I can use the DOVE® Dark Chocolate Cherries as to give me an added boost to get through the afternoon. I feel like I am getting a special treat that I can have a few times a week without feeling like I have derailed all of the good choices I have made so far.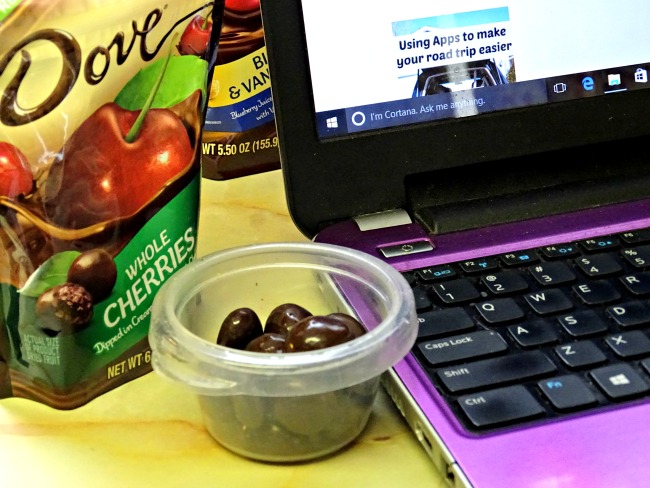 To make my homemade frozen yogurt, first decide what kind of yogurt you are using. I prefer vanilla, fat free Greek yogurt. This is all personal preference. If you find the yogurt is no as sweet as you would like, use honey or agave nectar to sweeten it. You can also use an artificial sweetener to sweet it without adding in extra calories but I prefer to not use those because they give me headaches. When I add in the extra topping like, DOVE® Dark Chocolate Strawberry & Cocoa Almond and DOVE® Dark Chocolate Blueberry & Vanilla Cashew, I find that the yogurt is better when it is not sweetened.
Ingredients:
1 cup yogurt- Any type will work. I prefer Vanilla Fat Free Greek
1/4 or to taste of DOVE® Chocolate Fruit & Nut, your choice of flavors
Honey or agave to taste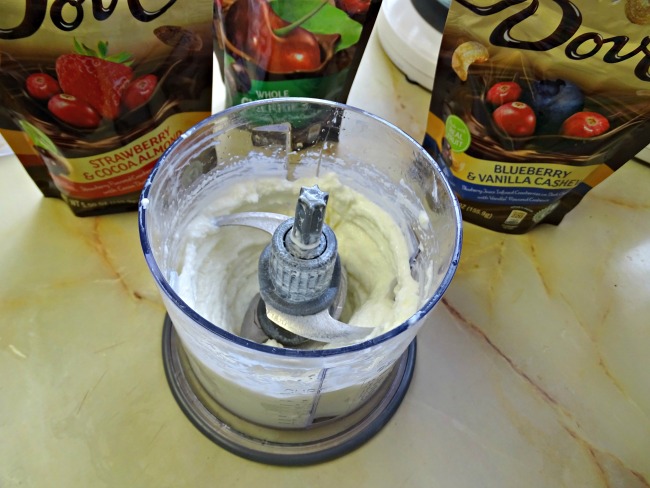 Add the yogurt into a bowl that can be frozen. Once it is frozen, take it out and put it in a food process, blender or use an immersion blender. This takes the yogurt and makes it creamy like store bought frozen yogurt.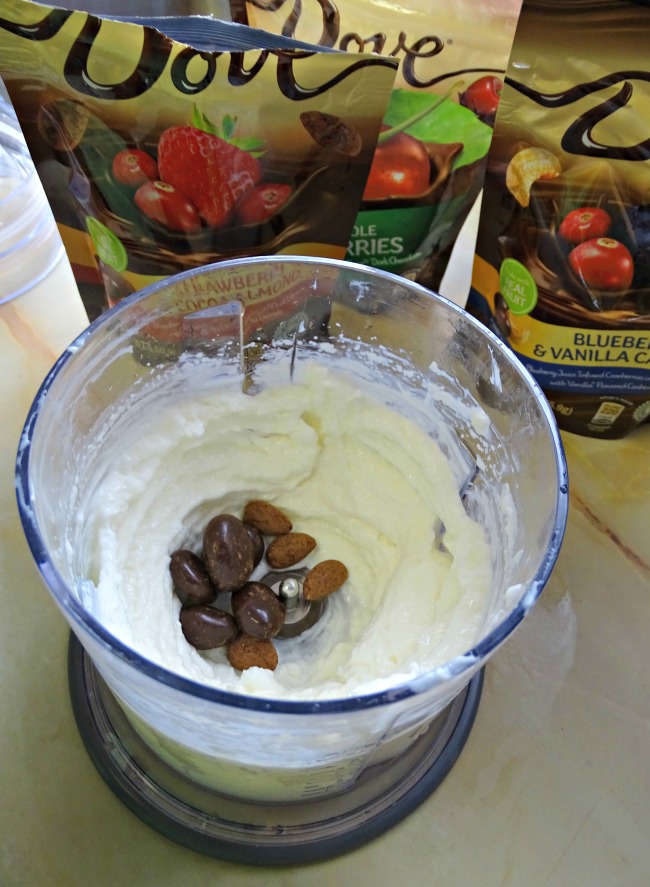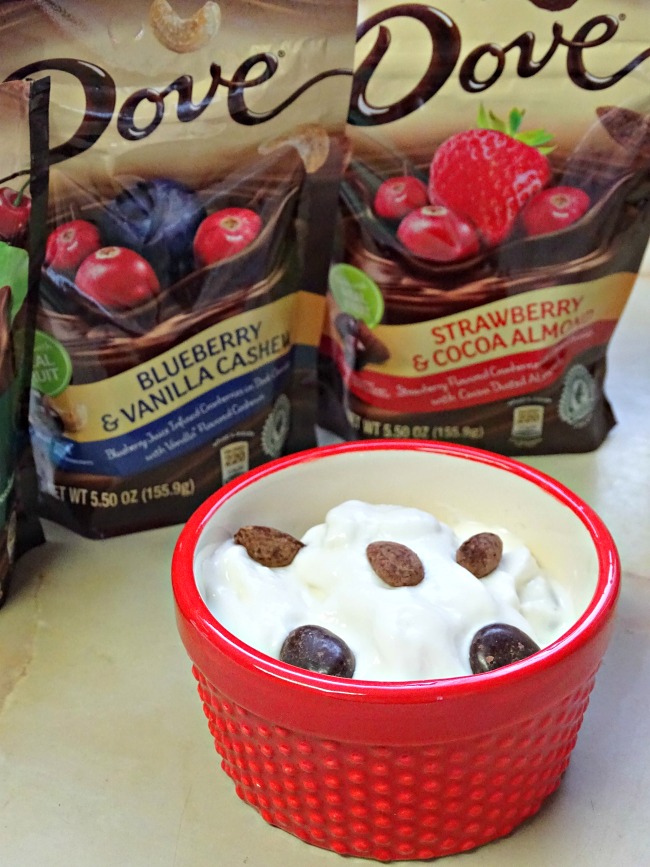 Once it is creamy and blended, add in some of your favorite DOVE® Chocolate Fruit & Nut. My favorite flavor to add in is DOVE® Dark Chocolate Strawberry & Cocoa Almond. Although, all of the flavors taste great together. I like to fold these in after it is blended because I want the pieces to stay whole.
The sweetness of the the chocolate covered fruit and the crunch of the cocoa dusted almonds tastes great with the creaminess of this homemade frozen yogurt.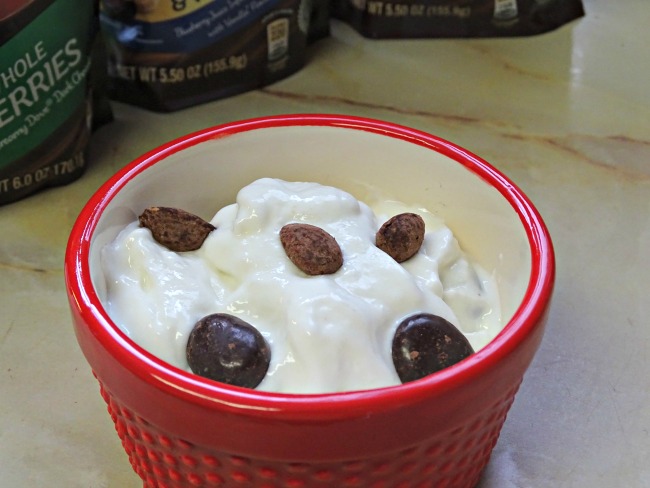 Homemade frozen yogurt with DOVE® Dark Chocolate Strawberry & Cocoa Almond is a simple way to create a treat for myself that lets me stay on track with my eating but also feel like I am not missing anything.
More Delicious Ice Cream Recipes