Thank you Beyond Meat for sponsoring this recipe.
Tacos are one of our favorite foods. We eat them all the time. But I know that eating meat all the time is not the best. It is not great for my health and it isn't great for the planet either. So, a few years back I decided that at least 2 times a week, I would replace our dinners with a meatless meal. For a long time, meatless meal nights meant salad, pasta or stir fry. And the kids started to complain.
I started using meat substitutes and the kids were much happier. But I have found that not all alternatives are created equal. I recently discovered Beyond Meat Beefy Crumbles. The Beyond Meat belief is "We believe there is a better way to feed the planet."
Their mission is to create a mass-market solutions that perfectly replaces animal protein with plant protein and not soy. They are dedicated to improving human health, positively impacting climate change, conserving natural resources while respecting animal welfare.
Beyond Meat Beefy Crumbles are Soy Free because they are made with 100% pea protein. They are Gluten Free, and Kosher. They contain 10g of Protein, which is the same as ground beef, but have No Cholesterol, Saturated or Trans Fat, unlike ground beef! It comes in two flavors: Beefy – A hint of garlic and citrus makes this perfect for pasta sauces, pizzas and more and Feisty – A zesty blend of beef crumbles perfect for tacos or chili!
I decided to give the Beefy flavored Beyond Meat a try to make my favorite Mocko- Taco Salad. This is a recipe that a friend shared with me when she decided to become a vegetarian and needed something that felt like "real" food and stored well in the fridge. Mocko Taco Salad Recipe is perfect.
Mocko Taco Salad Recipe: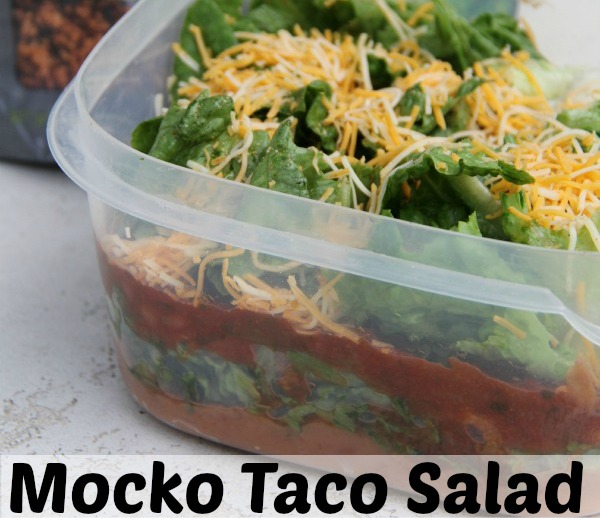 Ingredients:
Romain lettuce- You can use iceberg or what ever your favorite lettuce is.
Re-fried beans: If you are eating vegetarian, you can get these vegetarian. There are usually several options. I recently found ones with chilis in them and this added a great little kick.
Salsa: Any kind you like.
Taco Seasoning: You can make your own or use a packaged brand. When I use a prepackaged type I use half an envelope
Beyond Meat Beef Meat Alternative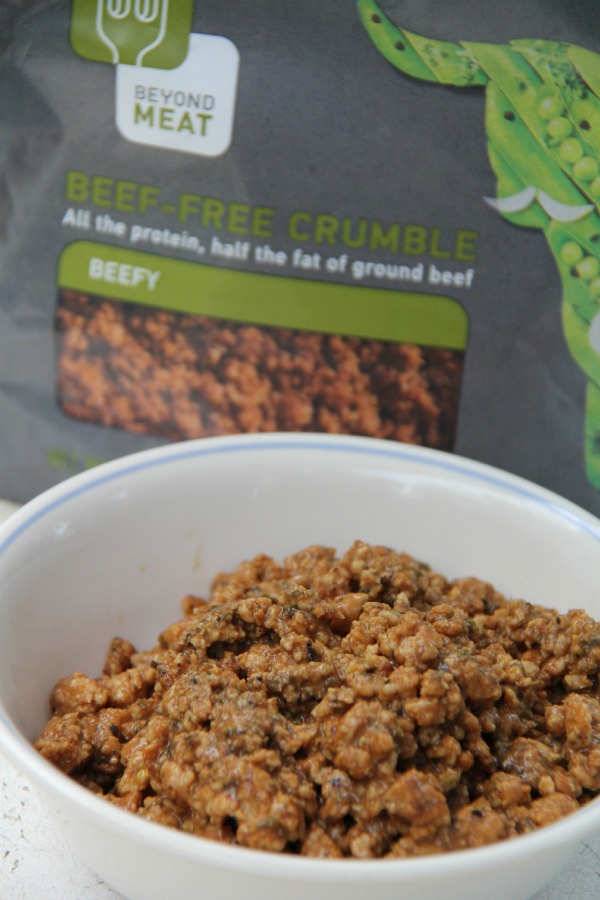 Cheese, optional
Directions
Start by washing and chopping your lettuce.
Mix the Beyond Beef Crumbles with your taco seasoning.
In a container, add half the can of refried beans. Spread it across the bottom.
Add in half of the jar of salsa.
Add in a nice layer of lettuce.
Spread the crumbles over the lettuce. I choose to use all the crumbles in this layer so that there is only one layer of crumbles but 2 of everything else.
Repeat the layers.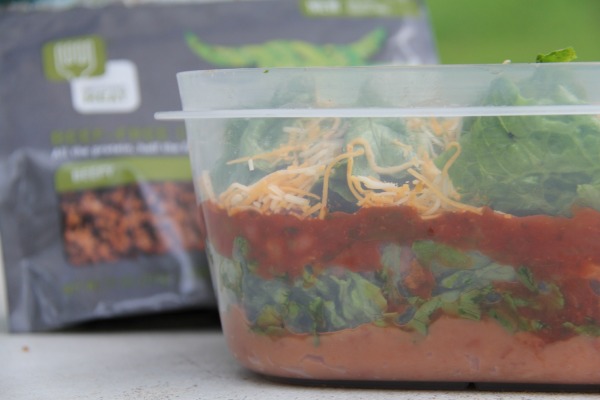 If you want to add cheese, to make it feel and taste like tacos, add it to the top.
Serve with chips. You can use regular potato chips or tortilla chips.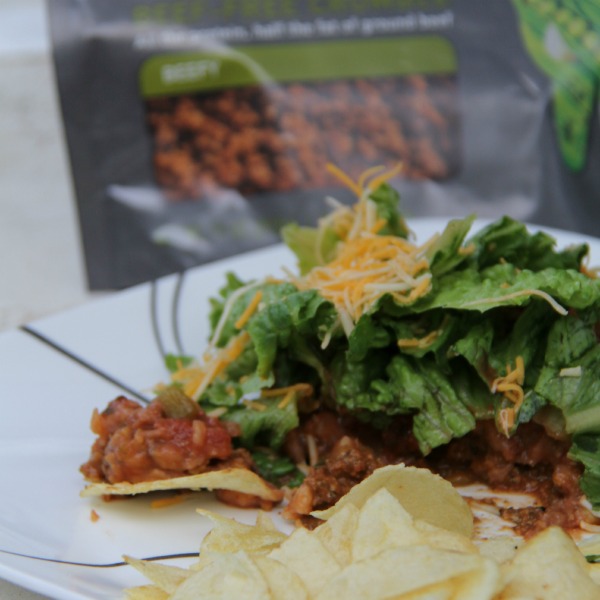 The Beefy Flavored Beyond Beef Meat Crumbles is one of the kids favorites. They love the texture and could barely notice that it was a meat alternative, except that Mocko Tacos something that I only make with meat substitutes. Beyond Meat is available in stores in the freezer section.
Beyond Beef has a great giveaway going on.
EVERYONE who enters will receive a FREE BeyondMeat Coupon! 5 people will get Beyond Meat SWAG kits including t-shirts, hats and coupons for Beyond Meat, and 1 Person Gets: a SWAG kit plus a $100 gift card to a Beyond Meat Retail Partner of their choosing.