Moon Dough is the perfect solution when you are looking for something fun and easy for the kids to do! This soft play dough recipe is made with just 2 simple ingredients, and it doesn't require any cooking.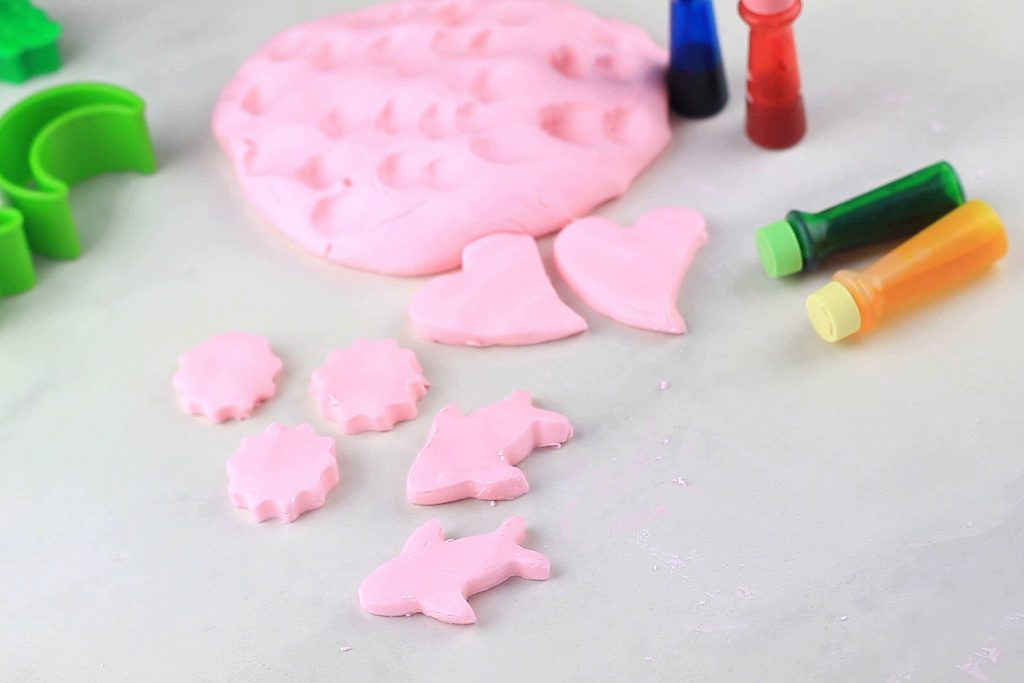 Instagram is one of my favorite places to be. Join us as we share our Perfectly Imperfect Life with recipes, crafts, parenting, and fun! Be sure to check out our stories for real-time fun!
Homemade Moon Dough
Moon Dough is the perfect toy for imaginative kids! This no cook, soft play dough kids can create anything they imagine. The possibilities are endless!
Moon Dough is a great way to keep kids entertained for hours on end. It's also a fantastic way to help them learn and explore their creativity.
This no cook, soft play dough is more than just a fun activity – it also helps promote creativity and imagination in kids. With this dough, they can create anything their heart desires. From animals to planets to cars, the possibilities are endless.
What is Moon Dough?
This 2 ingredient homemade play dough recipe is perfect for kids of all ages. It's super simple to make, and the end result is a soft, pliable dough that can be used for hours of fun. Moon Dough is also non-toxic and safe for young children to play with. However, it is not taste safe since it made using hair conditioner.
Why You Need to Make This Soft Homemade Play Dough
When it comes to making homemade homemade play dough, this is one of the simplest methods. This moon dough is so soft and pliable. Kids love to It is perfect for little hands to create. Kids love sensory activities and this one works as something the kids can get their hands into and enjoy the different scents depending on the scent of the conditioner or the essential oils you add.
Play dough is one of my kids favorite things to play with. It is great for kids who have sensory issues or just need a creative outlet. My daughters loves to roll it out, squish it and make things. I am always looking for a simple play dough recipe that is easy to make and doesn't cost a lot in ingredients. What I love about this Play Dough Recipe is I can get all of the ingredients from the dollar store.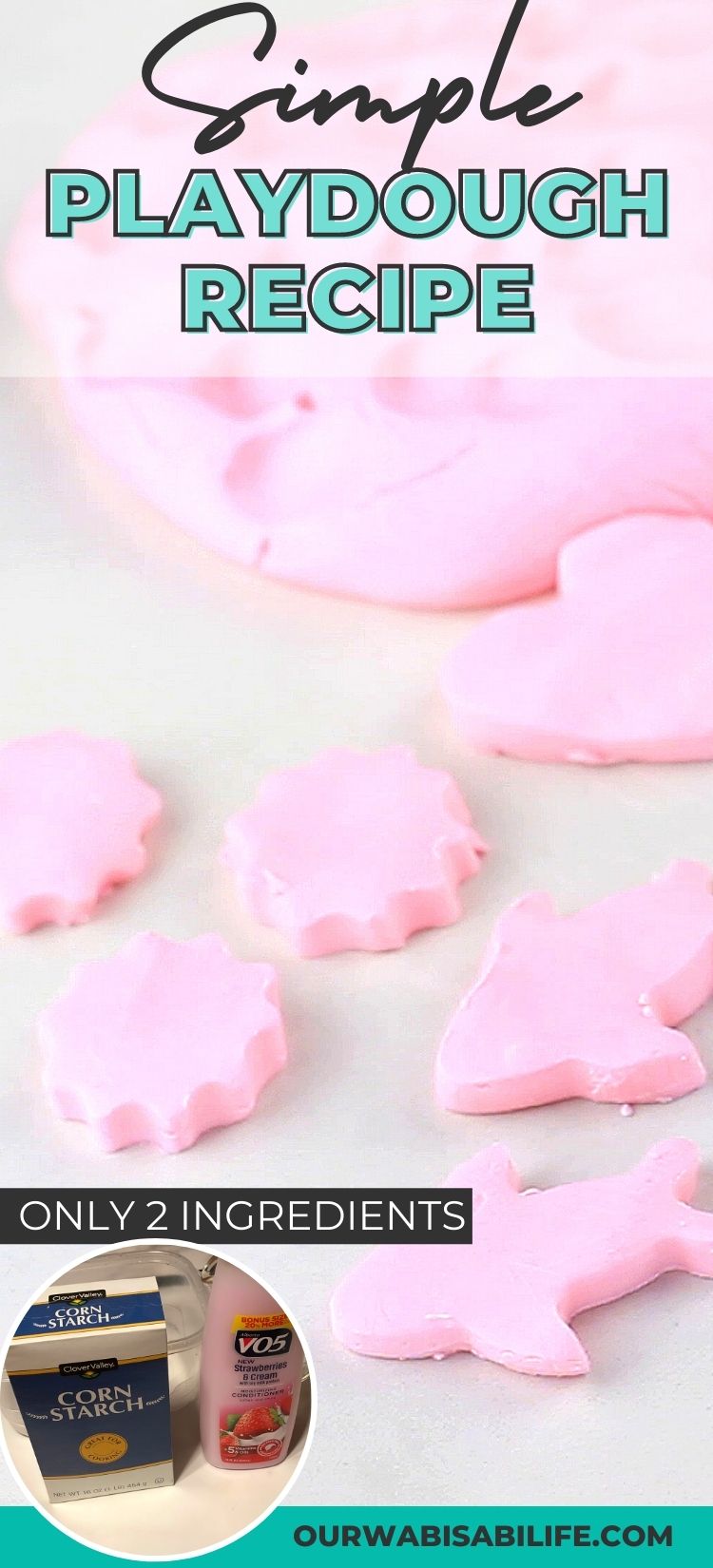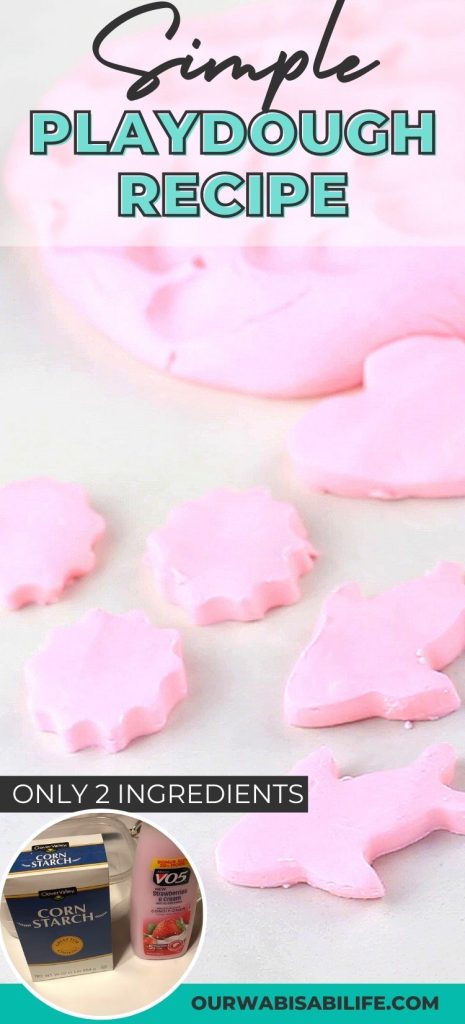 What is the Difference Between Moon Dough and Moon Sand?
Moon dough is a 2 ingredient no cook play dough. It is incredible soft, comes together easily and it doesn't need to be cooked. Kids will love combining the ingredients together and will love playing with it even more.
Moon Sand is like a crumbly sand that molds together. It is similar to wet sand or kinetic sand that doesn't have to be wet in order to mold together. It is made with flour and cup of baby oil.
Moon dough is gluten free. It is safe for families that need to avoid wheat and flour due to allergies or gluten intolerances, since it is made with corn starch.
Join Our Easy Budget Crafts Group to get even more great ideas and connect with others who love to craft.
How do you Make Playdough without Cooking?
This moon dough is made without only 2 ingredients, part conditioner and parts corn starch. You won't need cups of flour for this recipe. The cornstarch and the conditioner come together easily and kids can mix it themselves. Since these 2 ingredients are easy to work with, you do not need to cook the playdough.
How to Fix Dried Out Play Dough
Play dough is supposed to be soft because that is what makes it pliable. This is soft play dough that stays soft for about a week after you make it. If it starts to get dried out, to make it soft play dough again, simply add a little more conditioner. It is easy to rehydrate the playdough over and over again to keep it like soft moon dough.
What You Need to Play With Your Moon Dough
This soft play dough is easy to make. Because it is a play dough recipe that is no cook, it is a play dough recipe that kids can make almost by themselves. If the kids can measure, then the kids can make this Moon Dough by themselves.
Your kids will need a mixing bowl, measuring cups and spoons and a place to mix everything together.
When the kids are ready to play, give them things that you would use with playdough. Moon dough is great with spoons, rolling pins, butter knife or plastic knives. Kids love to use cookie cutters with the moon dough as well. I love these ABC cookie cutters. It is a fun way to play and learn their letters and numbers.
Moon Dough is play dough that is super soft and silky. The Moon dough is great to make when the kids are home for a snow day or a lazy afternoon when you need something that the kids need to be entertained.
How to Fix Sticky Playdough?
If the soft playdough starts to get to too sticky, you can fix it with more cornstarch. Sprinkle in a little more cornstarch and mix it in. If the playdough is still sticky, add in a little more cornstarch. Do this until the moon dough isn't sticky anymore.
How to Fix Dry Playdough
When the moon dough starts to dry out, add more conditioner to it. This will bring the dry play dough back to life.
How to Color the Moon Dough
You can leave the moon dough pale, without much color that it is when you mix the conditioner into the cornstarch. It will slightly tint the play dough. If you want to make vibrant play dough, you can add food coloring to to the mixture. I would start with 3 drops of food coloring to the mixture and mix it in. If you want the color brighter, add a bit more. I like to go slowly as I add in the coloring.
You can also make galaxy dough by using dark blues and purples. You can also make black dough. Add in glitter and keep everything together in a sensory bin.
Scenting the Homemade Moon Dough Recipe
I love the smell of this homemade play dough. It smells like the conditioner that we use. If you want a different scent or you are using a non-scented conditioner, you can add essential oils to the mixture. Add a few drops at a time until you get the scent the way you want it.
You can make this a calm down sensory experience by using a drop of lavender oil or add your favorite scents to make it more lively. You can scent this play dough to match the season by adding in things like pumpkin pie seasoning or just use something as simple as vanilla.
Need more crafty ideas for kids activities? These are fun ways for kids to stay entertained on a long afternoon. Glitter Slime, Bubble Wrap Slime, Valentine's Day Bird Feeder, Recycled Toilet Paper Roll Bird Feeders. Need more sensory play activities? Try Glow in the Dark No Cook PlayDough or 175 + Summer Crafts for Kids
How to Store Homemade Play Dough
You want to keep the moon dough in an airtight container. Use a container with a tight lid or sandwich bags, like zip-lock bags. If the playdough starts to dry out, you can add more conditioner to bring it back to life.
This is a great sensory play activity for your toddler, but it is going to get dirty. Once it starts to get dirty or a mess, you will want to make a new batch. With the new moon dough, you can try new colors, new scents or new add ins like glitter.
Tips for Making Homemade Moon Dough
This recipe for playdough is not taste safe. While it will not make kids sick, it is hair conditioner and should lot be tasted.
If the play dough is too sticky, add more cornstarch. If the play dough is dried out, add more conditioner.
Use your favorite essential oil or spices to scent the moon dough.
I get my ingredients at the dollar store. Don't waste money using expensive conditioner.
Ingredients for Cheap Play Dough
Conditioner
Cornstarch
Food Coloring optional
How to Make Moon Dough For Kids
Measure the cheap conditioner and the cups cornstarch.
Mix together in a large mixing bowl.
Once it starts to come together and changes in consistency, then mix by hand.
Continue mixing and kneading until the mixture comes together.
If it stays too sticky, add more cornstarch.
After a week, the Moon Dough will begin to dry out. Add more conditioner to soften.
Did you make your own moon dough? Come back and tell us what you think. Or tag us on social media to show off your pictures.