Looking for a fun Dr Seuss Treat that is perfect for a classroom or celebrating at home? Use this One Fish Two Fish Kettle Corn snack as a fun way to get everyone excited for Dr Seuss' birthday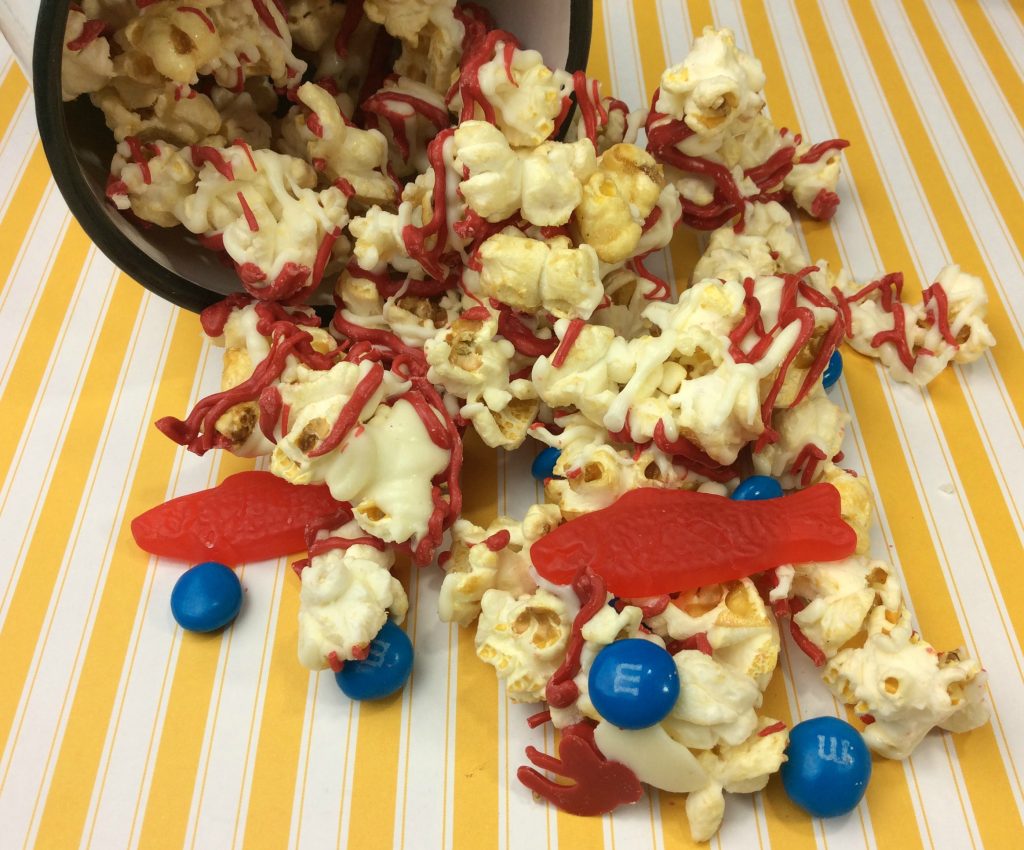 One Fish Two Fish Kettle Corn For Dr. Seuss's Birthday
You could even expand on this theme and use the recipe along with a dress-up day. Don outfits from your favorite Seuss books or do a silly mix-and-match and wear something from each of his books you love. That's just the kind of thing Seuss himself would love! It's wild, it's crazy, and it's colorful!
Perfect Dr Seuss Treat for Daycare or Schools
You can gather all your favorite books and read them with the children while you enjoy your snacks and consider renting one of the movies to watch with your popcorn. It will be a fun Seuss-sy day of it! This snack is also a great way to add excitement to reading and can make a long lasting memory for kids.
More Dr Seuss Snack Ideas
The recipe is easy to make and we have the step-by-step instructions below so all you need to do is gather your ingredients and get started. Celebrate the life and the books of Dr. Seuss and cook up some colorful fishy treats. You can combine it with the Green Eggs cookie recipe for multi-book fun.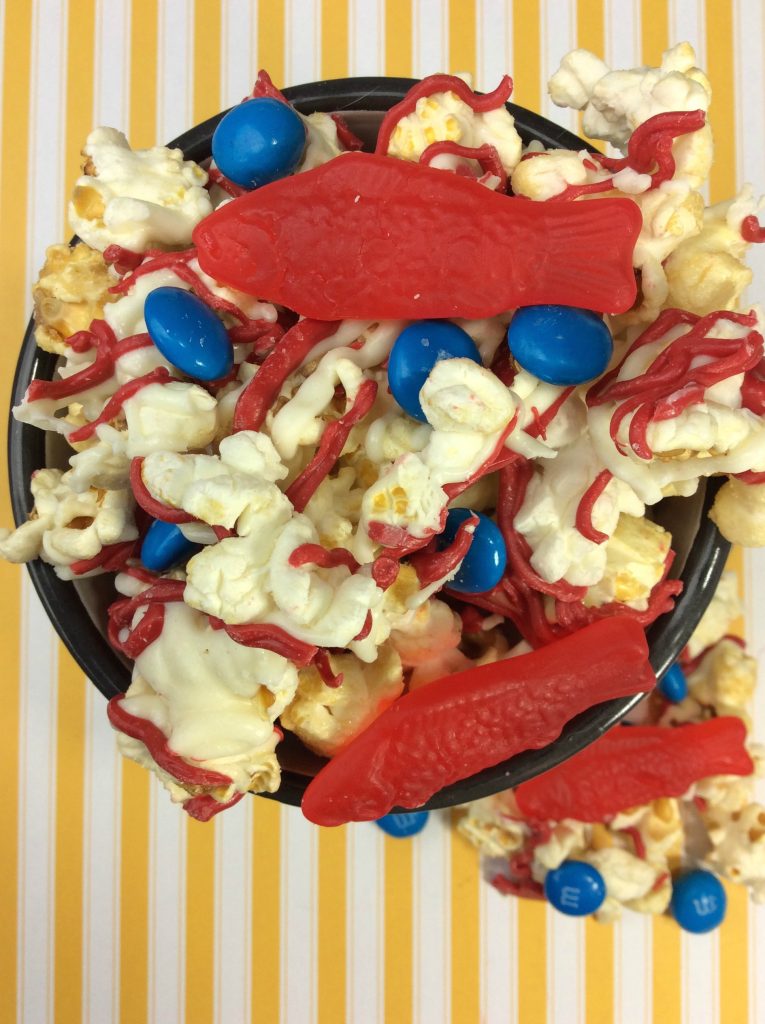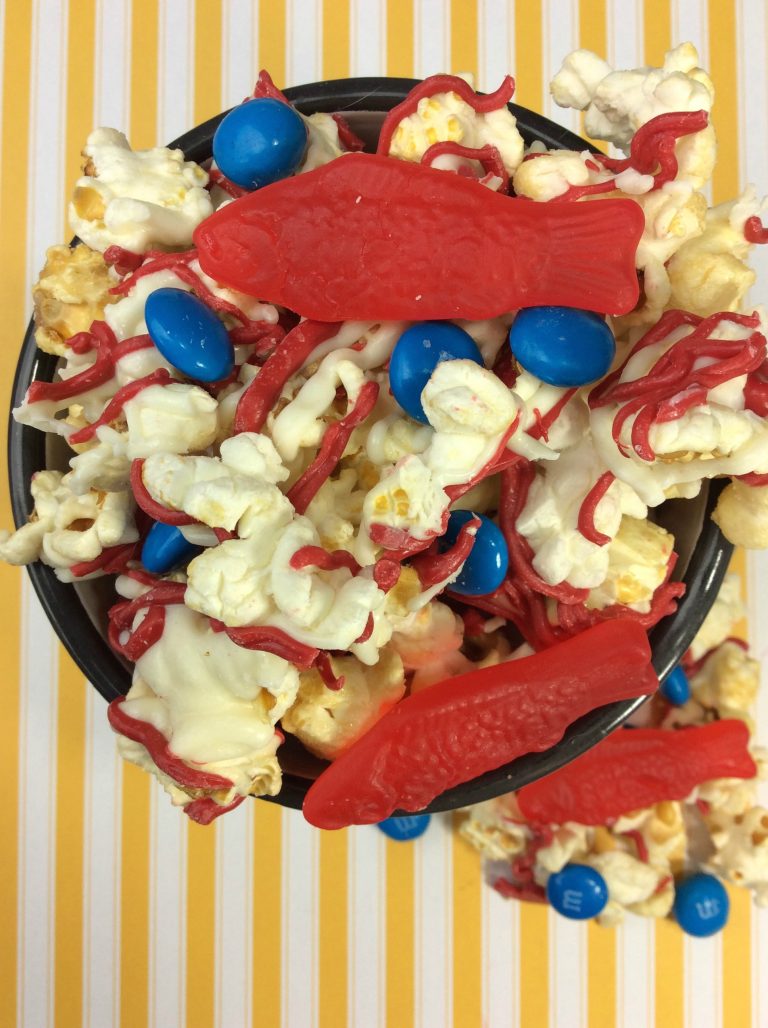 INGREDIENTS in Dr Seuss Popcorn
Kettle Corn
White chocolate Ghirardelli chocolate wafers

Red Chocolate Melts

Blue Chocolate Melts

Blue M&Ms

Red fish candy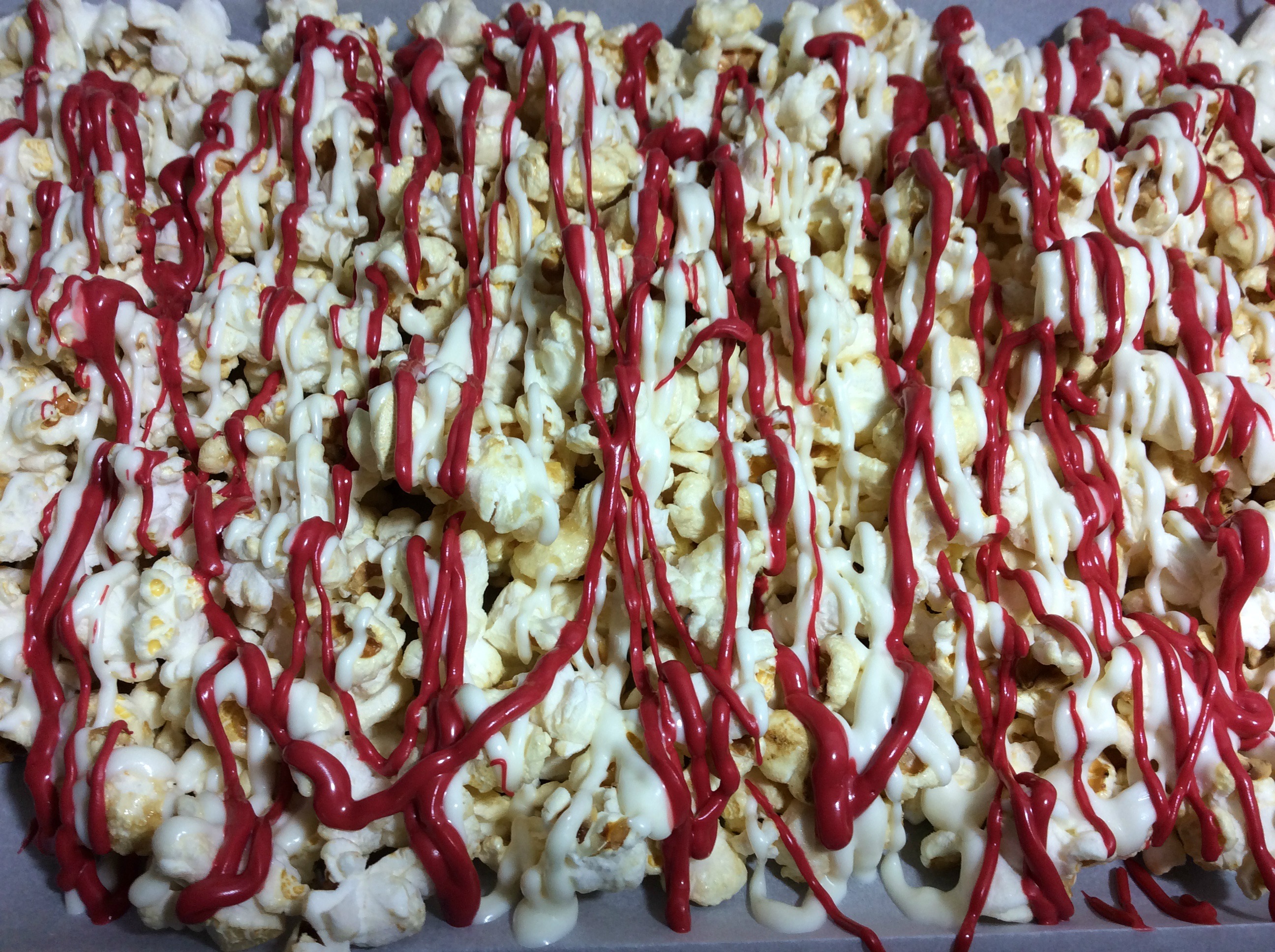 How to Make One Fish Two Fish Dr Seuss Treat
Take a baking pan and cover it with parchment paper.
Pour your kettle corn on top of the parchment paper.
Begin to melt your chocolate. Use this super easy trick.
Use a Wilton plastic pastry bag. Place your chocolate wafers in the bag twist the top closed.
One color per bag.
Using a double broiler begin to boil your water place your top sauce pot on top and put your pastry bag inside.
Once the chocolate is melted drizzle one color at a time.
Let it sit until its hardened.
Now run your popcorn over and repeat the process.
Once it is dry add your M&Ms and Red Fish candy.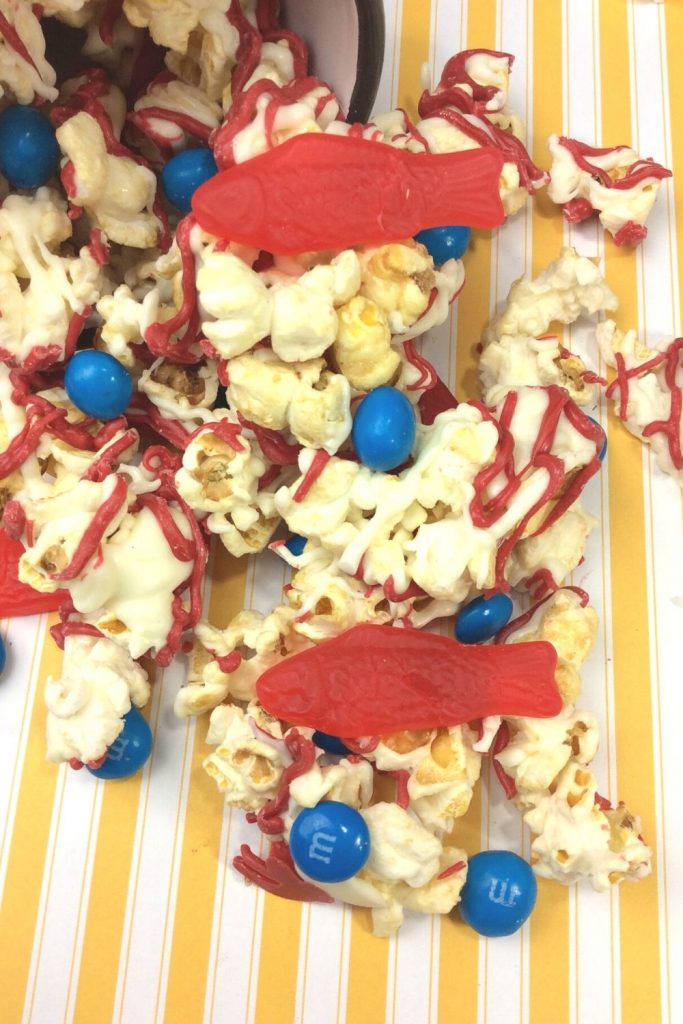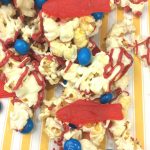 One Fish Two Fish Kettle Corn Dr Seuss Treat
Looking for a fun Dr Seuss Treat that is perfect for a classroom or celebrating at home? Use this One Fish Two Fish Kettle Corn snack as a fun way to get everyone excited for Dr Seuss' birthday
Ingredients
1

Bag of Kettle Corn

1

White chocolate Ghirardelli chocolate wafers

1

Red Chocolate Melts

1

Blue Chocolate Melts

1

cup

Blue M&Ms

1

Bag of Red fish candy
Instructions
Take a baking pan and cover it with parchment paper

Pour your kettle corn on top of the parchment paper

Begin to melt your chocolate. Use our super easy trick

Use a wilton plastic pastry bag. Place your chocolate wafers in the bag twist the top closed.

One color per bag

Using a double broiler begin to boil your water place your top sauce pot on top and put your pastry bag inside.

Once the chocolate is melted drizzle one color at a time

Let it sit until its hardened

Now run your popcorn over and repeat the process

Once it is dry add your M&Ms and Red Fish candy

Enjoy