Curious what these Pineapple Meatballs are all about? I hear you. Trust me, it's worth a read! The recipe is surprisingly easy and the outcome is nothing short of delicious. You'll be surprised at how well the sweet and savory flavors compliment each other in this dish. Give it a shot, you know you want to!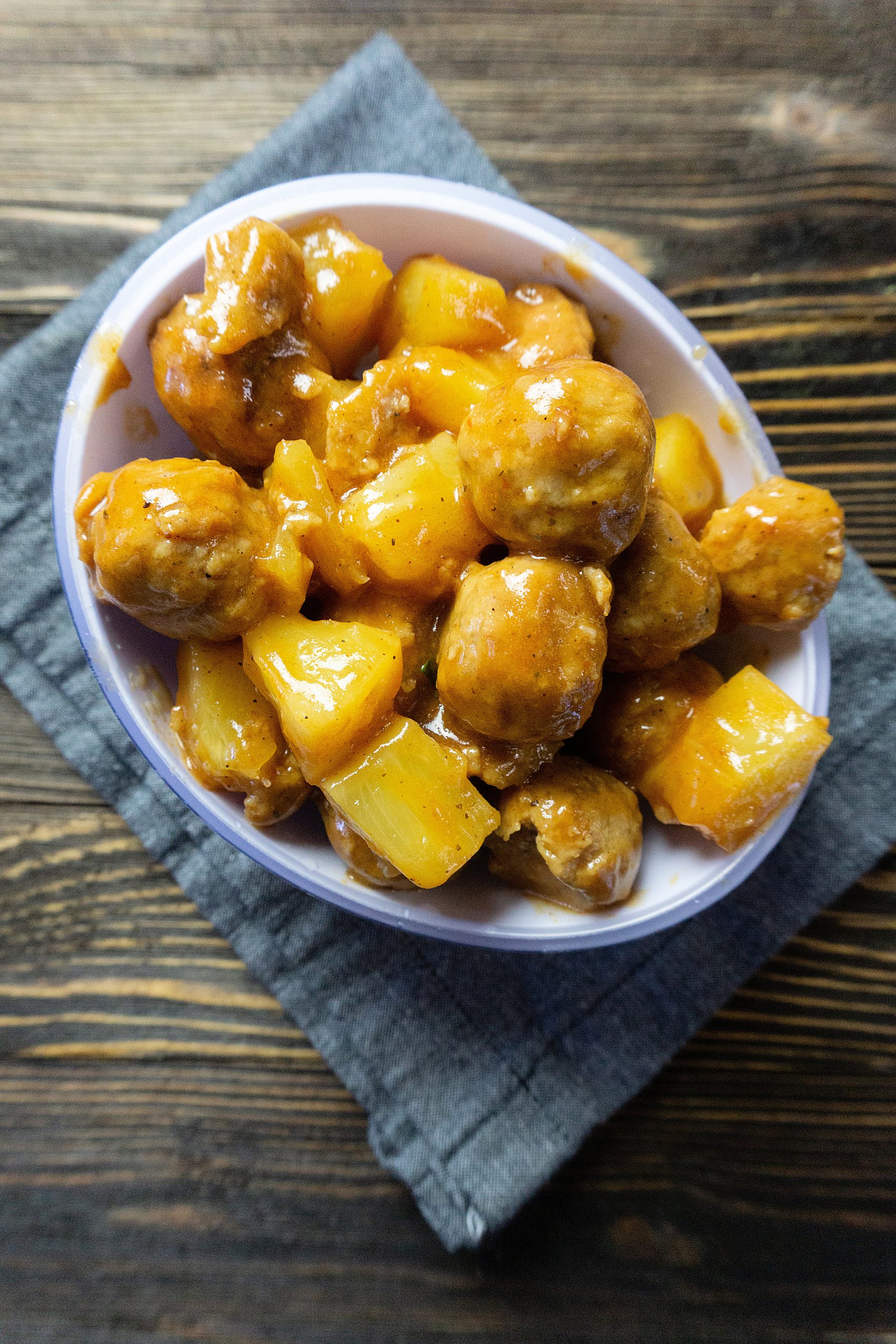 Delicious Hawaiian Meatballs
Pineapple and BBQ meatballs are a delicious and easy way to make your favorite meatballs into something that is out of this world! The tangy pineapple pairs well with savory Italian seasoning, and the sweetness of the fruit cuts through any richness from ground beef. They're perfect for potlucks or parties because they're so easy to transport- just wrap them in foil like you would a baked potato, and they'll be ready to go! Plus, it's always fun when someone asks what "special" ingredient was used in their dish, only for you to tell them that it's actually not special at all.
What are Hawaiian Meatballs
Hawaiian meatballs are basically meatballs that are made with pineapple and BBQ sauce. They are sweet and tangy thanks to the honey bbq sauce and pineapple. These combinations come together to create an amazing flavor and can be used for party food by serving on tooth picks for easy grabbing or as part of dinner when served over rice or noodles.
How to Store
You want to keep the meatballs in an airtight container and stored in the refrigerator. You can also place them in the freezer if you want them to last longer.
What to Serve with
There are a lot of things that you can serve with these incredible meatballs. They can be served over rice, noodles, or simply as is. I like to serve it with a side of cole slaw. I also like to make broccoli salad, or you can make Broccoli Bacon Salad without Mayonnaise or How to Broccoli Apple Salad with it. You can also make cowboy caviar as a simple, easy side dish. I tend to love this recipe as part of a party or get together so anything that would be good at a picnic or party food, will taste amazing with these.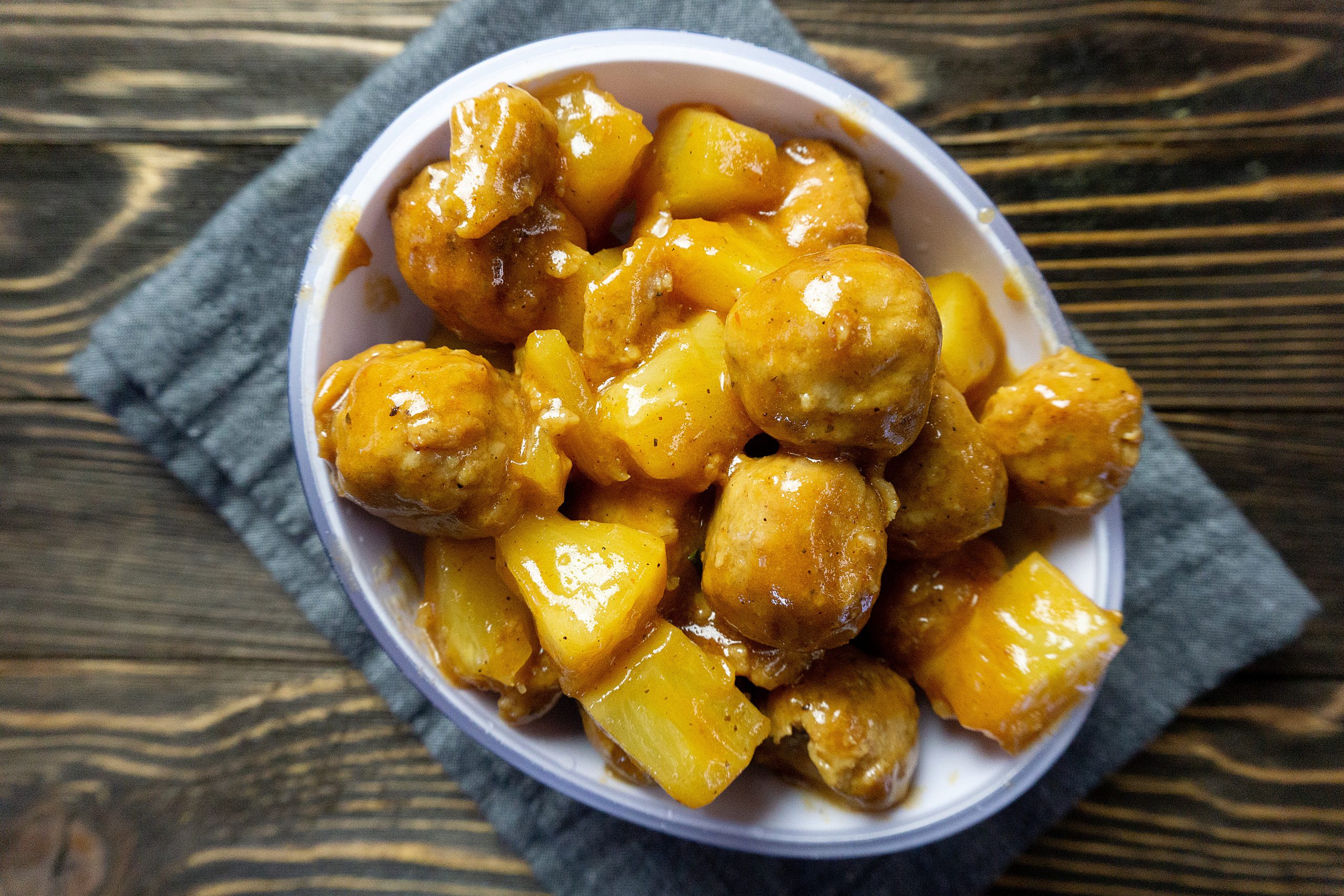 Do I Need to Defrost Meatballs Before Cooking?
The great things about cooking meatballs, is that you do not beed to defrost them before cooking. This recipe is actually planning that you are cooking them straight from the freezer. No matter if you are making homemade meatballs or you are using a frozen store bought version.
I love the keep frozen meatballs on hand. Since we eat them so often, if makes it easier to make larger batches and then I can remove some where I need them. Whether you are making these meat balls in the slow cooker, Instant Pot or on the stove top, these meatballs can be added straight from the freezer.
How Long To Cook Meatballs In The Crock Pot
The meat is already cooked in the recipe. Whether you are using homemade meatballs, fresh or frozen, or you are using a store bought version. So in that case, the meatballs are just coming to temperature and adding the flavors of the BBQ sauce and pineapples to the meatballs.
You will want to cook them in the slow cooker for 2 to 3 hours on high or on low for 5 to 6 hours.
Can You Freeze Hawaiian Meatballs?
If you want to freeze the leftover Hawaiian meatballs, you certainly can. I like to freeze the meatballs in a freezer bag so that I can store them easily. The freeze bag will last mostly flat and this makes it easier to keep on hand. You can also use an airtight container that is freezer safe.
Do you have to use canned pineapple, or can you use fresh?
I am using canned pineapple. It is easier to keep on hand. However, you can certainly use fresh pineapple or even frozen if that is what you have. This is personal choice and it will not affect the outcome of the recipe.
How Many Weight Watchers Points in Pineapple Meatballs
I am basing the points in this recipe on using my homemade beed meatballs that are made without sauce. This amount of points will change depending on the recipe you are using.
This recipe comes in at 10 points per serving, on all plans. This is because of the BBQ Sauce. You can lower the points by reducing the amount of Bbq sauce that you are adding to the recipe. This is a great way to still get all the incredible flavor without as many points.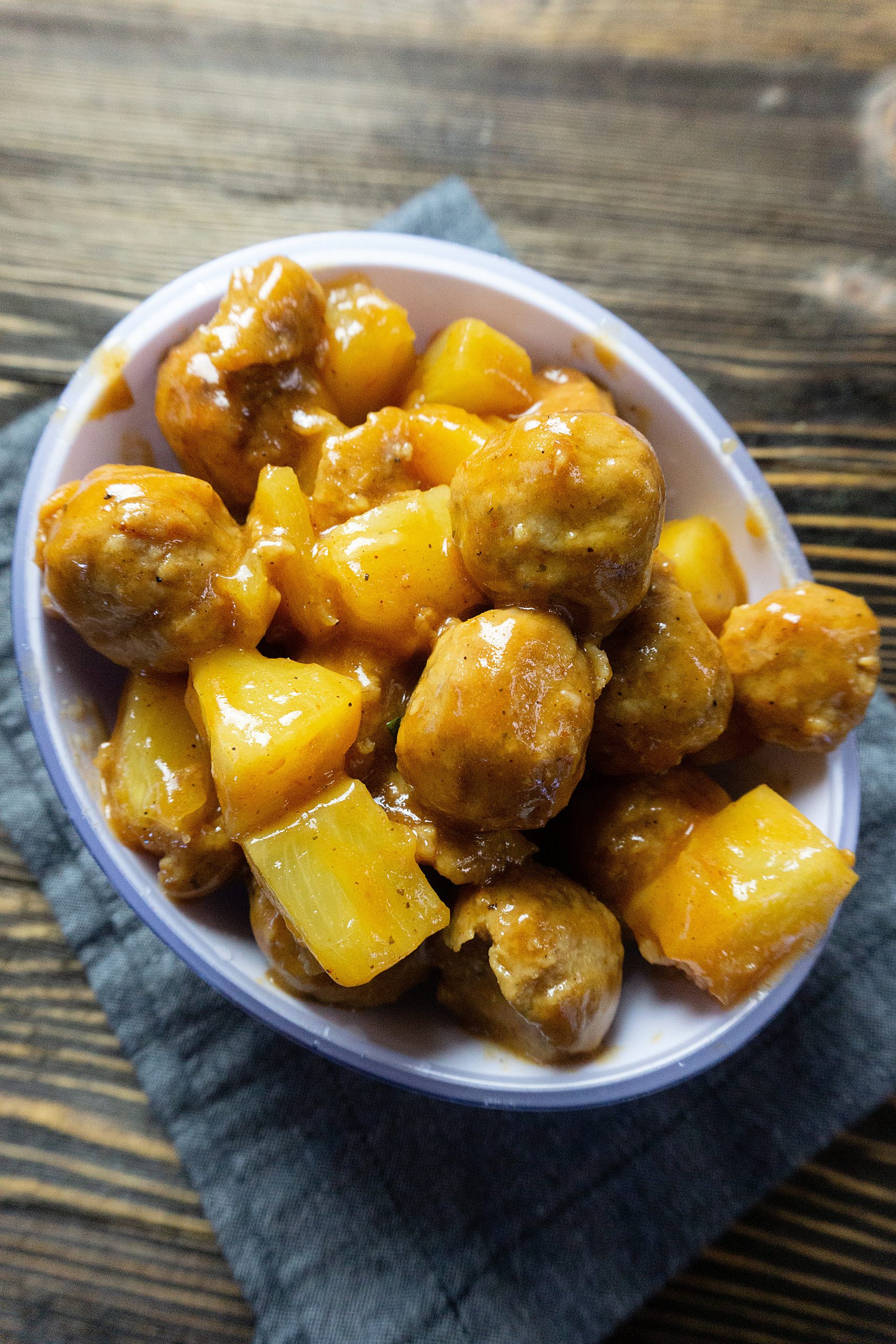 Ingredients
Honey barbecue sauce
Meatballs– I am using my traditional homemade meatball recipe, baked without the sauce. I like to make a batch and freeze them so that I can make easy meals like this. You can also use the baked turkey meatball recipe. If you need something fast, you can also buy already frozen meatballs.
Pineapple chunks– drain the juice
Water
How to Make BBQ Pineapple Meatballs
In the Instant Pot
Place the steamer basket into the instant pot. Add in one cup water. Pour meatballs into the steamer basket. You may also use a trivet. Just want to keep the meatballs off the bottom of the pot.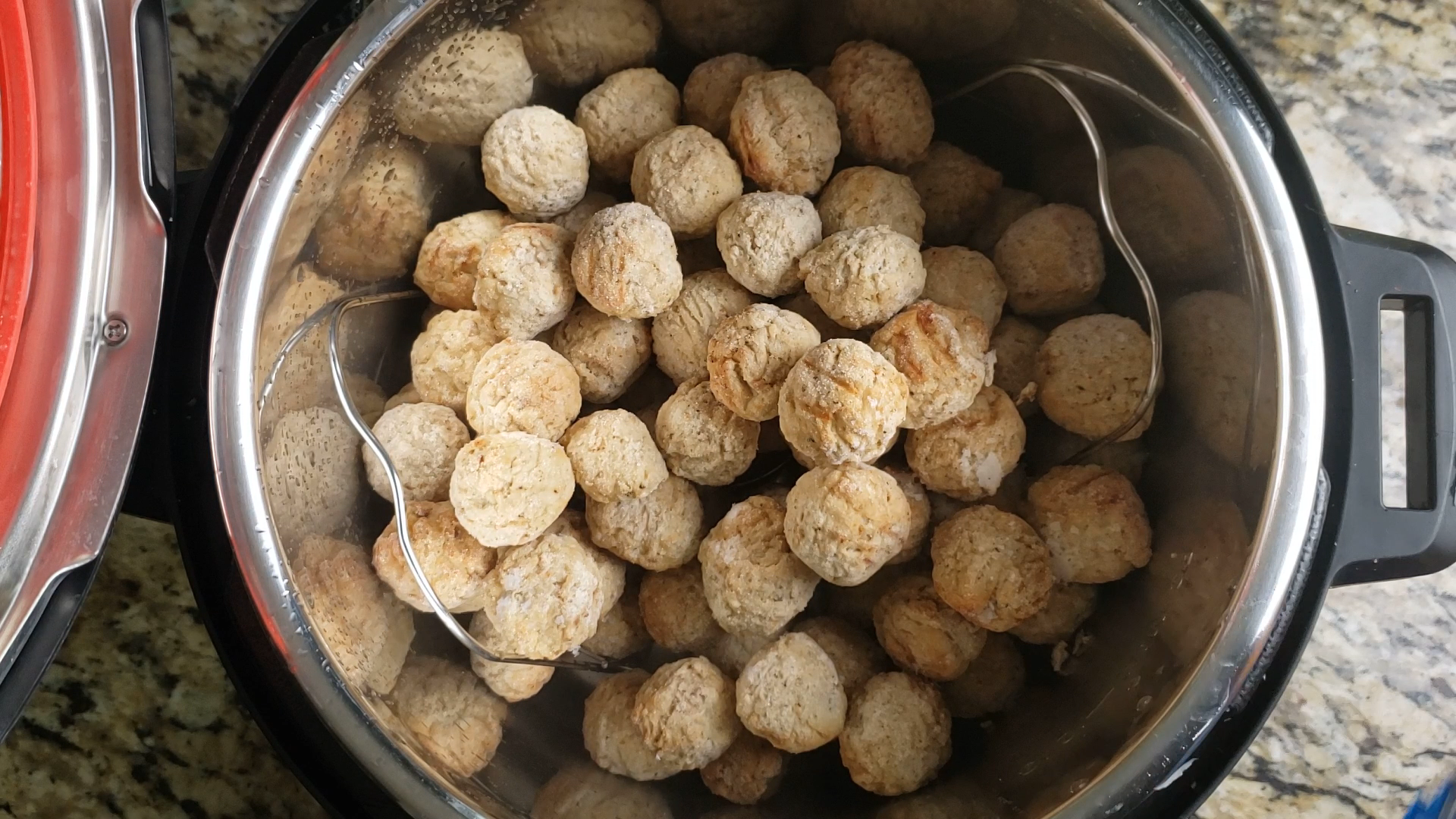 Place the lid onto the instant pot. Set the valve to the sealed position. Press the pressure cook or manual button and set timer to 6 minutes. Once the instant pot stops counting and beeps. Release the pressure by turning the valve to the open position.
Remove meatballs to a bowl. Remove steamer basket or trivet. Drain liquid. Place insert back into the instant pot. Place meatballs back into the metal insert.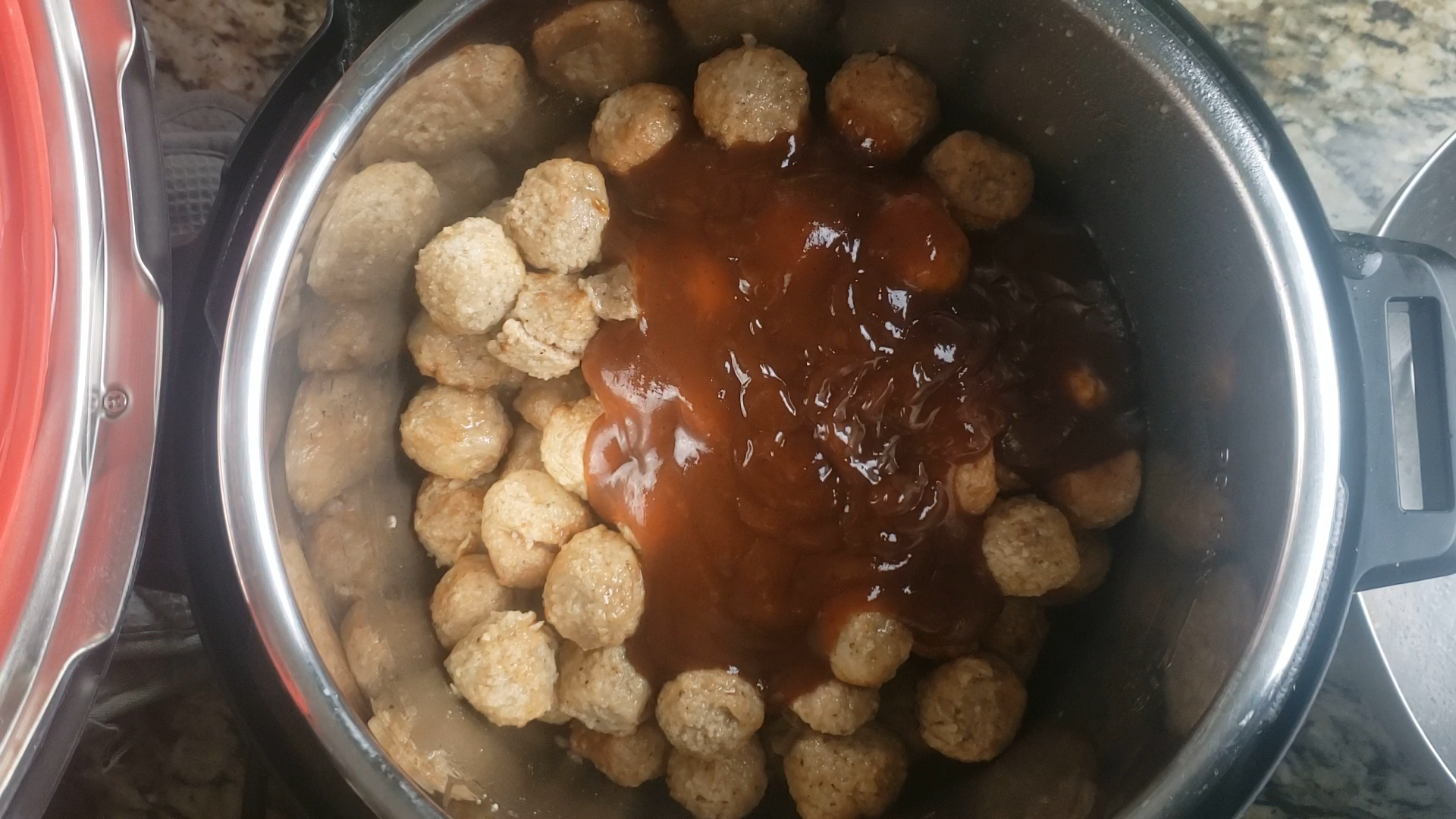 Pour in the barbecue sauce and turn on saute mode on normal heat. Drain pineapple and place into the instant pot. Stir well and heat just until the barbecue sauce and pineapple is warm.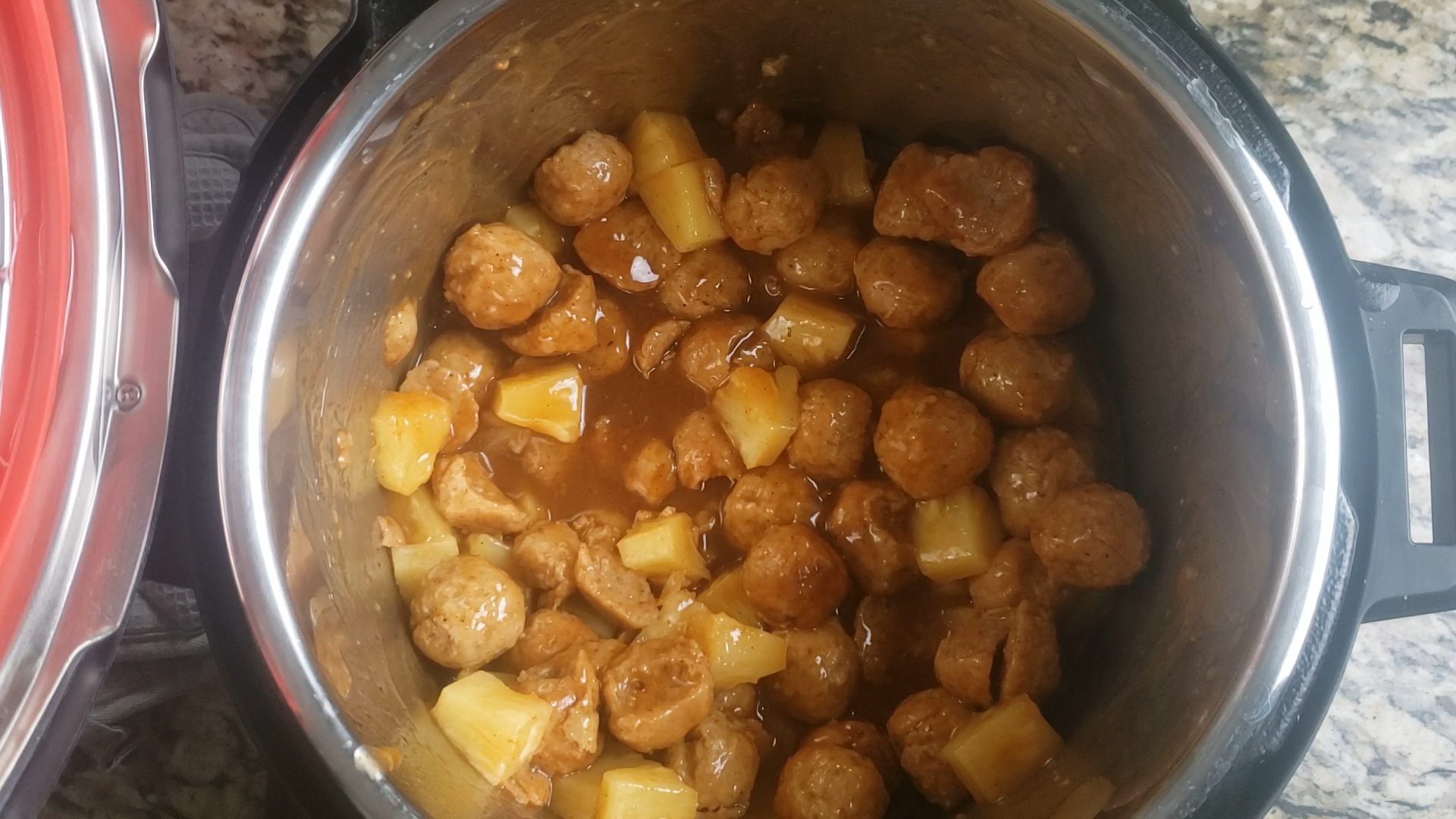 Turn off saute mode and serve with a side of beans or slaw.
On the Stove Top
If you want to make these meatballs on the stove top instead of the Instant Pot, you will want to add everything, minus the water, into the large stock pot.
Cook the meatballs on low to medium low heat until the meat is heated through, about 30 to 40 minutes.
This time will vary, depending on the size of the pot and the actual temperature you are using.
Pineapple Meatballs In the Slow Cooker
These are already cooked in the recipe. Whether you are using homemade, fresh, or frozen, or you are using a store bought version. So in that case, the meat is just coming to temperature and adding the flavors of the BBQ sauce and pineapples.
You will want to cook them in the slow cooker for 2 to 3 hours on high or on low for 5 to 6 hours.
Enjoy.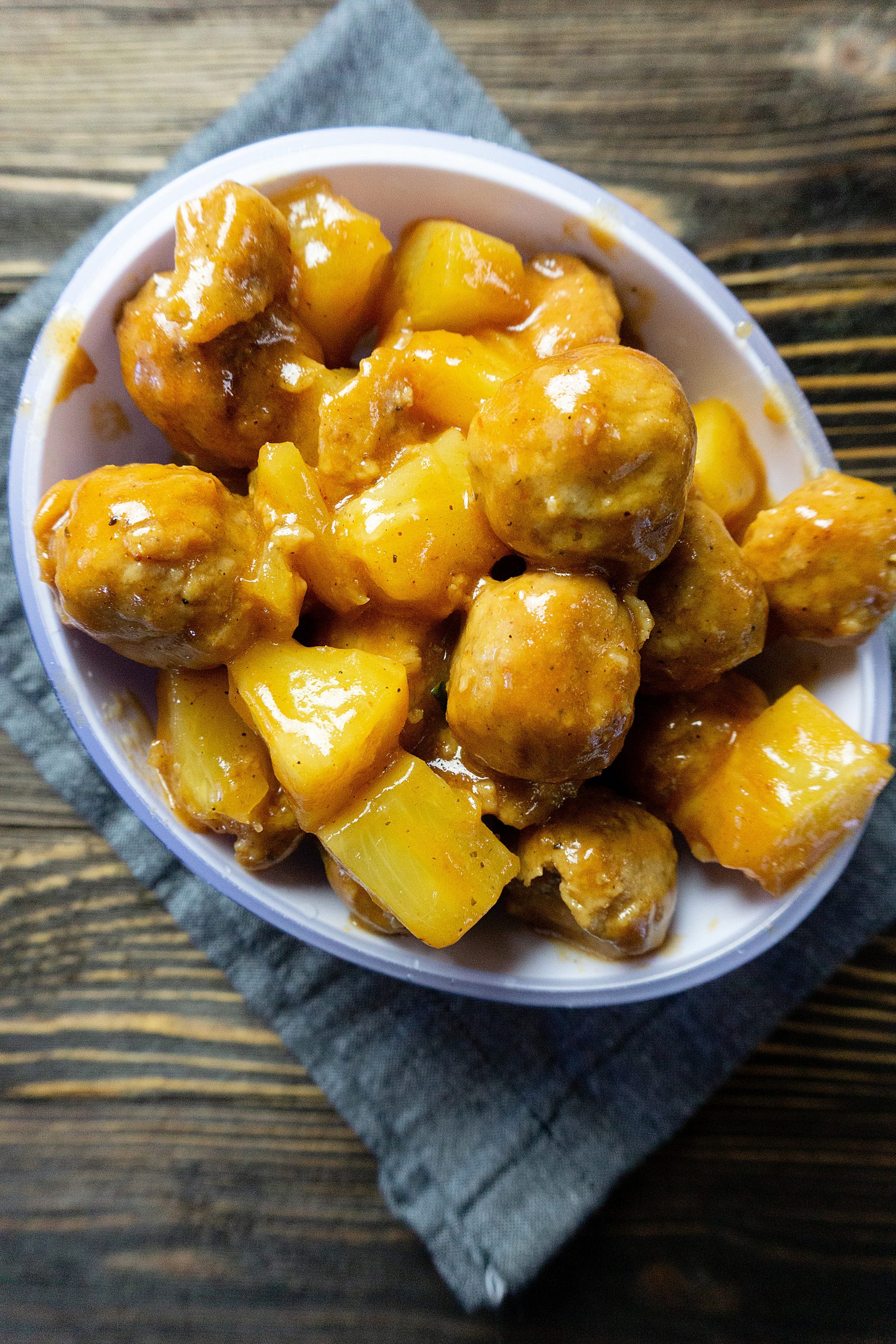 Save Money on Weight Watchers- Get a Year for the Price of a Month – Everything You Need to Know About iTrackBites – Use Code Coach_DebiMurray to save
Recommended Weight Watchers Products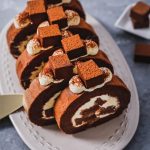 Print Recipe
Nama Chocolate Swiss Roll Cake
A very attractive Chocolate Swiss roll filled with fresh whipped-cream and Nama chocolate strips, well decorated with cream, Nama cubes and coco powder on top, made at home with ease.
Ingredients
1

slab

Nama chocolate 25cm x 18cm (10" x 7")

You can also use the homemade recipe
Whipped Cream
1 1/3

cups

heavy cream

2

tbsp.

granulated sugar
Sugar Syrup
1/3

cup

water

4

tbsp.

granulated sugar
Group A
7

oz.

egg yolks

2.5

oz.

egg whites
Group B
8.5

oz.

egg whites

make sure they are very cold

6

tbsp.

granulated sugar
Group C
1

oz.

cacao powder

2.5

oz.

dark chocolate

60-70% cacao, chopped
Instructions
Whipped Cream
In a large bowl with another iced bowl underneath, start whipping the mixture of sugar of heavy cream and sugar at low speed, then turn to high speed then whip until it get thicken. Cover the bowl and store in fridge.
Sugar Syrup
In a small sauce pan at low heat, keep stirring the mixture of sugar and water until all dissolved.
Chocolate Sponge Sheet Cake
Melt the dark chocolate from group C, keep that aside.

In a double boiler, whisking the mixture from group A till all dissolved and get warm (about 40C/104F), then use a hand mixer start mixing from low speed, then mix on high speed till the volume raise triple.

In the other mixing bowl with COLD egg whites, start a mixer machine at low speed, then speed up and keep adding the sugar, mix until the mixture reach ribbon stage (see the video instruction).

Sift the cacao powder into the mixture A, then gently and slowly stir it, but do not mix it thoroughly.

Place all the melted chocolate into above mixture, then keep slowly stirring until the mixture just comes together.

Then add the mixture B into mixture A, then make sure use the FOLD-IN method to slowly combine them, very important step to make sure the sponge baked perfectly and no-crackings at all.

Place the batter into a Swiss pan 30cm x 25cm (12" x 10") with a baking paper underneath, spread a surface evenly by using a plastic scrapper (or a spatula). Then cover a Swiss pan with aluminum foil

Bake at 200C (392F) for approx 18 minutes with a bigger water tray outside (see the video for more explanation)

After baking, leave it at room temperature about 20 minutes to cool down.
Rolling Swiss Roll
After the chocolate sponge cooled down, use another 2 paper sheets with another tray to help flipping it over, make sure the smooth surface will be outside of the roll.

Apply a syrup by brushing it over the sponge. Then spread the whipped-cream over the sponge evenly with a medium layer (not too thick, not too thin)

Add 3 strips of Nama chocolate on, 1st on the top, 2nd in the middle and the last one at the bottom of the sponge sheet.

Carefully and slowly rolling the sponge to make sure no bubbles, no cracking.

Wrap it up, place in the fridge at least 1 hour to set.

Take the Nama chocolate roll out, unwrap it, then cut into 6-7 slices, decorated by piping fresh cream on top with a piece of Nama chocolate, enjoy.