Celebrating Chinese New Year with the kids? Use these ideas, including Free Printable Chinese New Year Worksheets. With a lot of fun and easy idea, families can bring this wonderful cultural holiday into your home.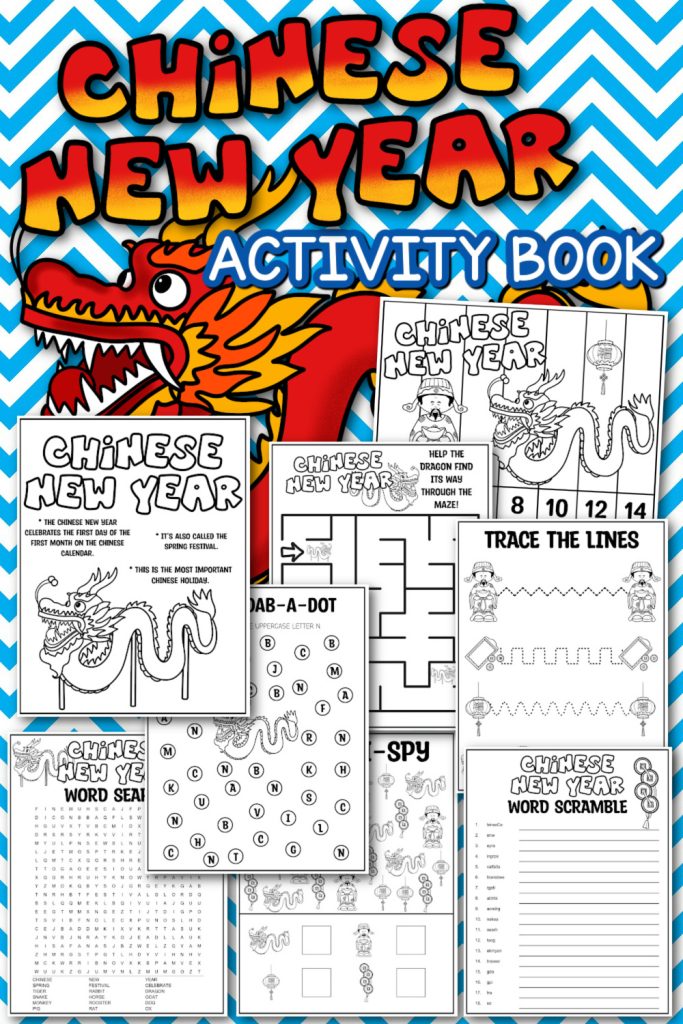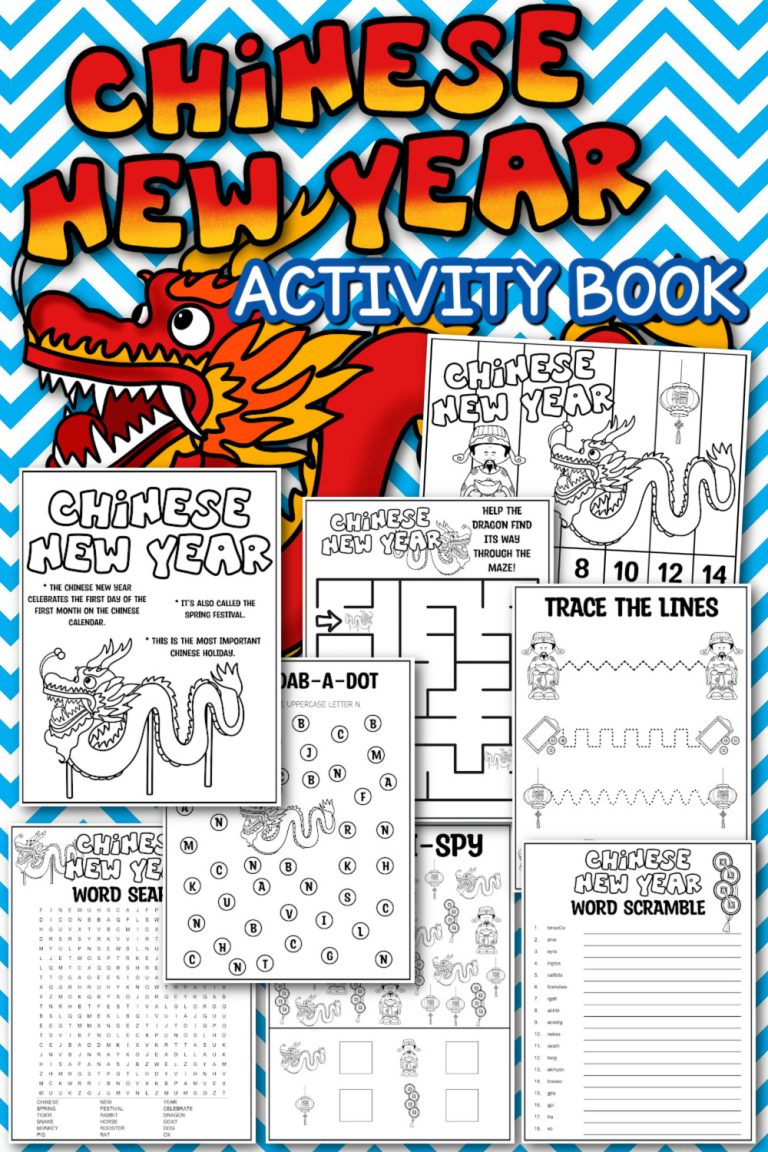 What is Chinese New Year
Chinese New Year is also known as Lunar New Year or Spring Festival, and it is the most important celebration in Chinese culture. It starts on the first new moon of the lunar year. It lasts for up to 2 weeks and almost all of China shuts down. Typically foods like spring rolls, dumplings, noodles, steamed fish or chicken and rice cakes are enjoyed as part of the celebrations.
When is Chinese New Year in 2022?
In 2022, the Chinese New Year is February 1, 2022.
Each year Chinese New Year comes on a different day, unlike in most Western countries. The Chinese New Year usually falls between January 21st and February 20th in the Gregorian calendar. The date is determined by the Chinese lunar calendar, which is different than a solar calendar year.
Months tend to be 29 or 30 days in length, so the lunar calendar year is 11 to 12 days shorter than a solar calendar year.
What animal is the Chinese New Year 2023?
2023 is the year of the Rabbit.
There are 12 animals that symbolize each new year. Believed to have been put into place from a time when animals were worshipped and in place for over 2000 years, the animals are Rat, Ox, Tiger, Rabbits, Dragon, Snake, Horse, Goat, Monkey, Rooster, Dog and Pig. Each animal and its attributes are said to be a part of determine a person's fortune for the year and even who they should marry.
Fun Ways to Celebrate the Chinese New Years with your Family
Celebrating Chinese New Year with your kids is a great way to spend quality time together. Here are some ways your family can celebrate:
Cooking
Chinese takeout is popular during this holiday, but it's more fun if the whole family gets involved in making food for large gatherings or just for dinner that night! While these are not traditional Chinese New Year foods, you can try making Beef and Broccoli, Asian Pork Chops, Mongolian Beef, Skinny Orange Chicken, General Tso Chicken or Egg roll in a bowl.
Visit a Parade
Celebrate the New Year with your family by going to a local parade! You might even get lucky enough to watch it live on television as many networks have coverage of the event. Dress up in red and yell "gung hay fat choy" (which means good luck) to watch your favorite lion or dragon dancers.
Watch a Movie
What's more fun than watching movies together as a family? Chinese New Year movies are the perfect way to celebrate the holiday with your kids. Get some popcorn and sit back, relax, and enjoy a flick. You can even pick out a fun Chinese New Year movie from the library – maybe Kung Fu Panda!
Have a Party
This is the perfect excuse to invite over friends and family. Throw a Chinese New Year party, complete with decorations and festive food. The kids will have a blast playing Pin the Tail on the Donkey or Red Envelope Roulette (a fun version of Russian roulette with red envelopes stuffed with money placed in a circle). I recommend serving these delicious Chinese New Year Hot Chocolate Bombs. While they are not traditional, they are beautiful to display and delicious to drink.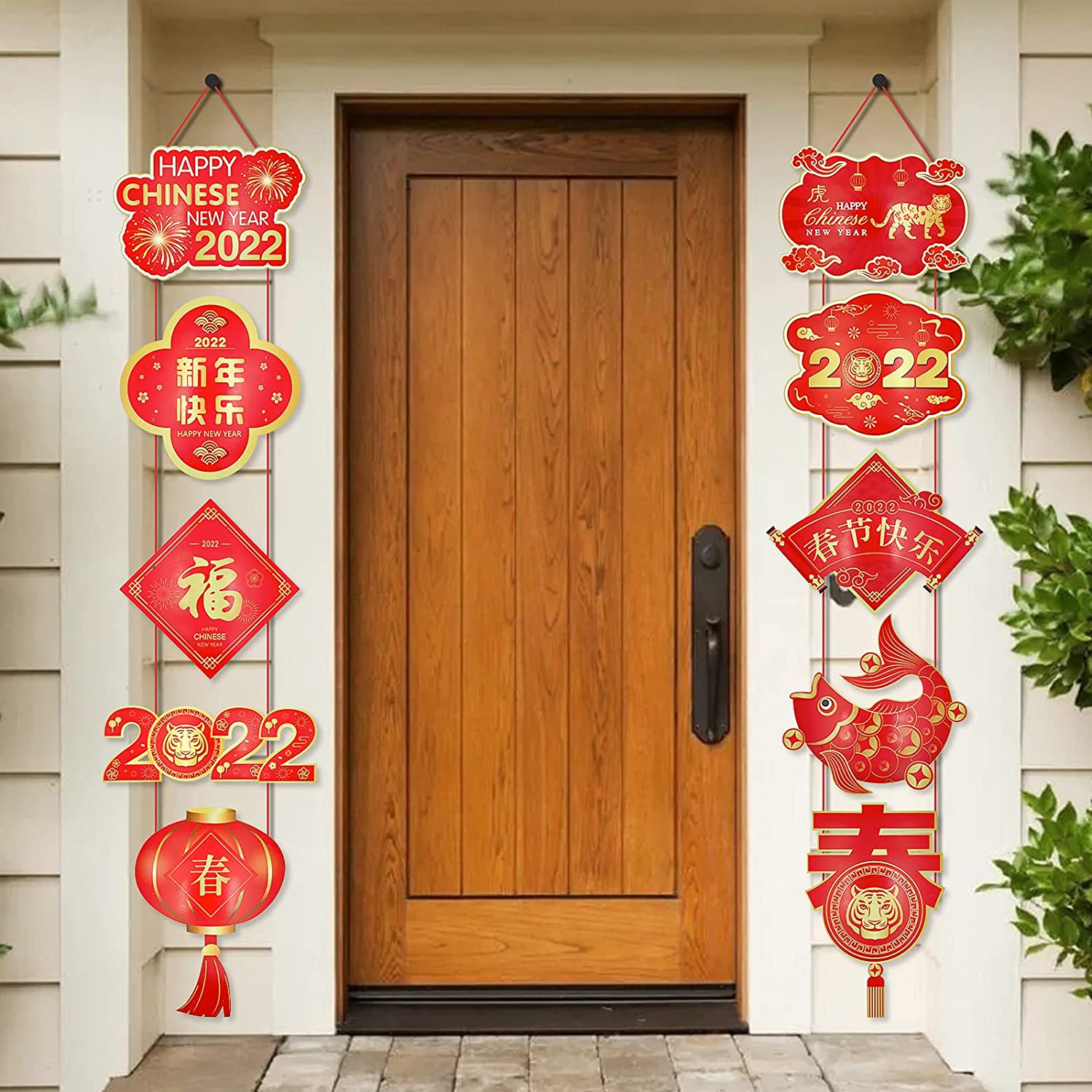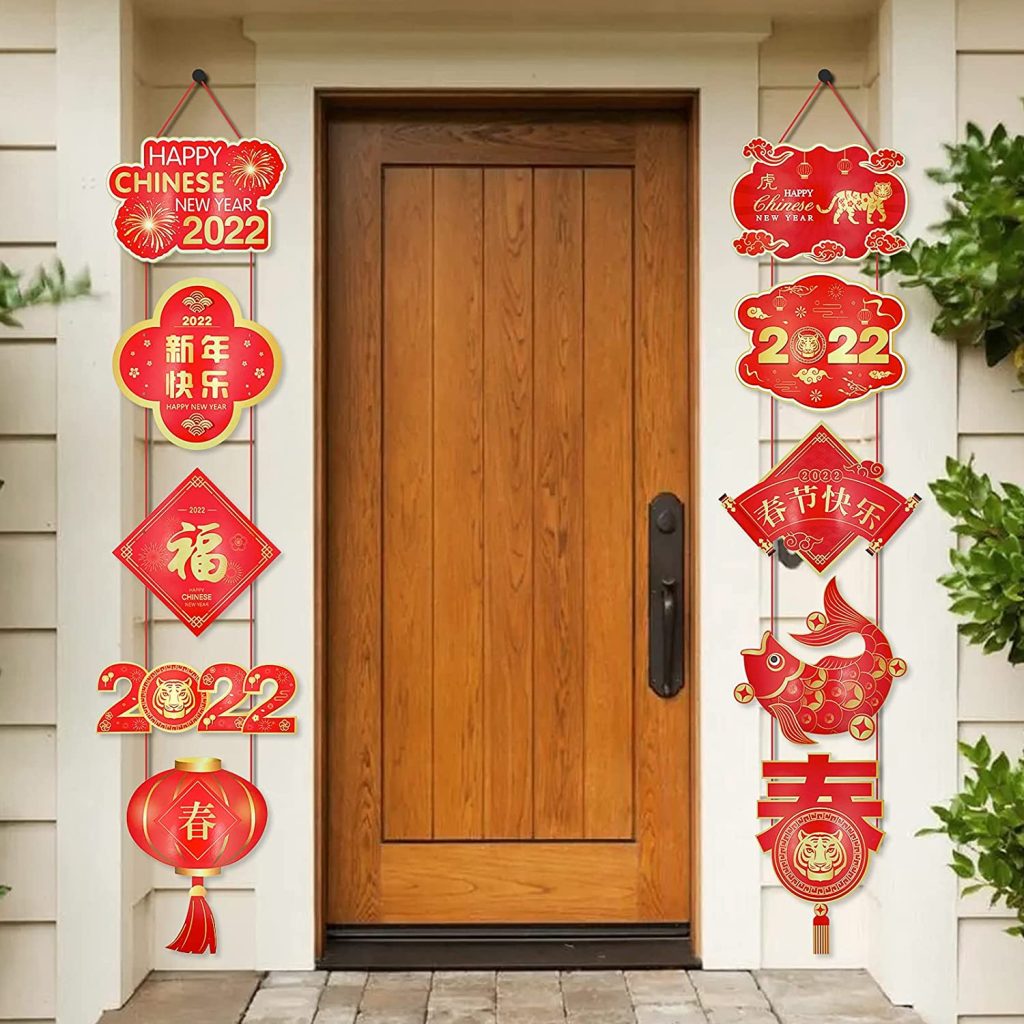 Decorate the house with red and gold decorations. You can find these at a local Asian market or look online – Amazon has a large selection of Chinese New Year decorations that you can get quickly.
Learn about Chinese Foods
Talk to your kids about the importance of good luck and why duck, pork, dumplings, noodles, and fish are enjoyed as part of this holiday. You can even go to a local grocery store together so everyone understands the significance of each item.
Learn about the Holiday
In order for your children to truly appreciate and celebrate, they need to know what it's all about. Break down each detail of the holiday and its meaning. Let them know that you're all celebrating something so special together!
Use These Chinese New Year Worksheets
These Chinese New Year printables are a great way to bring some celebration into your day. Whether you use these free New Year printables for part of a homeschooling curriculum, in a classroom or just for fun, kids will love them. There are sheets in this pack for kids of all ages. This fun Year of the Rabbit Chinese New Year Printable Worksheets includes:
A Coloring Page– Featuring a dragon and facts for Chinese New Year
Dab a Dot– Kids love using bingo markers, or actually dot markers that are made for this (they are less messy and clean up with water, we love these. There are so many fun ways to play with dot markers)
Chinese New Year Word Scramble– Featuring words associated with the Spring Festival, kids will unscramble each word.
Word Search– Featuring 18 words that have to do with the Lunar New Year, kids can circle, highlight or cross-out the words once they find them in the puzzle.
Maze– Kids will help get the dragon through the maze to reach end.
Trace the Lines– This is great for kids who are learning to write letters.
Chinese New Year Puzzle– This is a strip puzzle for kids learning to count by 2. Cut the paper into strips and then the kids put it together either by the picture or by the numbers counting by 2.
Chinese New Year I Spy– Kids will find the picture and count how many there are. Write the number in the space.
Print out these Free Chinese New year Printables and use them as part of your family celebration.
How to Print These Chinese Lunar Year Activity Sheets
Click Here to Download the Chinese New Year Worksheets.
Decide which pages you want to print or print all of them.
Let the kids get to work.