Looking for a healthier chocolate muffins recipe? I have the best tasting chocolate pumpkin recipe. It is so easy to make cake mix muffins, with only 2 ingredients. Weight Watchers Pumpkin muffins are tasty, almost healthy, definitely healthier than most muffin recipes and simply delicious.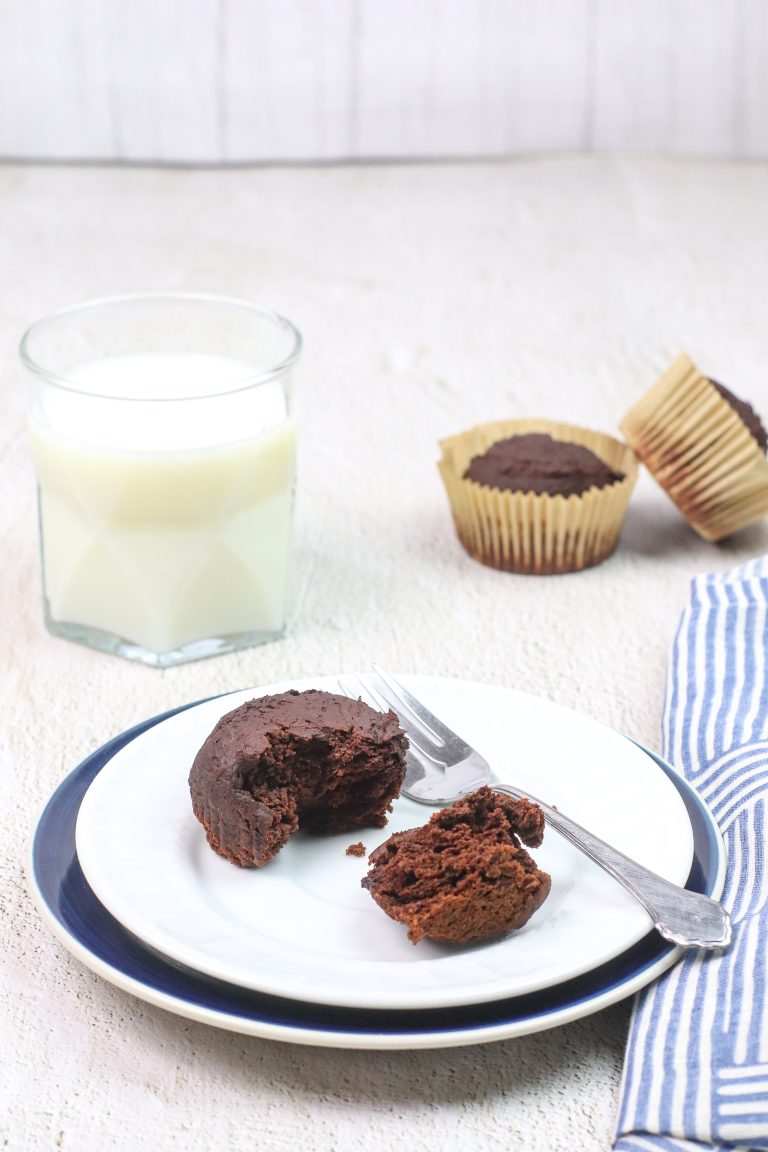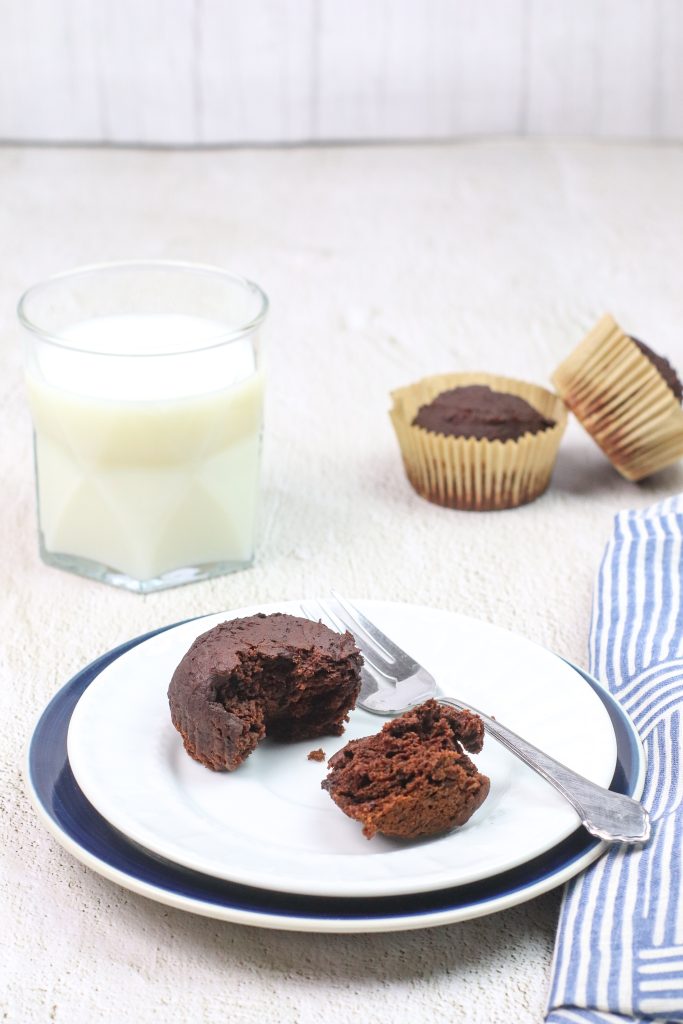 Instagram is one of my favorite places to be. Join us as we share our Perfectly Imperfect Life with recipes, crafts, parenting, and fun! Be sure to check out our stories for real-time fun!
The Best Cake Mix Muffins
I love muffins. I feel like it is the perfect grab and go breakfast or snack. Since we have been trying to eat healthier, it has been rough. Muffins have been one of the things that we have had to give up. Until I remembered that I used to make these muffins that were really tasty, tasting just like chocolate muffins but without all the fat, calories and sugar. Don't get me wrong, it still has some, just not as much.
The best easy and delicious Weight Watchers Pumpkin Muffins. Moist, chocolatey, indulgent and low in points. Check out this incredible easy cake mix muffins.
Weight Watchers Pumpkin Muffins
Weight Watchers is great because it lets you eat things like these Weight Watchers Pumpkin Muffins. I love chocolate and I love pumpkin so these muffins are absolutely perfect. The chocolate takes care of my cravings and the pumpkin keeps these Weight Watchers Chocolate Muffins low in points.
I can't deal with small mini muffins. I want a big muffin that I feel like I ate something. Eating mini muffins me want to eat more. These are full size muffins making them perfect for any time, day ir night.
Why these WW pumpkin muffins are awesome
As I said, I love chocolate and pumpkin together. The two flavors compliment each other perfectly. The best part of making these WW Chocolate Muffins is that they are made with 2 ingredients. That is why these are called cake mix muffins. It is literally just a box of cake mix and pumpkin. It doesn't get an easier to make these muffins. Then add in that they are low in points, these Weight Watchers muffins are perfection.
Is pumpkin healthy?
Pumpkin is used a lot when it comes to making recipes that are low in points and low in calories.
Pumpkin is actually very healthy for you. It is high in fiber and low in calories. Pumpkin is also a great source of Vitamin A and beta-carotene. Beta-carotene is an antioxidant that helps protect your cells from damage.
So not only are these Weight Watchers Chocolate Pumpkin Muffins delicious, they are also good for you.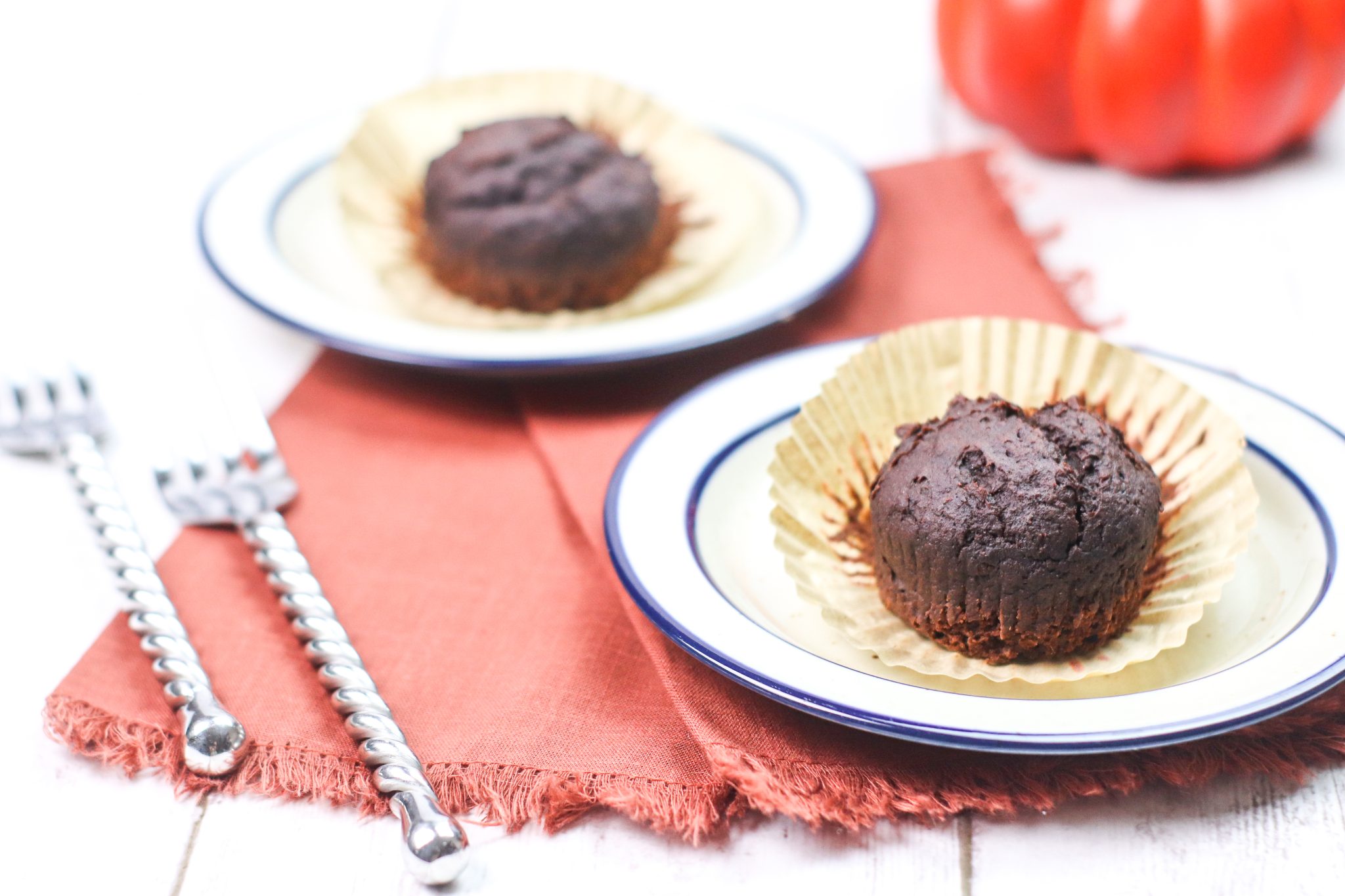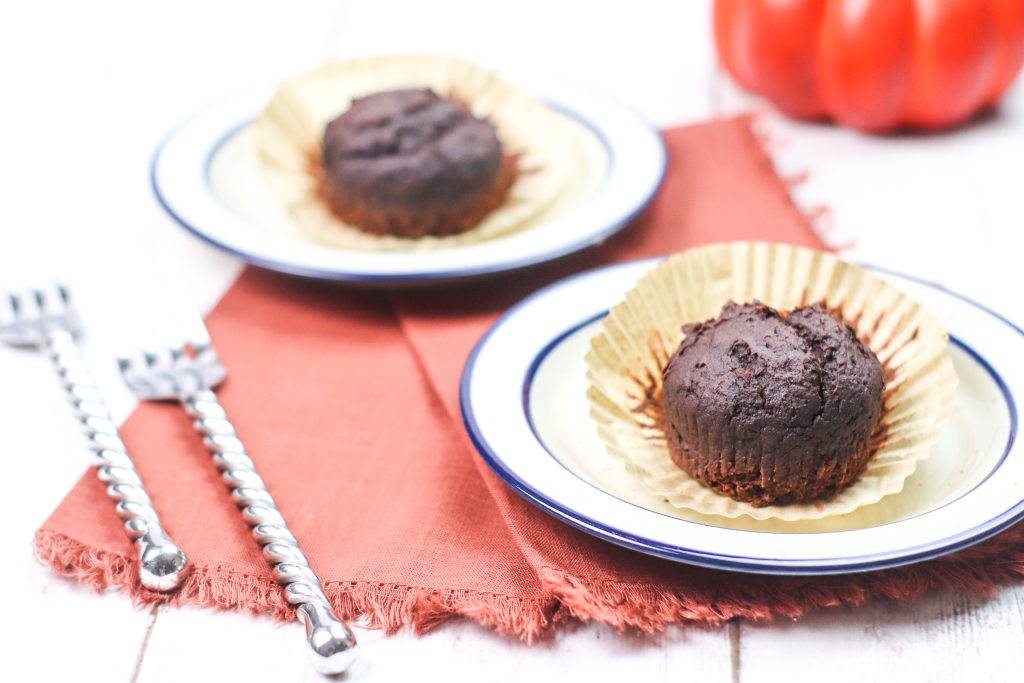 Can I turn them into mini muffins?
You certainly can turn these into mini muffins. If you want to make mini Weight Watchers Pumpkin Chocolate Muffins, you want to use a mini muffin pan. The serving size would be about 2 mini muffins. It will make about 48 muffins.
How long for Pumpkin Muffins last?
Pumpkin Chocolate Muffins will last about 3-4 days. I like to store them in a Ziploc bag or an airtight container. You can also freeze these muffins.
Do cake mix muffins freeze well?
Cake mix muffins, in this case a chocolate pumpkin muffin freezes well. Wait until the muffins cool and place some of them in a freezer bag. You can wrap them individually in plastic wrap in order to keep them extra protected and keep them easy to grab for an individual snack.
The chocolate muffins will last for about 6 months in the freezer. Thaw the muffins on the counter overnight.
Does freezing muffins dry them out?
No, freezing the muffins does not dry them out. The chocolate pumpkin muffins will taste just as fresh as the day you made them.
Love Recipes? Join our Facebook Group, The Best Recipes Because Mama Loves to Eat
Do I have to use a cake mix?
No, you don't have to use a cake mix. You can make your own chocolate pumpkin muffin batter from scratch if you would like. Making your own cake mix is an easy substitution.
What other flavors can I make these chocolate pumpkin muffins?
There are so many flavors you could make these chocolate pumpkin muffins. You could add in some pecans or walnuts, chocolate chips, raisins, or even oatmeal. Get creative and have fun with it.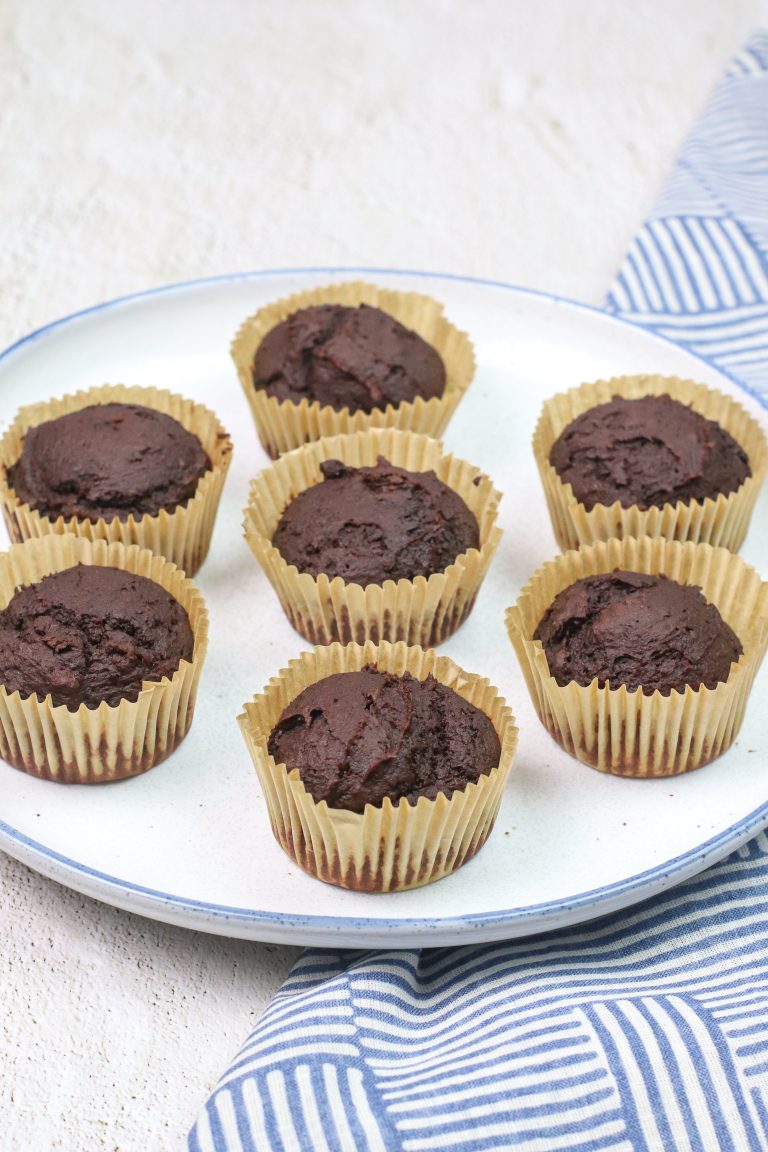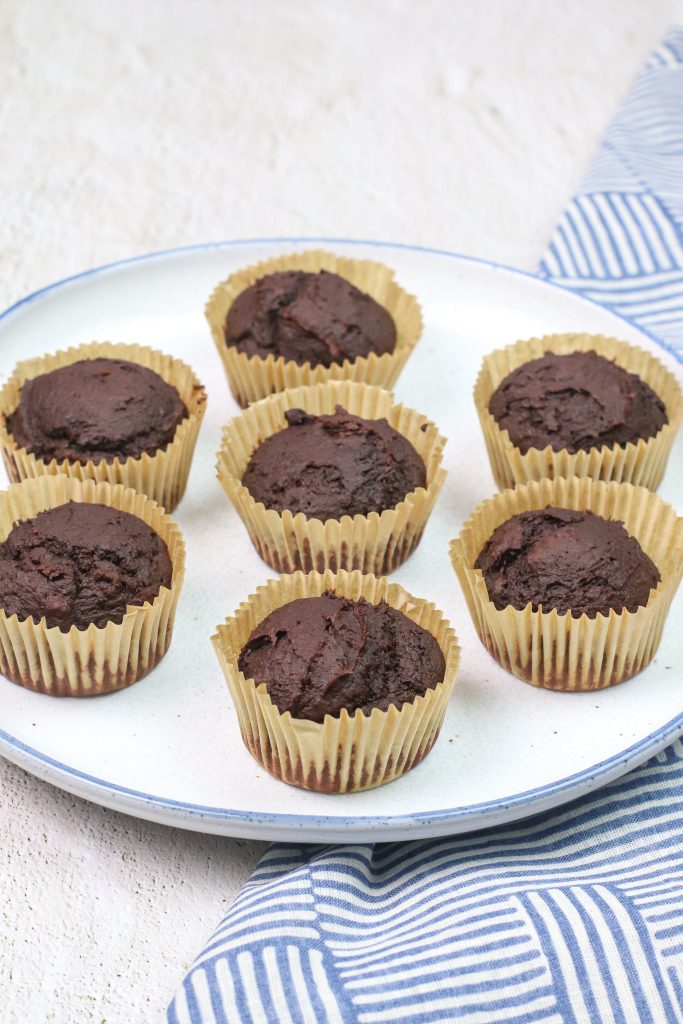 Variations to cake mix muffins
Once you have this healthy chocolate muffin recipe, you change it up to anything you like.
Use different cake mix. You can use any other flavor of cake mix with pumpkin. The muffins will have the flavor of the cake. Yellow cake mix or my spice cake mix are my usual substitutes that I love to try. I can add more flavors with these, change things up, and I think that the pumpkin goes well with them.
Add Chocolate Chips or other types of chips
Add Dried Fruit
Add Flavored Extracts – This one is tricky though. While you can add them, it takes a lot of overpower the chocolate taste.
Add cinnamon. Cinnamon will bring out the flavors of the chocolate and the pumpkin.
Add Pumpkin Pie Spice. Pumpkin spice will make these chocolate muffins taste like a chocolate pumpkin spice latte.
What if I don't like pumpkin
It's ok. I don't either. I don't taste the pumpkin in this recipe but my kids say they do. One likes it, One doesn't. I personally am not a fan of many things pumpkin, but most people in our family do and love all things pumpkin.
How Many Weight Watcher Points in Chocolate Pumpkin Muffins
This recipe makes 18 full sized muffins. Each of these muffins comes out to 2 Weight Watchers SmartPoints per muffin on my plan. I haven't calculated these muffins in Blue plan, purple plan, and green plans and I do not have access to that anymore since WW changed their plans.
Want More Weight Watchers Recipes?
Have you joined our Weight Watchers Facebook Group? Free recipes and support. Perfect for everyone!
Ingredients in Chocolate Pumpkin Muffins
box of sugar free chocolate cake mix
15 oz can pumpkin puree – Make sure it is pure puree and not pumpkin pie
How to Make Healthier Pumpkin Chocolate Muffins
Preheat oven to 375 degrees
Prepare the muffin tin with either muffin papers or spray with baking spray.
Mix the ingredients together. The batter will be thick. That's how it should be.
Fill the muffin tin evenly with the batter.
Bake for 18-20 minutes. The muffins are done when a toothpick inserted into the middle and it comes out clean.
Need more ideas and help to stay on track with Weight Watchers?
Save Money on Weight Watchers- Get a Year for the Price of a Month – Everything You Need to Know About iTrackBites – Use Code Coach_DebiMurray to save