It's time to celebrate! I have a delicious Meyer Lemon Bundt Cake recipe that will make any occasion even more special. My bundt cakes are light and moist with just the right amount of sweetness. You won't be able to resist this sweet treat!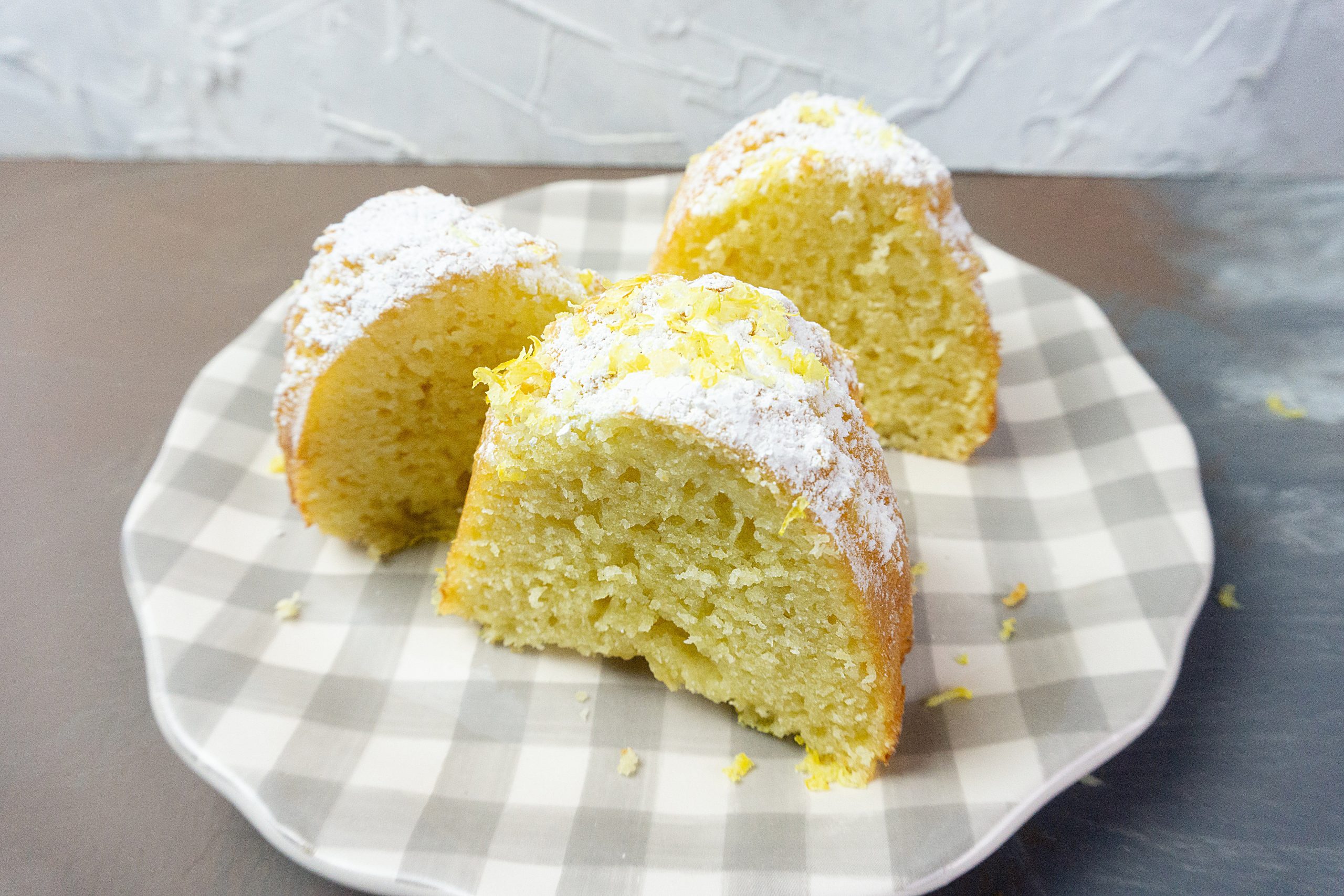 Meyer Lemon Bundt Cake
This Lemon Bundt Cake is so good! All of the great flavor in this recipe comes from fresh lemon juice using some Meyer Lemons. The rest of the cake is as simple as it gets because most of the ingredients may already be in your home. This recipe can be made in no time and you will want to scarf it down, once you take the first bite.
Ingredients:
Flour- Use all-purpose flour for the best results.
Baking Powder- Use this to allow the ingredients to rise in the oven.
Salt- This will bring out the flavors in the recipe.
Sour Cream- This will cut the richness of the dessert in half.
Sugar- Every great dessert recipe uses sugar as an ingredient.
Eggs- Use these at room temperature.
Lemon Zest- Be sure to zest the lemons before juicing them.
Vegetable Oil- Use canola oil as a substitute.
Vanilla- Use the pure extract for the best flavoring.
Lemon Juice- You will need Meyer Lemons for this recipe.
Powdered Sugar- This will be used to dust the top of the recipe.
How to Make Meyer Lemon Bundt Cake
First, set the oven to 350 degrees.
Second, Use Pam baking spray to line a Bundt cake pan.
Next, add the flour, baking powder, and salt into a medium bowl.
Then, add the sour cream, sugar, eggs, lemon zest, oil, vanilla, and lemon juice into a large bowl or standing mixing and combine using the whisk attachment.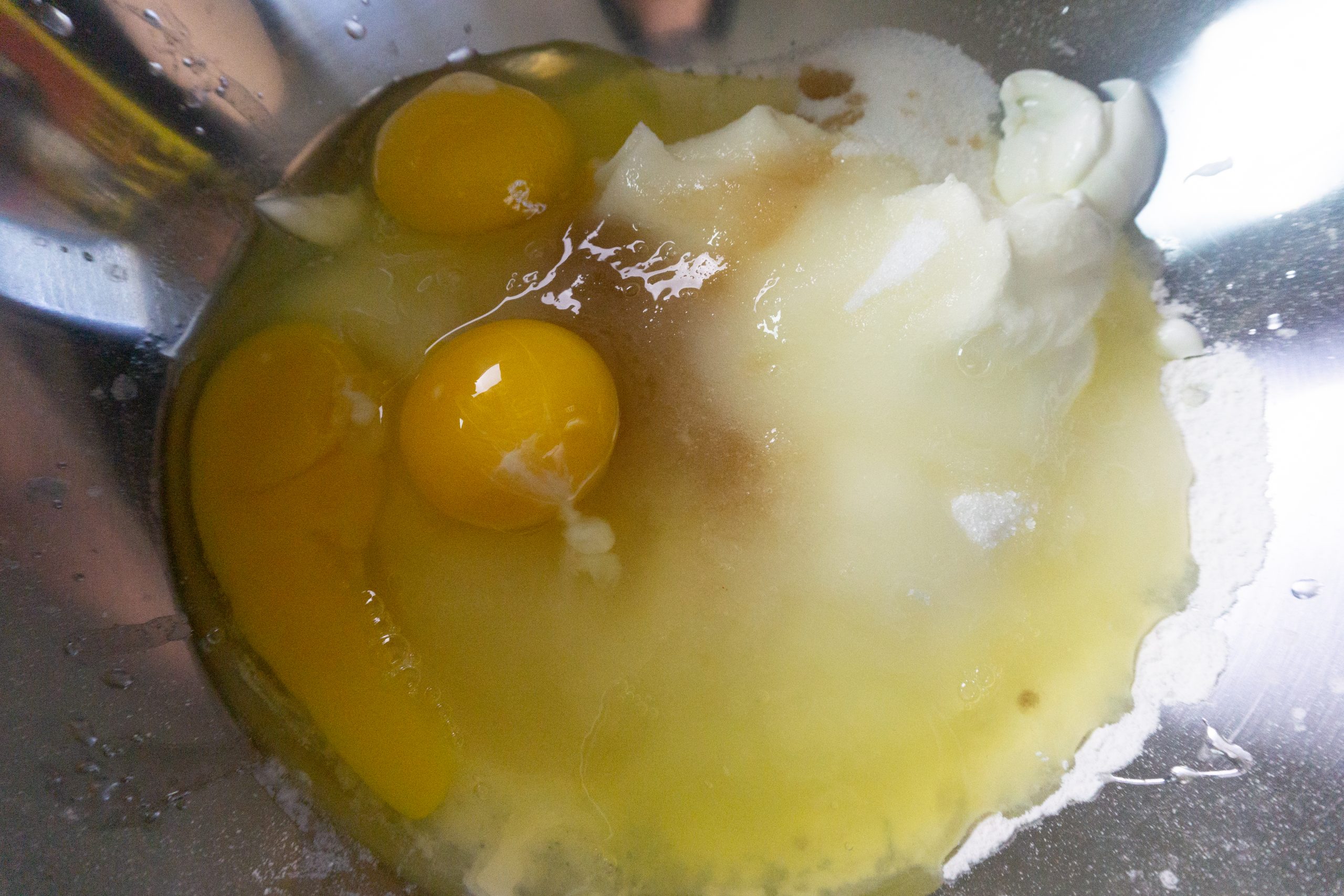 Now, combine both the dry and wet ingredients.
After, place the ingredients into the prepared pan and put them into the oven to bake for 30 minutes or until you place a toothpick in the middle of the cake and it comes out clean of batter.
Next, remove the cake from the oven and let sit at room temperature to cool for 5-10 minutes.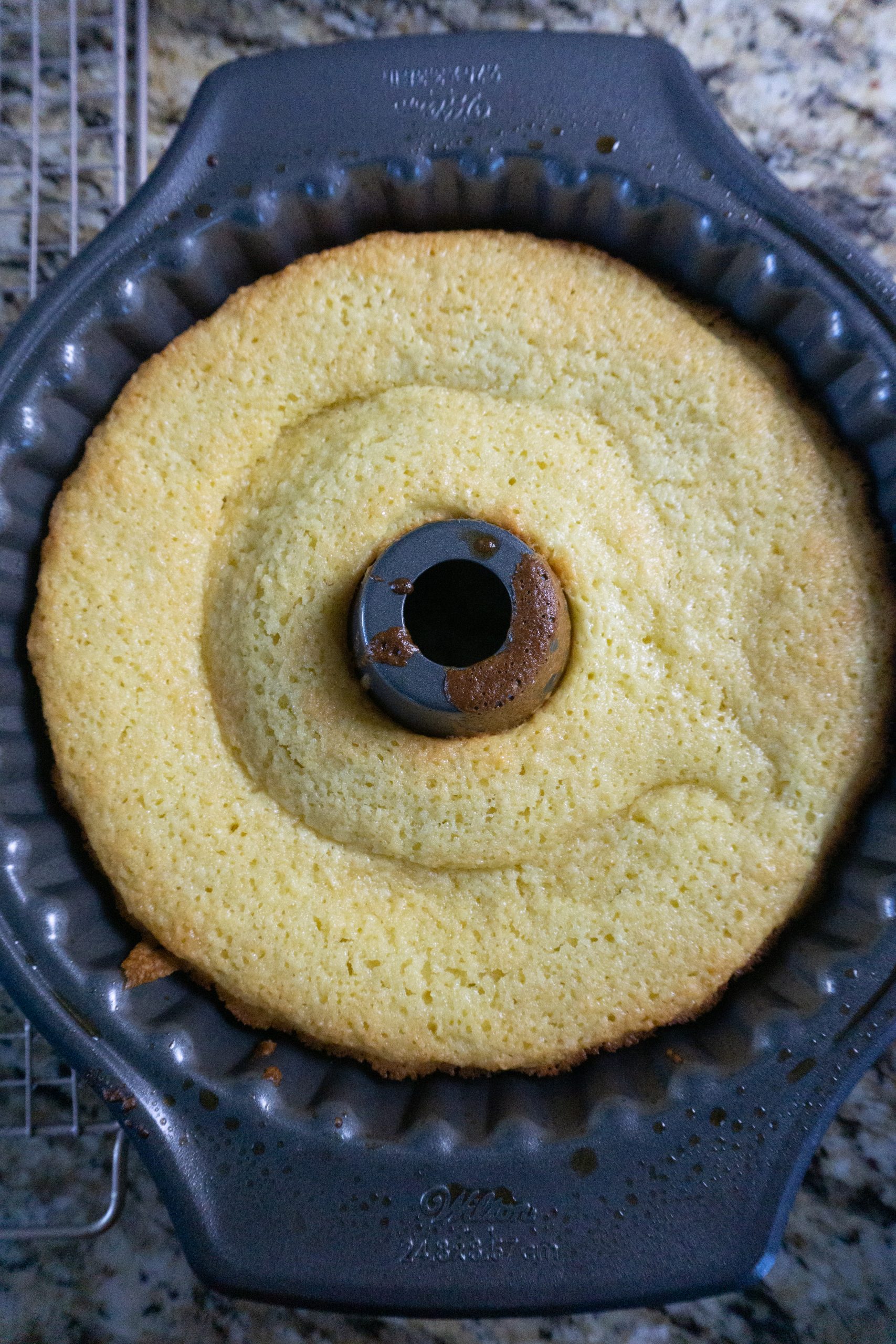 Then, flip over onto a wire rack to cool thoroughly.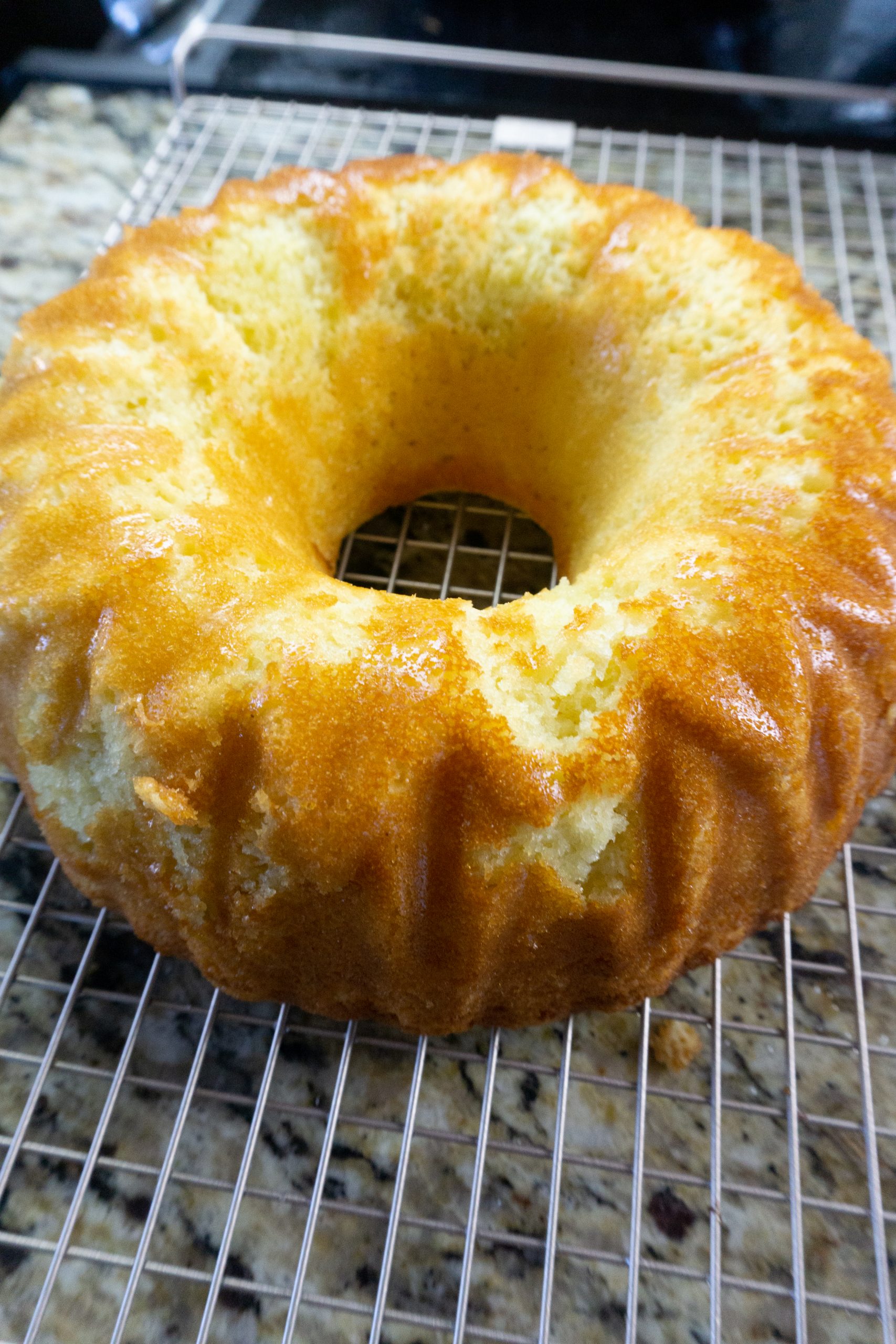 Finally, once cooled, place the cake on a serving platter and dust it with some sifted powdered sugar.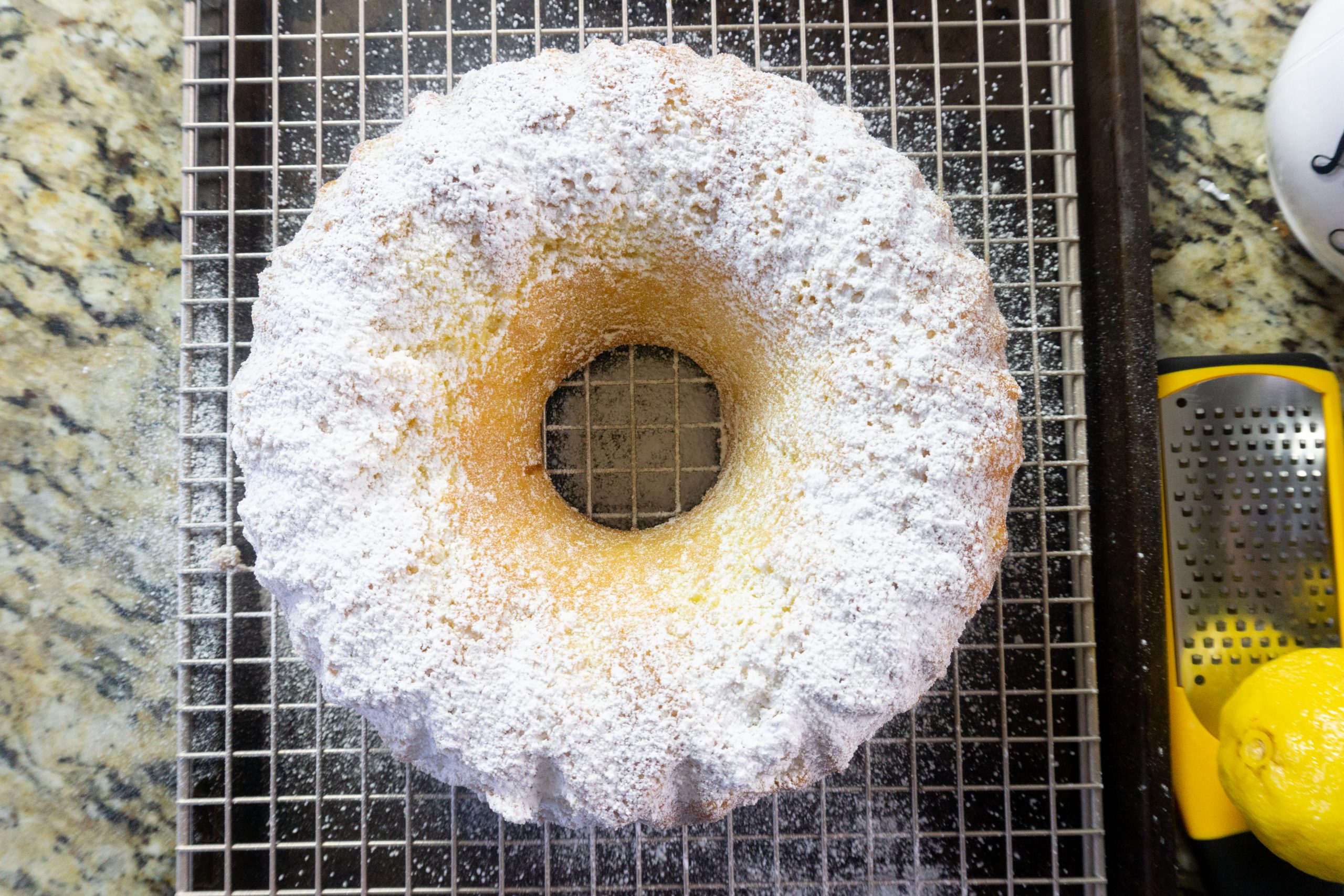 To Finish, top off with a bit of lemon zest.
Enjoy!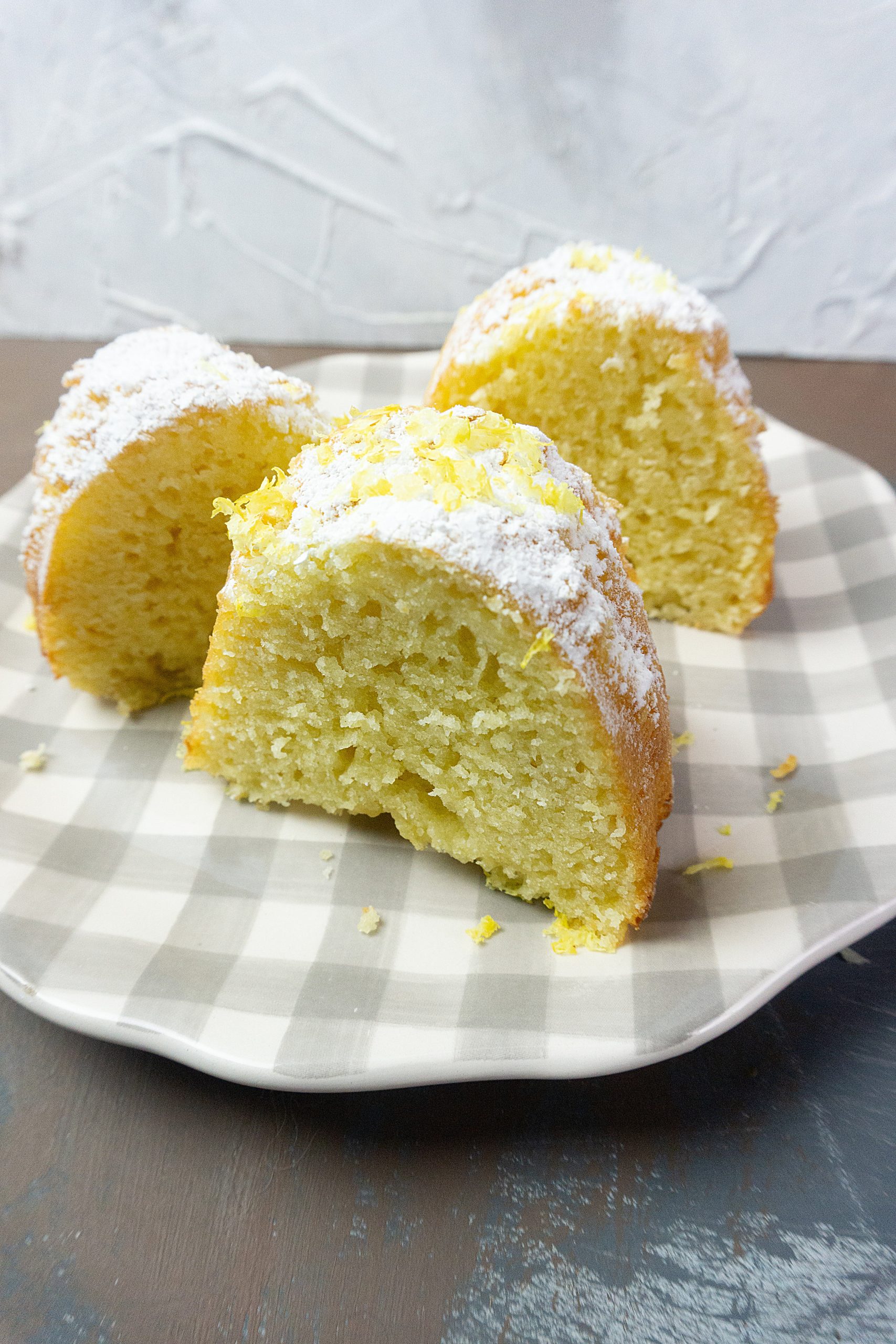 What are Meyer Lemons?
Meyer Lemons are said to be a cross between a lemon and mandarin orange. This allows the flavor of the lemon to be much sweeter. This lemon can add great flavor that is not too tangy or sour.
What's the Difference Between Meyer Lemons and Regular Lemons?
The flavoring between a Meyer Lemon and Regular lemon is what's different. A Meyer Lemon is a lot sweeter than a regular lemon. Whereas, a regular lemon is a lot more sour and tangy.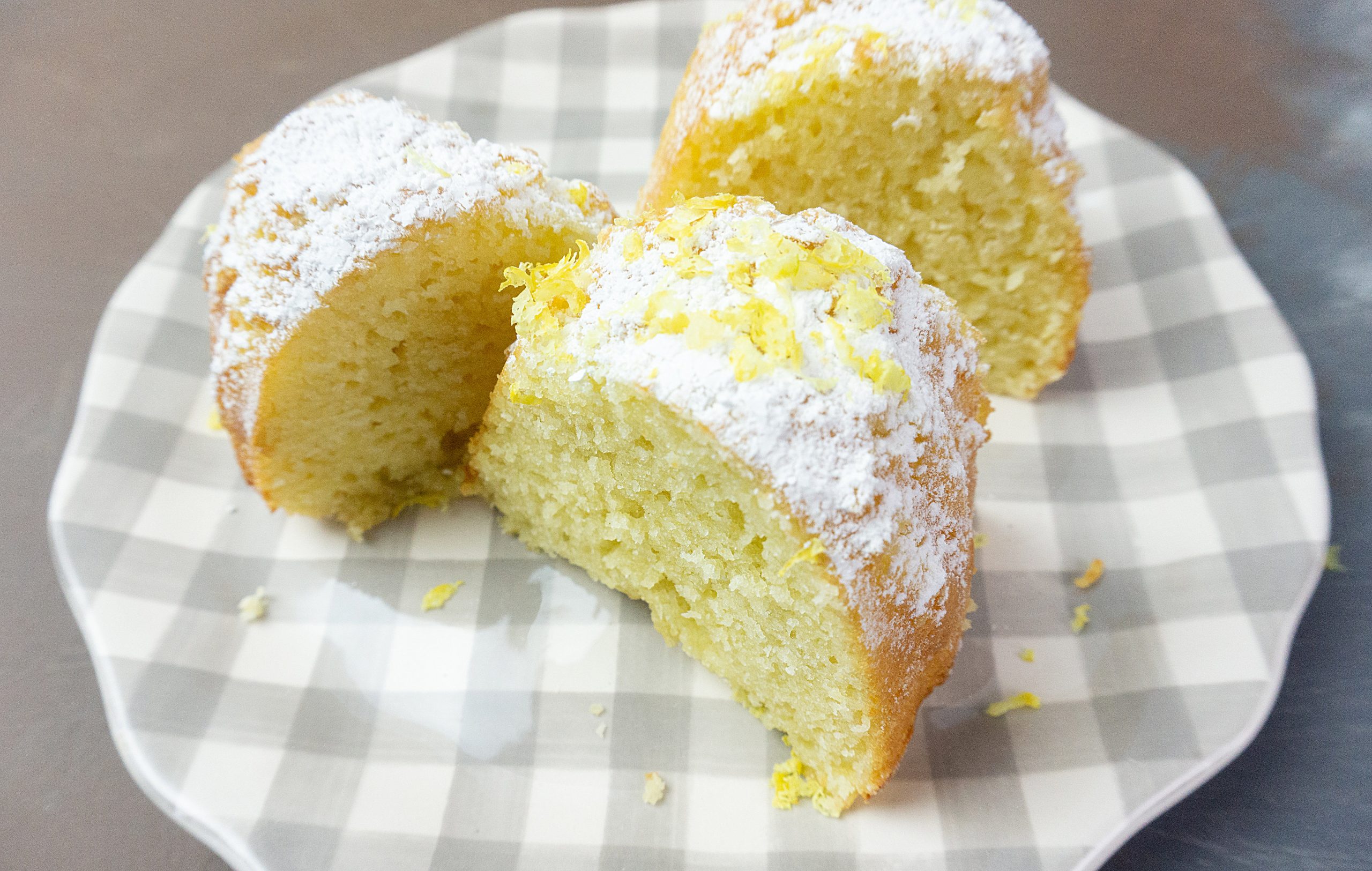 Can we substitute regular lemons for Meyer Lemon?
For this recipe, it is recommended to use a Meyer lemon. Using a regular lemon can add great flavor, but it will be different than using a Meyer Lemon. The Meyer Lemon just has a sweeter flavoring and is perfect for this recipe.
How to Store Meyer Lemon Cake?
Storing the Meyer Lemon Cake is very easy. All you need is a sturdy airtight container, then place the cake inside. You can place the recipe into the fridge or leave it at room temperature to be eaten right away.
How Long Does Meyer Lemon Bundt Cake Last?
Depending on where this recipe is stored, depends on how long it lasts. When left at room temperature, this recipe can last up to 2 days. However, if you place it into the fridge, it can last up to a week.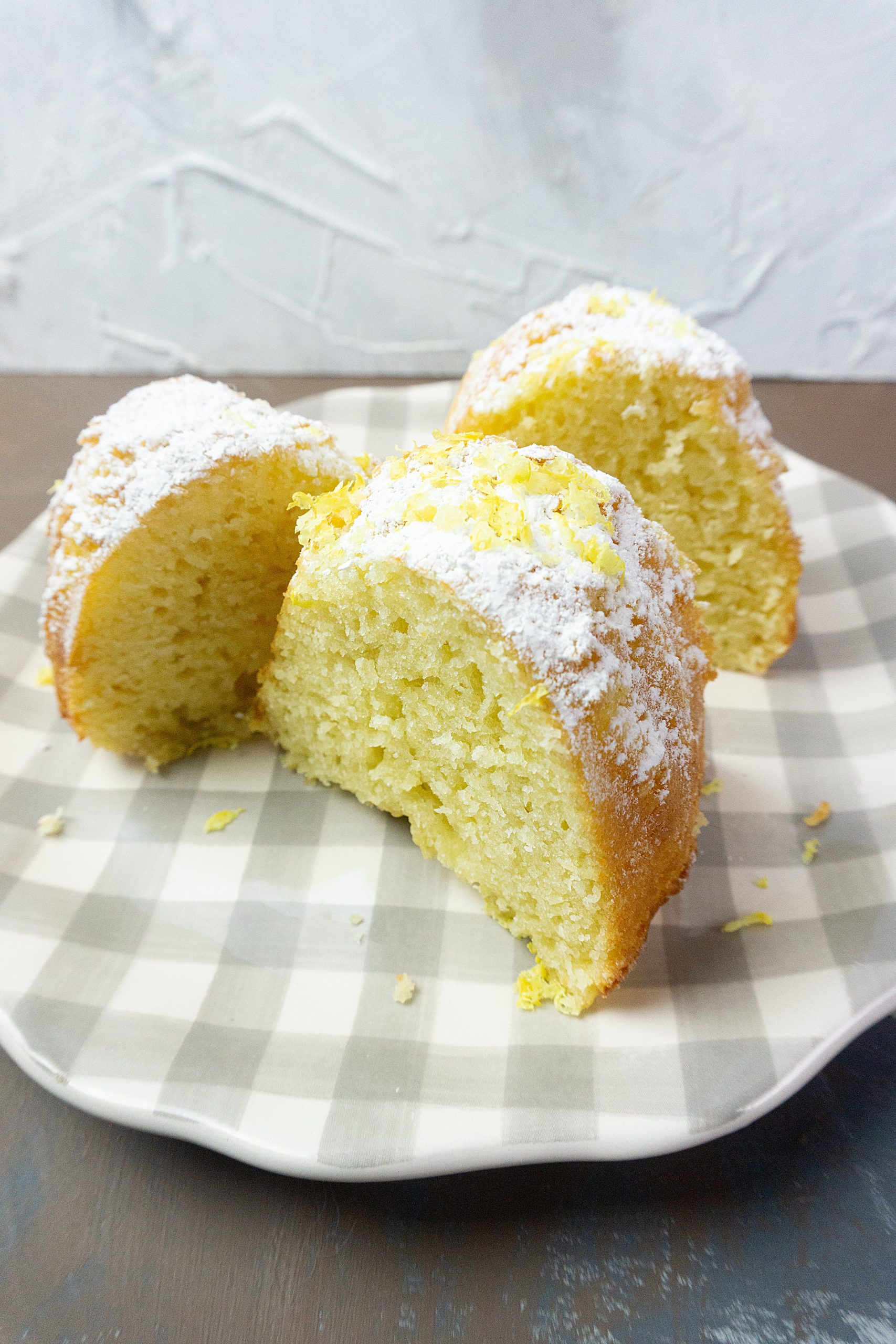 Does This Lemon Cake Need a Glaze?
This Meyer Lemon can do not use a glaze. This recipe is finished off by topping with some sifted powdered sugar. The recipe is rather sweet by itself, so a glaze is no needed, but can be used if desired.
Can Meyer Lemon Cake Be Frozen?
This Lemon cake can be frozen. When placing the recipe into the freezer, you will want to make sure it is in an airtight container. Placing it in the freezer will also help with the shelf life of the recipe as well.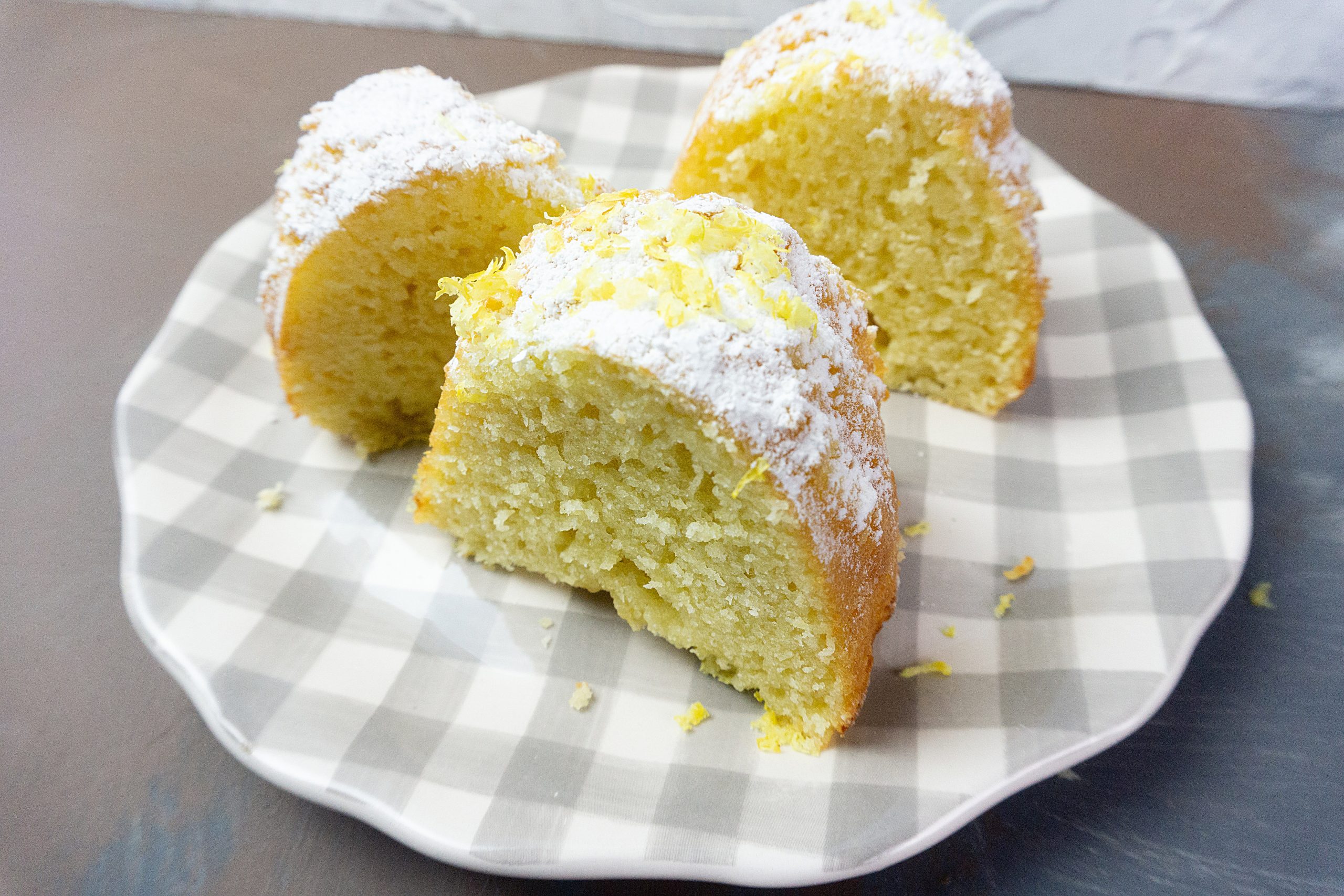 More Bundt Cakes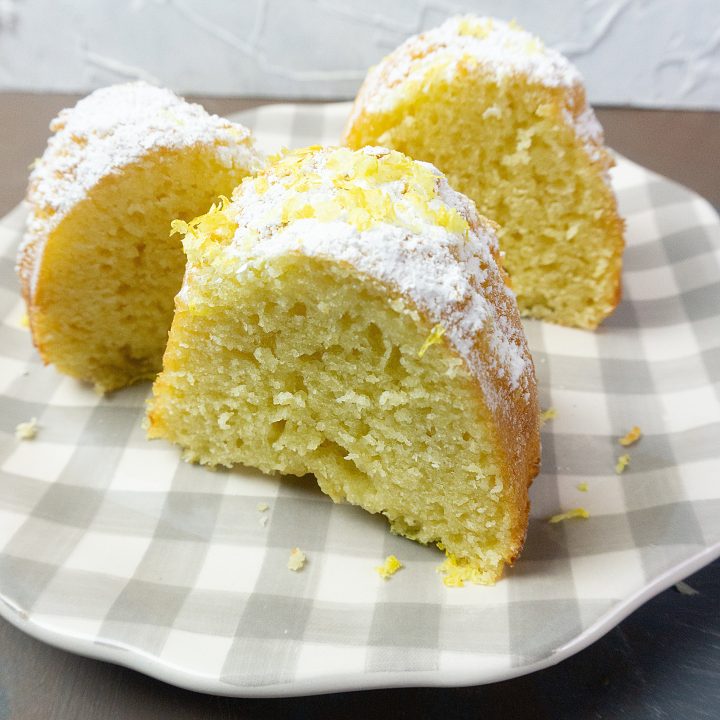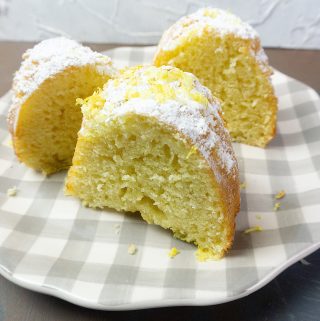 Meyer Lemon Bundt Cake
This recipe is easy and can be adapted for any occasion. You'll love how light, moist and sweet it tastes. It will make you want to bake one every day of the week. Tune in now for this delicious bundt cake recipe that my family just loves!
Directions
Preheat the oven to 350°F. Grease bundt cake pan.

In a medium bowl sift together the flour, baking powder, and salt.

In a large bowl, or in the bowl of your stand mixer fitted with the paddle attachment, whisk together the sour cream, sugar, eggs, lemon zest, oil, vanilla, and lemon juice.

Add the dry ingredients to the wet and mix until just combined.

Bake for 40 to 50 minutes or until a toothpick inserted in the center comes out clean. Let the cake cool for 5-10 minutes before turning it out of the bundt pan onto a cooling rack to let it cool completely.

Once the bundt cake is cooled completely. Move cake to serving dish. Shift powdered sugar over the top. Then zest one lemon over the bundt cake