This is the most amazing Caramel Apple Bundt Cake recipe. The cake has a sweet apple and caramel flavor with a hint of brown sugar that will make your mouth water as soon as you smell it in the oven. As if this cake wasn't already perfect enough, we added some more caramel sauce on top for an extra boost of sweetness!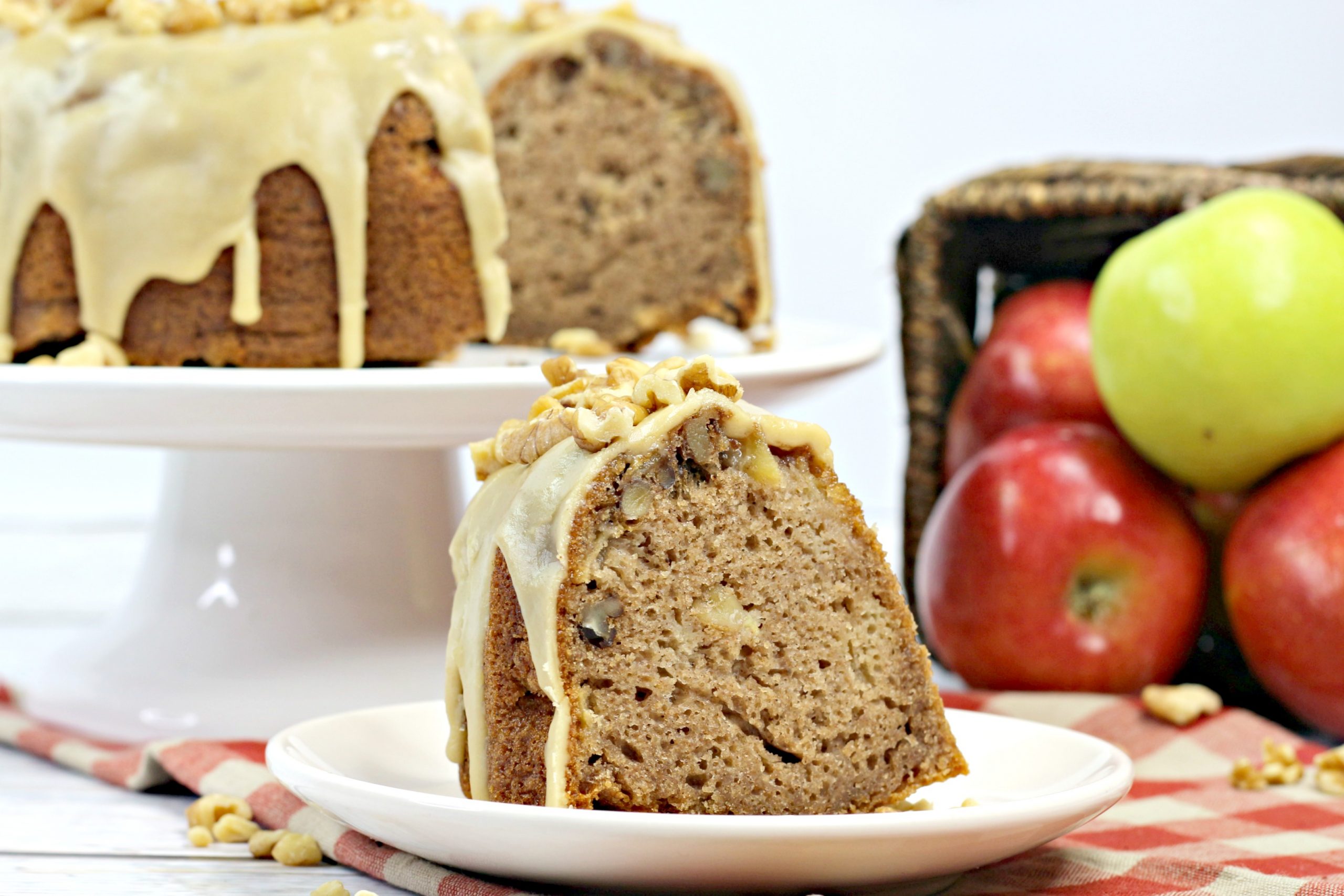 Caramel Apple Bundt Cake
This cake is so good! This recipe is so soft and fluffy in the middle with a delicious caramel glaze. If you have ever had caramel and apples, you know how amazing the combination of flavors is! This recipe shows just that by using peeled and chopped Granny Smith Apples. This recipe is so good that I recommend trying out other apple recipes like this such as Easy Caramel Apples Recipe and 44 Mouthwatering Apple Recipes You'll Love
Ingredients
Flour- Use all-purpose flour for the best results.
Baking Soda- This will allow your ingredients to rise in the oven.
Ground Cinnamon- Cinnamon goes great in any apple recipe.
Nutmeg- This will give the recipe a nice aroma.
Salt- This will bring out the flavors in your recipe.
Oil- You will use canola oil or substitute it with vegetable oil.
Applesauce- You will need unsweetened applesauce.
Greek Yogurt- You will need plain greek yogurt. – How to Make Greek Yogurt
Brown Sugar- This will add richness and moisture to your cake.
Sugar- Every great dessert recipe uses sugar in the ingredients.
Eggs- Use your eggs at room temperature.
Vanilla- Use pure vanilla extract for the best flavoring.
Apples- You will want Granny Smith Apples that are peeled and chopped.
Butter- Use unsalted butter to control the amount of salt in the recipe.
Heavy Cream- This will help with the consistency of the glaze.
Powdered Sugar- This sugar is great for homemade icing and will need to be sifted before adding to the recipe.
Walnuts- These will need to be chopped for the topping.
How to Make an Apple Bundt Cake
Set the oven to 325 degrees.
Use pam to grease a fluted pan.
In a large bowl, combine your flour, baking soda, cinnamon, nutmeg, and salt.
Pour in the oil, applesauce, yogurt, and both sugars into another large bowl and combine.
Add in the vanilla and eggs and as you add them to the mixture, beat the ingredients.
Combine both mixtures slowly and mix slightly until fully incorporated. (Do not over mix)
Put in the chopped apples and use a spatula to fold into the mixture.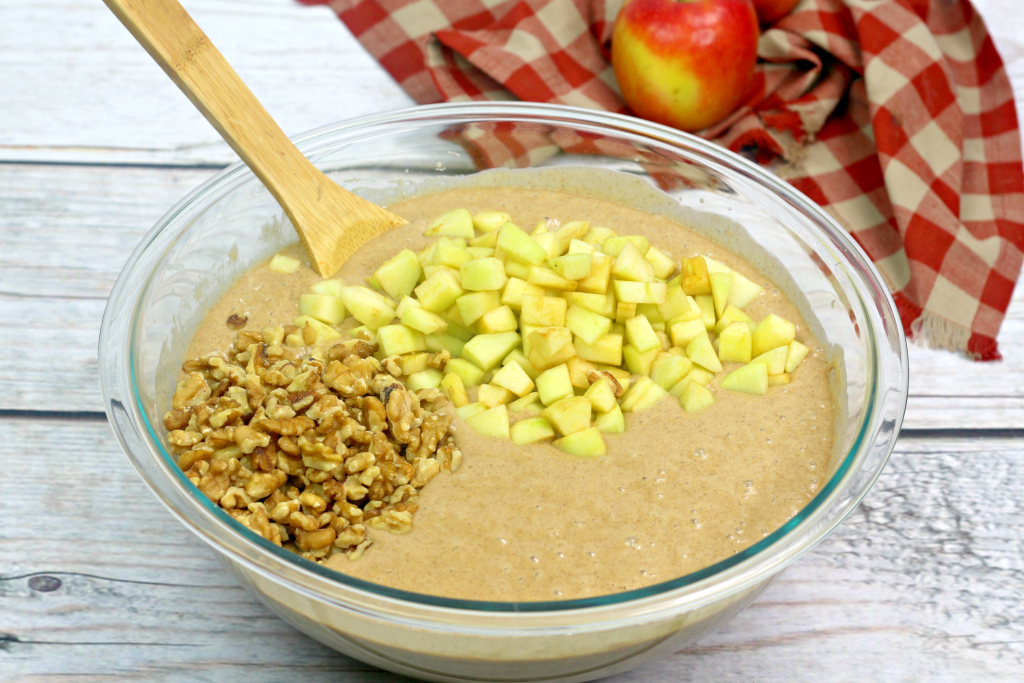 Begin scooping the batter into the prepared pan.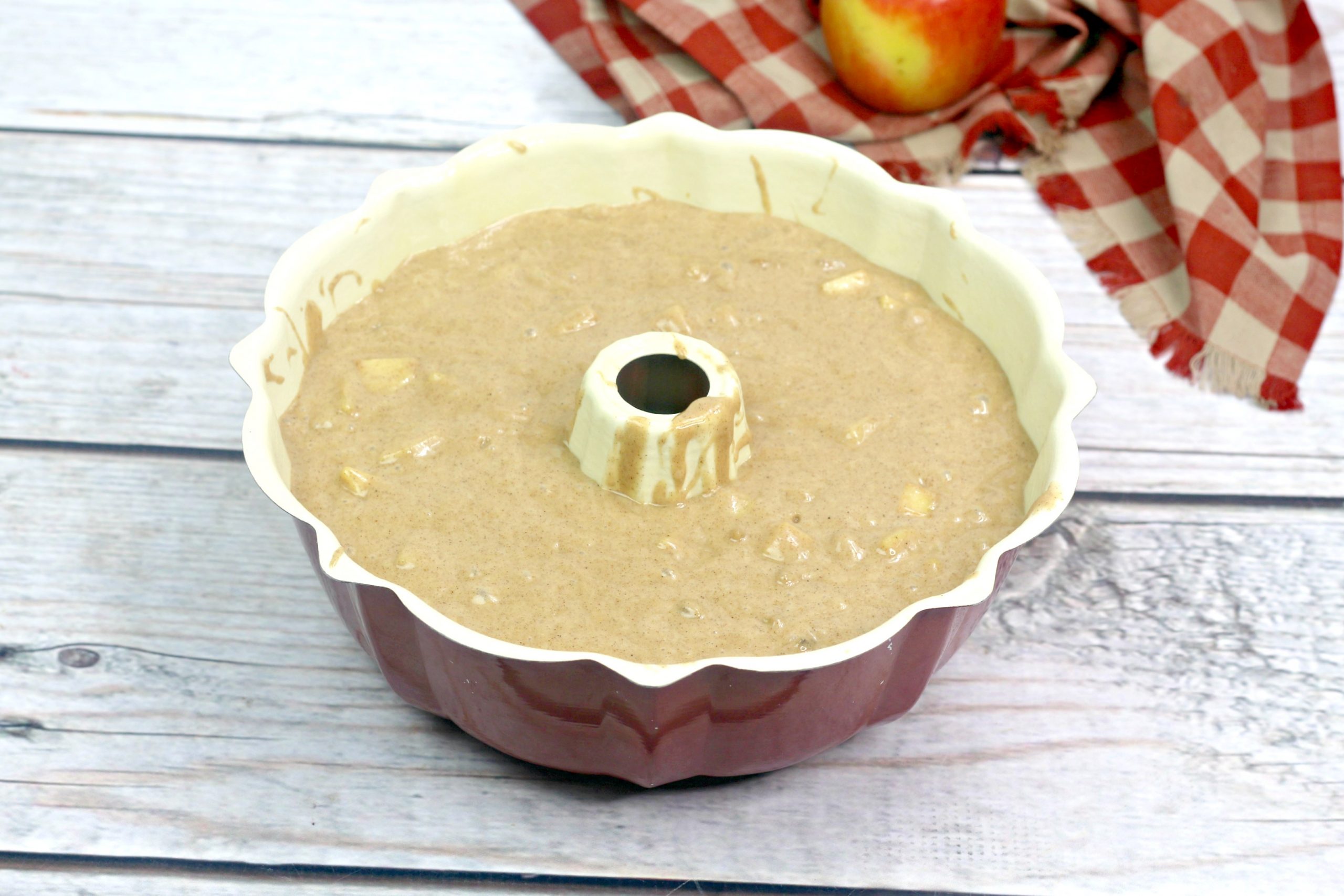 Place into the oven for 55-65 minutes. (To check if the cake is done, insert a toothpick into the middle and if it comes out clean, it is done.)(Make sure the edges of the cake do not brown, you make need to place foil on top to cover the cake.)
Caramel Glaze Directions:
In a medium saucepan, put in the butter and set to medium heat until it's melted.
Pour in the brown sugar and whisk to combine the ingredients.
Mix continuously until the mixture begins to boil.
Let the mixture boil for about 1 minute without stirring.
Turn the heat down and let the brown sugar mixture simmer for another minute.
Take off the heat and set aside to allow the mixture to thicken. (This process will take about 2 minutes)
Put in the powdered sugar and begin whisking it in.
Quickly add the glaze on top of the finished cake and add some of the chopped apples on top.
Set aside to cool before serving.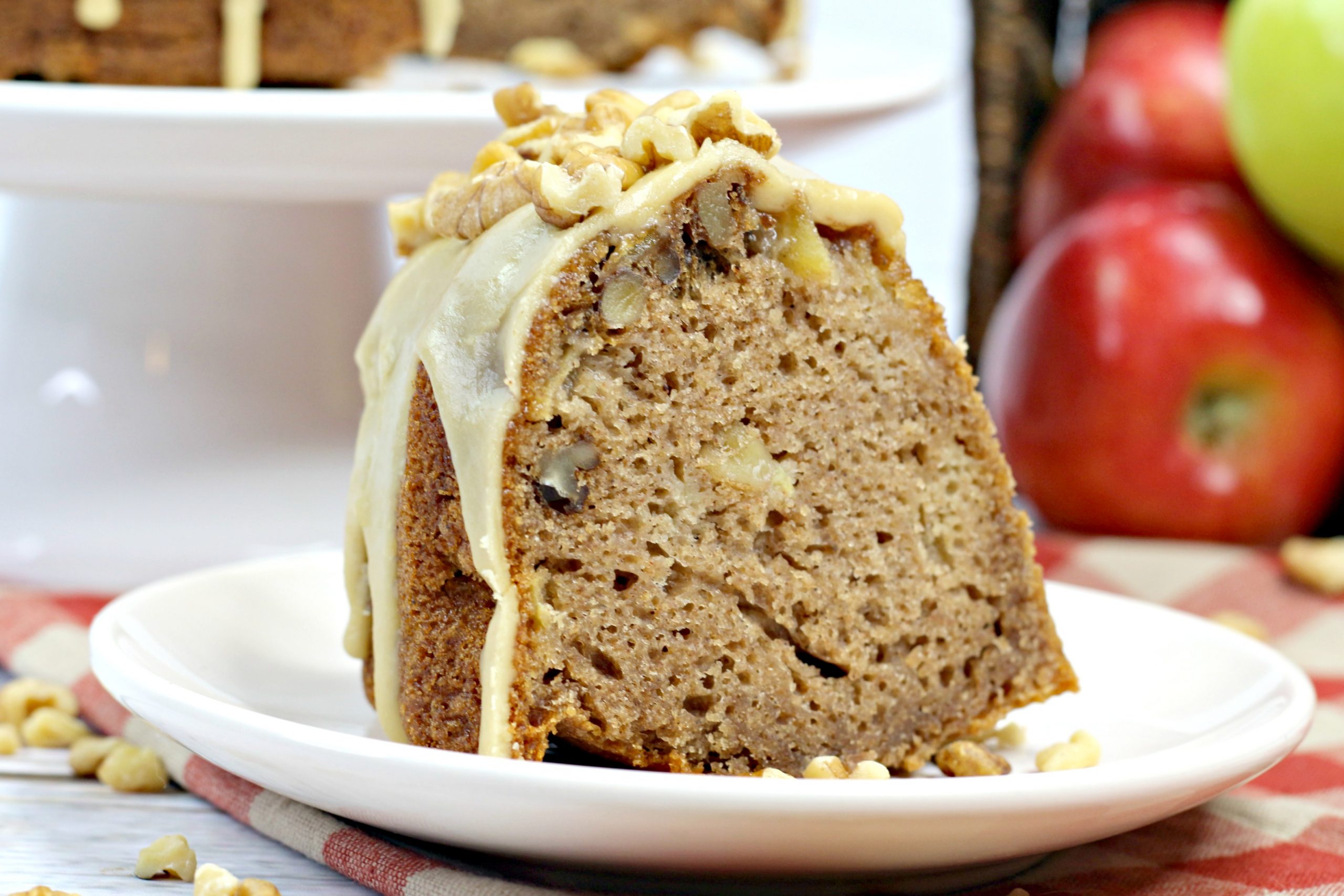 How to Store Apple Cake?
Storing this Bundt cake is very simple. If you already have a container to hold your cake, that will work perfectly. However, if you don't, any airtight container will work alright. You can also leave this at room temperature if you plan on eating it immediately or place it in the fridge.
What Apples Should I Use For The Best Apple Cake?
You can use a variety of apples for this recipe. You can use your choice of Jonagold, Ida Red, Crispin, or Granny Smith Apples. You want to make sure that the apples you use are baking apples, this will allow them to cook appropriately and have a good texture.
How to Slice a Bundt Cake?
The whole bundt cake is shaped into a circular cake with little designs or dips to determine where to slice. To get the perfect piece of cake you will want to slice it in the correct place. You will want to use a sharp knife to cut on the indent of the cake on both sides, then slide it out to reveal a perfect piece of cake.
Does This Bundt Cake Recipe Need a Glaze?
This Caramel Apple Cake recipe includes a glaze to add on top of your finished cake. This recipe however can do without if you do not want a glaze for it. Although, the glaze adds so much to the recipe and a delicious texture to the cake.
How Long Does Caramel Apple Bundt Cake Last?
The length that a recipe lasts depends on where you store it. You can place the cake at room temperature to be eaten right away. You can also place the cake into the fridge to last up to 5 days.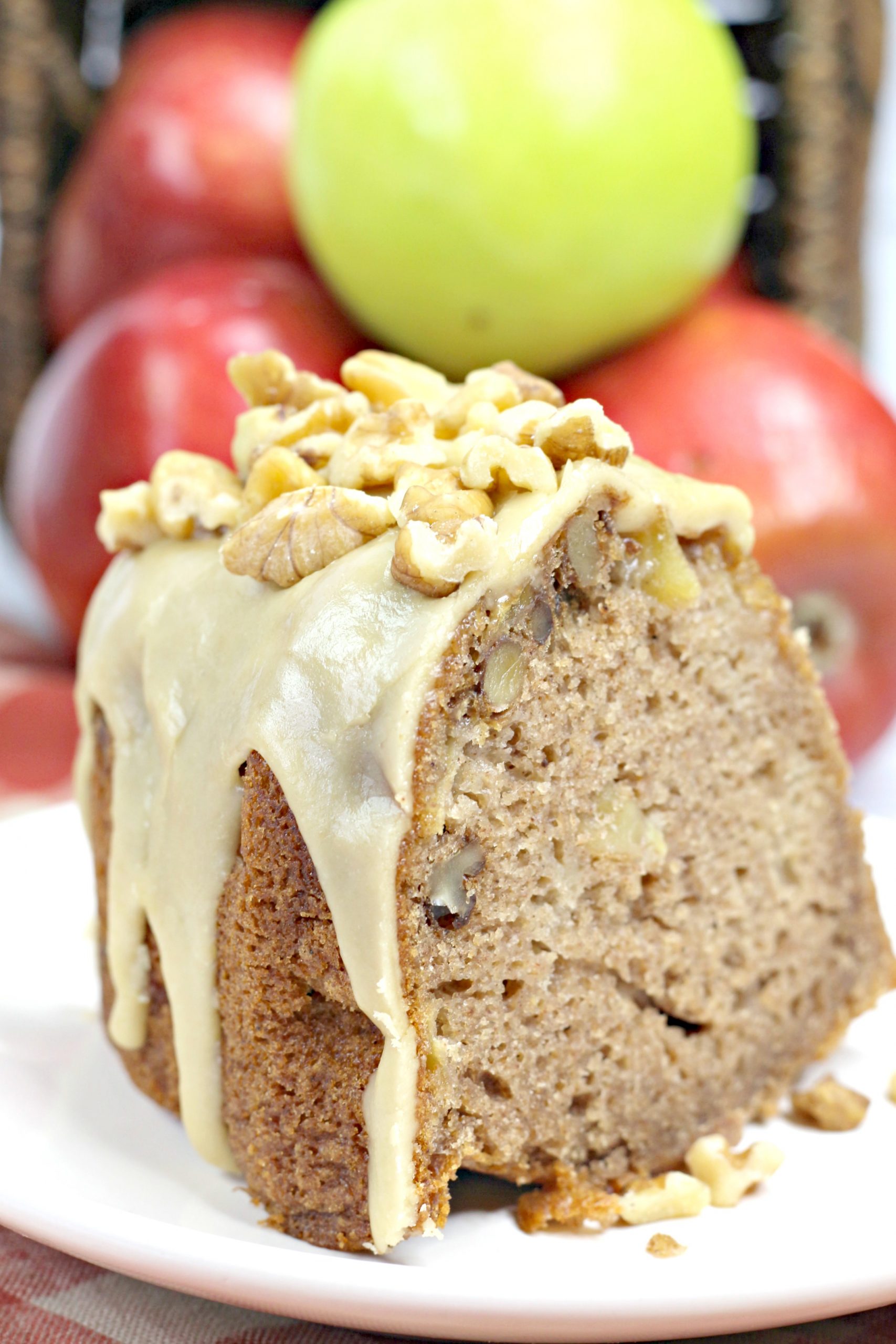 More Cake Recipes: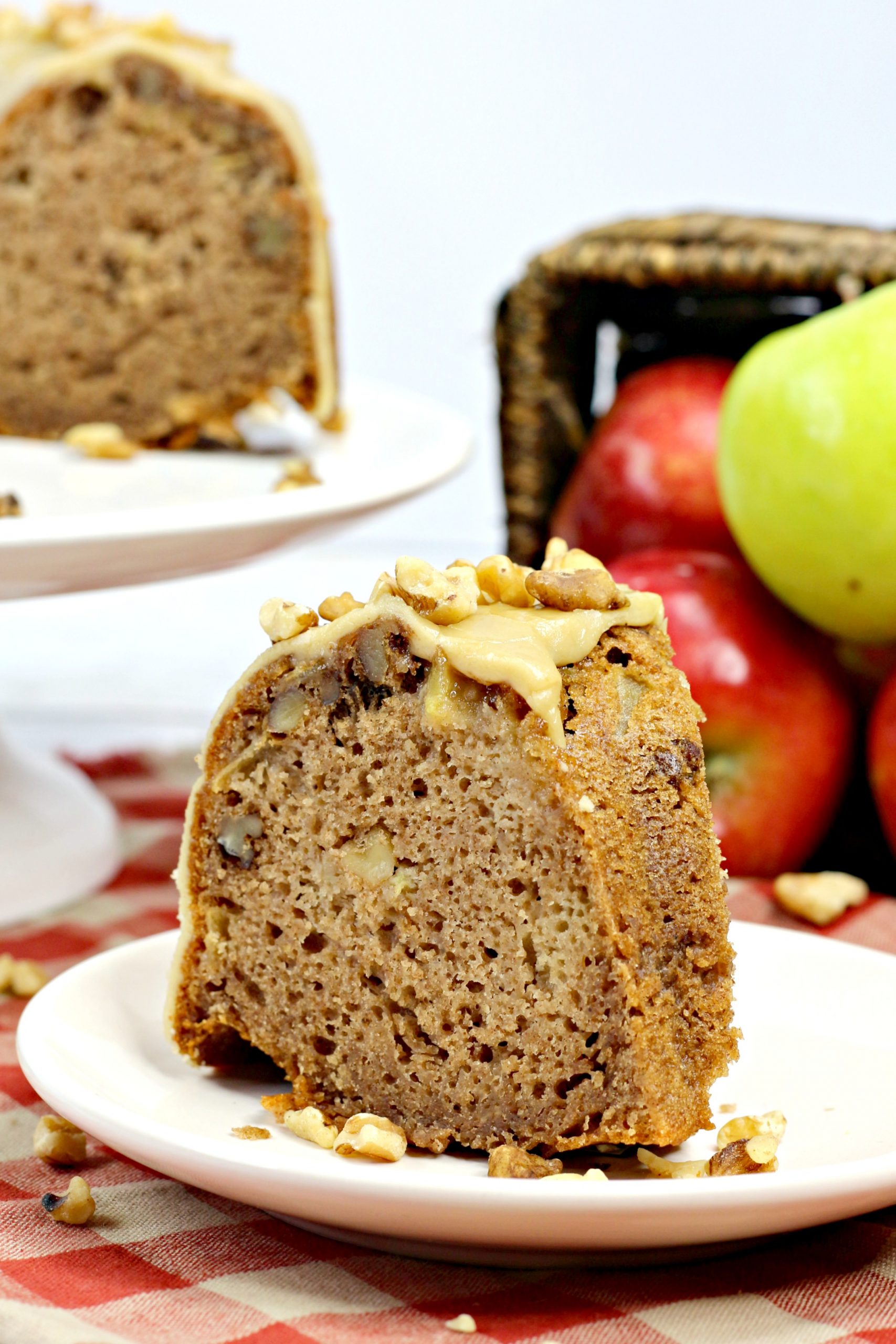 Related Recipes
Chocolate Peanut Butter Bundt Cake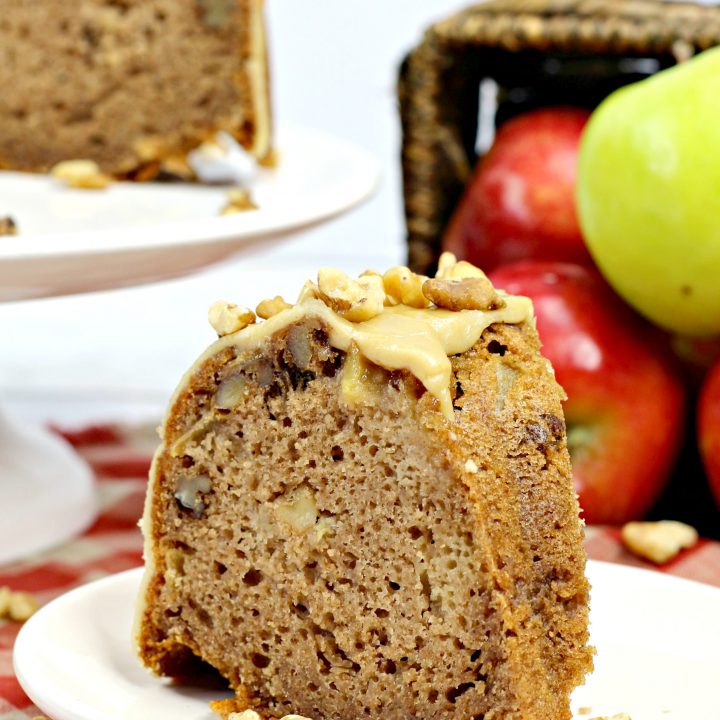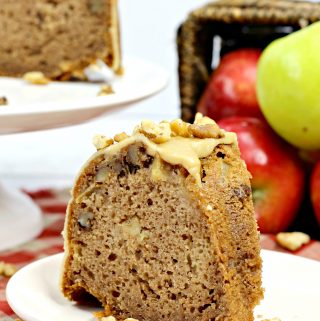 Caramel Apple Bundt Cake
Equipment
Fluted cake pan

Baking spray

Medium saucepan
Ingredients
Cake Ingredients:
3

C

flour

1

tsp

baking soda

3

tsp

ground cinnamon

1/2

tsp

nutmeg

1/2

tsp

kosher salt

3/4

C

canola oil

1/2

C

applesauce unsweetened

1/2

C

Greek yogurt plain

1 1/4

C

brown sugar packed

1/2

C

sugar

3

large eggs room temp

1

TBSP

pure vanilla extract

3

Granny Smith apples medium (peeled/ well chopped)
Caramel Glaze Ingredients:
4

TBSP

unsalted butter cut into chunks

1/2

C

brown sugar packed

1/3

C

heavy cream

1/2

C

powdered sugar sift before adding to the recipe

1

tsp

vanilla

1

C

chopped walnuts
Directions
Cake Directions:
Preheat oven to 325 degrees.

Prep the fluted pan with a baking spray.

Add flour, baking soda, cinnamon, nutmeg, and salt in a large bowl. Whisk to mix.

Set aside.

Add oil, applesauce, yogurt, and both sugars in a second large bowl. Mix well to combine.

Add in the eggs and vanilla beating as they are added in with the oil, applesauce, and sugar mixture.

Slowly add the wet mixture in with the dry ingredients.

Stir slightly to just incorporate. (Do not over mix)

Add chopped apples to the batter. Use a spatula to fold in gently.

Scoop the batter into the prepped fluted cake pan.

Bake at 325 degrees for 55-65 minutes. (Check by inserting an l wooden toothpick into the center. If it comes out clean the cake is done.) (Watch the cake to make sure that the edges of the cake don't brown you may have to cover it with foil.)
Caramel Glaze Directions:
Add butter to a medium saucepan.

Melt butter over medium heat.

Add brown sugar to the saucepan while whisking together until completely mixed.

Continue to stir while bringing the mixture to a boil.

Allow boiling for one minute without stirring.

Reduce the heat but allow the ingredients to simmer for one minute.

Remove from the heat. Set aside to cool in order to thicken. (This will take about two minutes)

Add in powdered sugar whisking to mix until smooth.

Immediately spoon glaze over cake and top with chopped apples

Allow cooling before serving.