Looking for the best Banana Nut Muffin Recipe? This is a delicious moist muffin that is a delicious breakfast idea and makes a healthy snack. Keep these as a grab and go breakfast or grill it for a delicious treat.
Banana Nut Muffin Recipe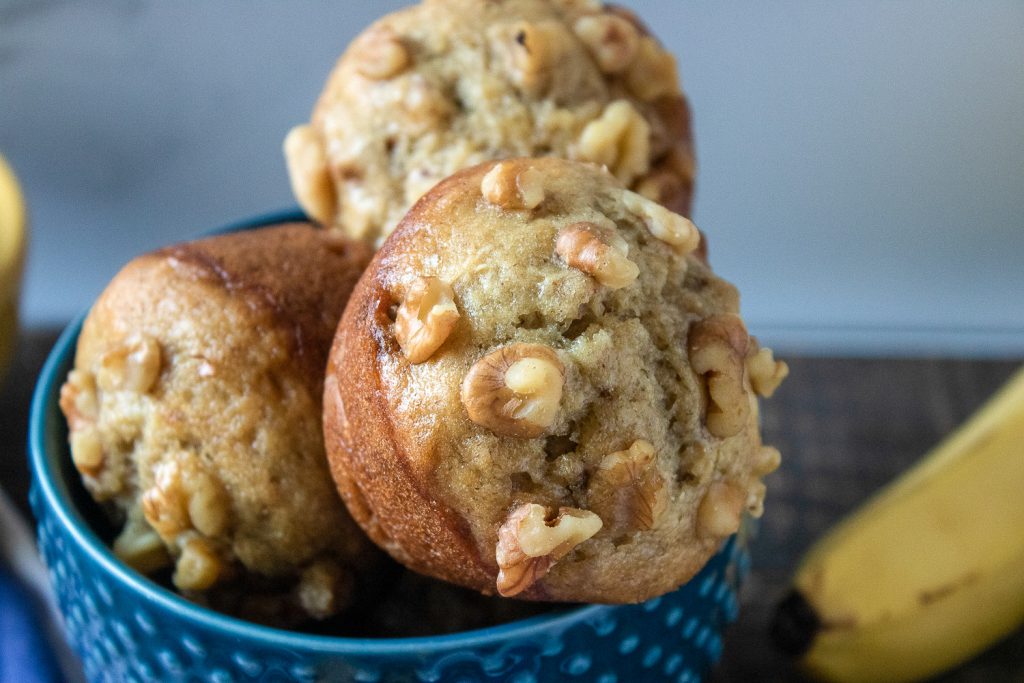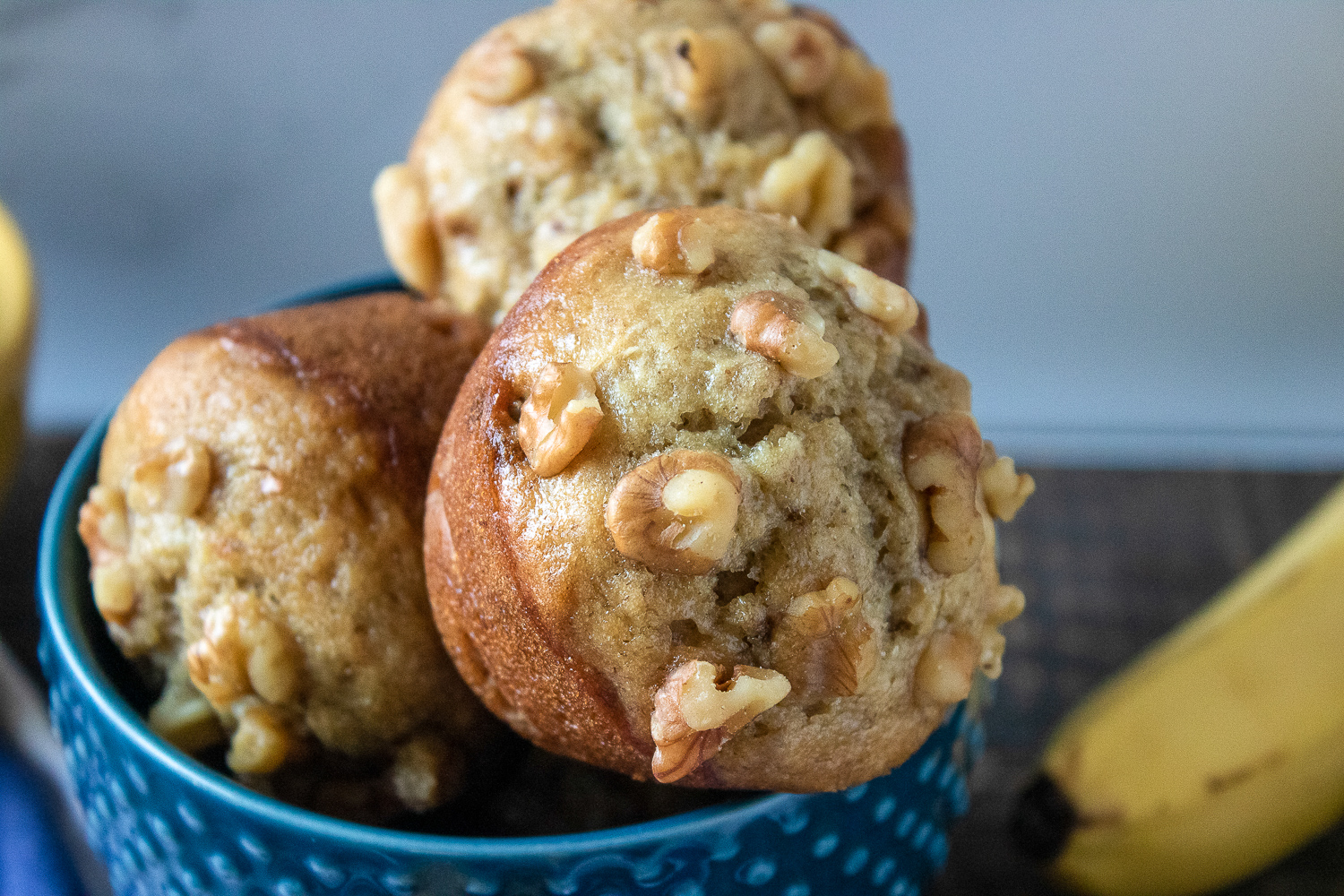 I love muffins. I think they make a great breakfast, can be served as a snack and can be the perfect afternoon pick me up. This banana nut muffin recipe is great for that. I like to keep them on hand, some stored in the freezer so that I can remove it from the freezer and have them whenever the craving hits.
Since grab and go breakfast ideas are always in demand, you can also keep Air Fryer Breakfast Taquitos and Oatmeal Breakfast Cookies – Healthy Oatmeal Raisin Cookies.
What Nuts Go With Banana Muffins?
I am using walnuts with these banana muffins. It is my go to nut for muffins. However, you can use pecans and even peanuts. Any type of nut will work well.
How is a muffin different than a cupcake?
Well, the most obvious thing that is different between a muffin and a cupcake is the frosting on top. Cupcakes always have frosting. But there are other things too. Most muffins are made with oil which gives them a more tender texture. With this recipe, we do not use oil anyway, but some lite butter and the banana replace much of the oil.
How To Store Banana Muffins With Nuts
These muffins will last for about 2 days when you store them at room temperature in an air-tight container. If you want them to last a slightly longer time, you can also store them in the refrigerator.
How to Serve Banana Nut Muffins
I like to serve my muffins warm. Even if they are not fresh from the oven. I will microwave muffins for 10 to 15 seconds to warm the muffin and soften it, but this time will vary depending on your microwave. As a special treat, I cut the muffin in half, add butter to each side and then place it in a hot skillet until it is golden brown.
How to Mash Bananas
There are 2 very basic ways to mash bananas. You can use a fork, which I have found is the easiest for this recipe, or with a mixer, which I use when I am making a cake or something that I am using a mixer for.
How to freeze banana muffins
When I want to freeze muffins, I make sure to store them in an airtight container or in a freezer bag. I like to make sure they are not frozen together so that I can remove one or 2 muffins at a time. Make sure the muffins are cooled when you place them in the freezer.
How Many Weight Watchers Points in Banana Nut Muffins
This is not one of those muffin recipes that are so good but it is not considered a Weight Watchers recipe. This recipe comes in at 8 points per muffin, which is ok as a treat but that is too high for me to eat often. You can make a few changes like using Sukrin Gold instead of brown sugar and a sugar substitute instead of sugar, like Splenda or another one to one brand.
I also like to decrease the amount of walnuts when I am trying to decrease the points. I lower the walnuts to 3/4 cups and it brings the points down to 4 points per muffin, when also using the sugar substitutes.
For the lowest points per muffin, use the brown sugar substitute, white sugar substitute, and reduce the walnuts to 3/4 cup. This makes the muffins:
| | |
| --- | --- |
| Weight Watchers Plans | Points |
| Purple | 4 |
| Blue | 4 |
| Green | 4 |
Have you joined our Weight Watchers Facebook Group? Free recipes and support. Perfect for everyone!
Want to Weight Watchers for almost free? Get a Year's Membership for the Price of a Month – Learn More About Healthi – Use Code Coach_DebiMurray to save
Save Money on Weight Watchers. One Year on iTrackBites for about the cost of 1 month on Weight Watchers. All the same plans and points. Use code
Code_DebiMurray to save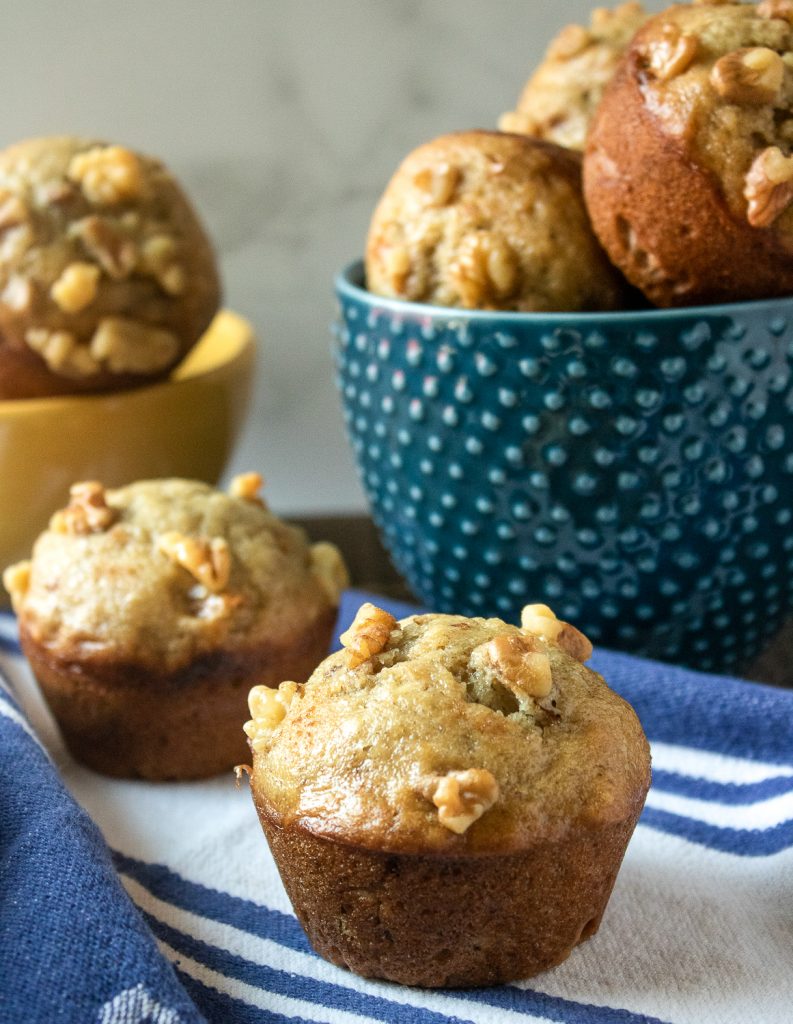 What Goes Into Banana Nut Muffins?
Get the full list of ingredients, with measurements, and step-by-step instructions at the bottom of the post in the printable recipe card.
Non-stick cooking spray
Bananas
I Can't Believe It's Not Butter Lite
Almond milk
Egg
Vanilla
Brown sugar
Sugar
All-purpose flour
Salt
Baking soda
Walnuts
Step by Step Banana Nut Muffin Recipe
Start with a preheated oven and prepare the muffin pan.
Mash the bananas and melt the butter. Add the bananas, butter and milk to a mixing bowl and mix it together.
Add in the egg, vanilla and brown sugar and beat it together.
Add in the dry ingredients and mix until just mixed.
Fold in the walnuts.
Fill the prepared muffin pans about 4/5 of the way full. Top with more walnuts if you want.
Bake in the preheated oven for 18 minutes. Remove from the oven and cool before serving.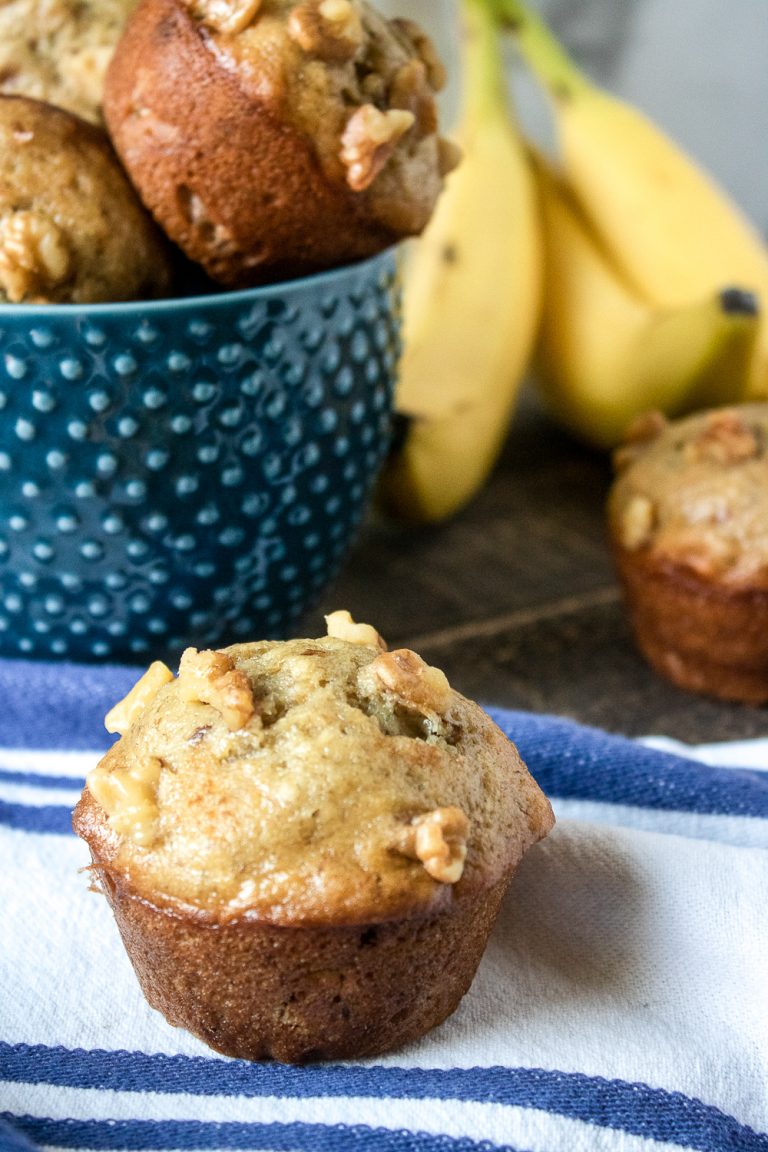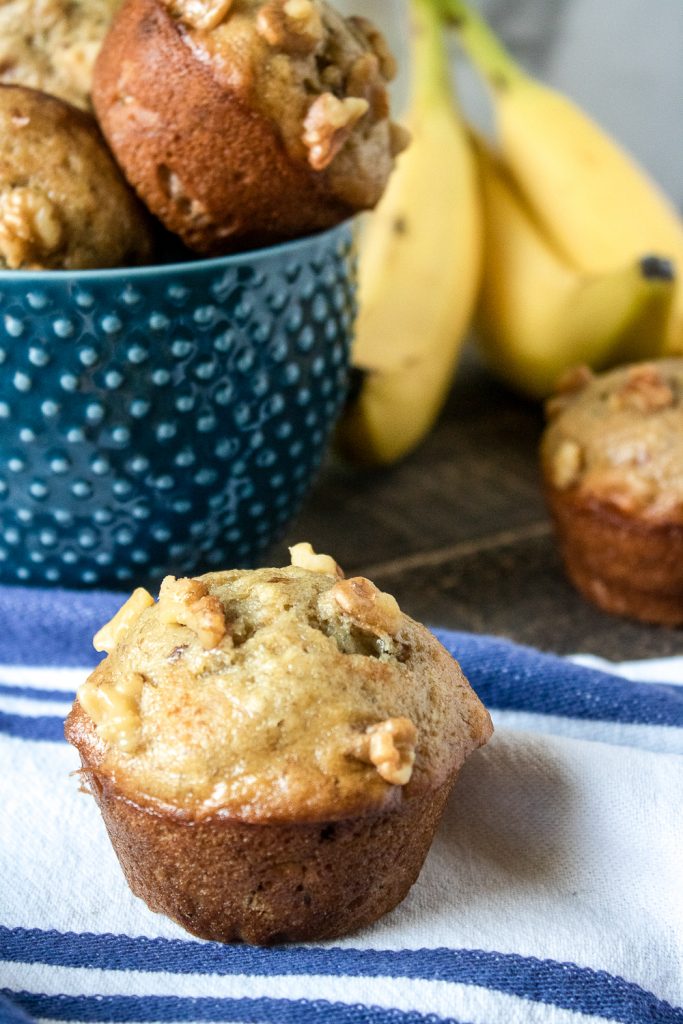 More Muffin Recipes
Need more ideas and help to stay on track with Weight Watchers?
Save Money on Weight Watchers- Get a Year for the Price of a Month – Everything You Need to Know About iTrackBites – Use Code Coach_DebiMurray to save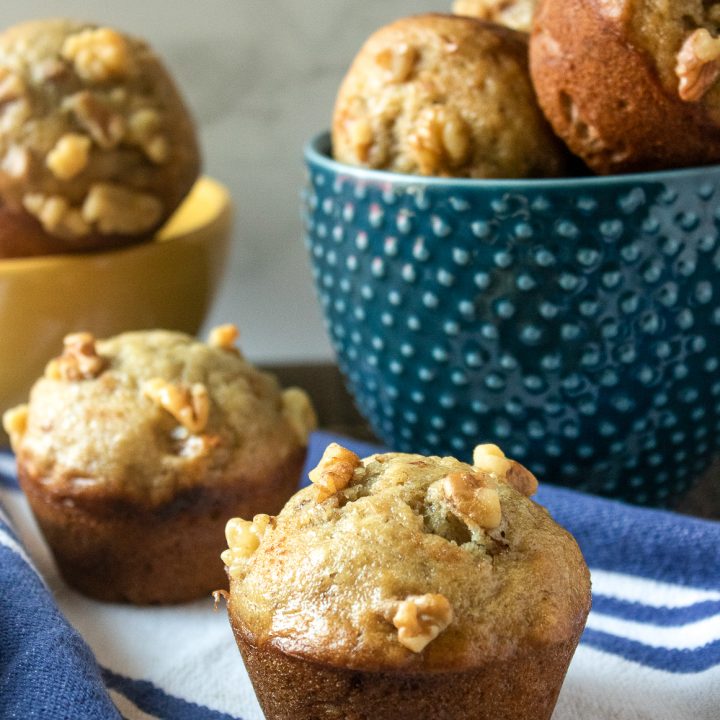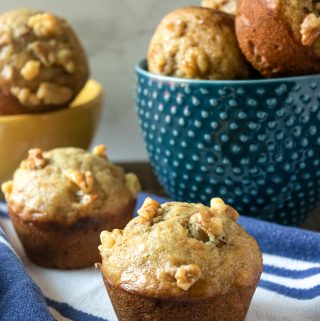 The Best Ever Banana But Muffins
Directions
Preheat oven to 350°F. Spray a standard muffin tin with non-stick cooking spray and set aside.

Add the mashed bananas, melted butter, and milk to a large mixing bowl. Mix to combine.

Beat in the egg and vanilla, and brown sugar.

Add in the remaining dry ingredients and fold in until just mixed. Then, fold in the walnuts.

Fill muffin pan cups to about 4/5 full. Top with additional walnuts, if desired.

Place in the pre-heated oven and bake for 18-20 minutes, or until toothpick inserted in the center of a muffin comes out clean. Remove from oven and cool for at least 5-10 minutes before serving. Enjoy!