The Easiest Upcycled DIY Flower Vase tutorial is perfect for Mother's Day or any other special occasion. This simple Easy Flower Vase is one of my favorite recycled crafts because it makes a beautiful home decoration craft or a great gift idea.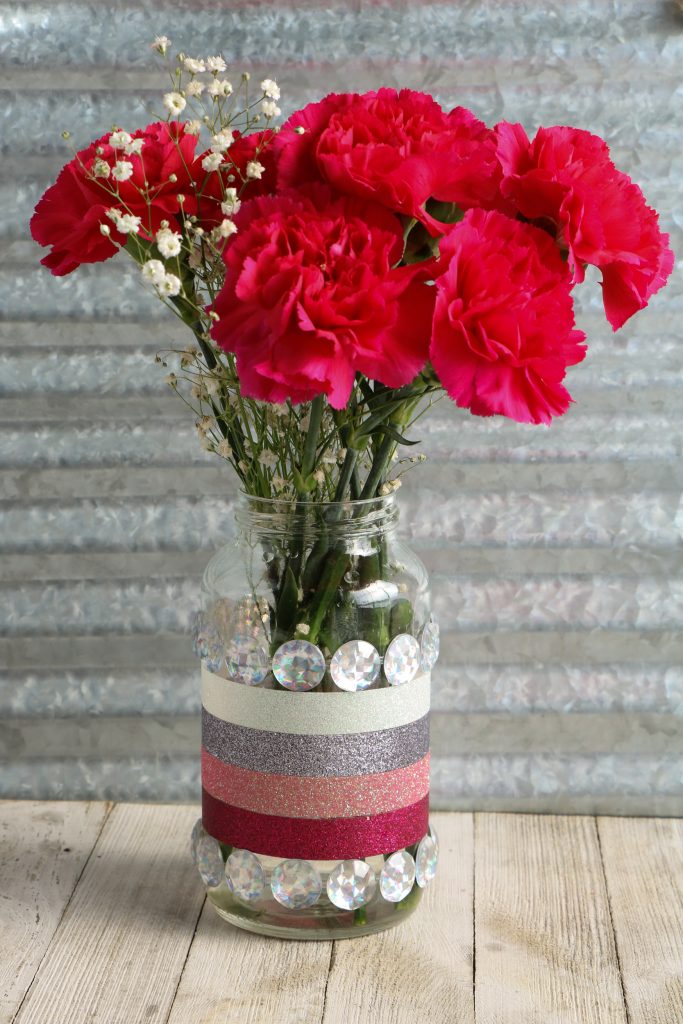 Easiest Upcycled DIY Flower Vase
This Glass Flower Vase is a great vase decoration idea. This is a very simple, fun, and creative way to make a lovely gift for Mother's Day. You can decide between a large and small flower vase to decorate in your own way with colorful tape and gems. There are many different flower vase decorations you can choose from to make this vase even more special.
If you love making Mother's Day crafts that work as Mother's Day gifts, you can also make this Valentine's Day Flower Pot Craft that has adorable fingerprint hearts on it, DIY Father's Day Frame – Father's Day Craft which will also be great for Mom, or this Flower Pot DIY Bird Bath Craft. Of course, we have a lot of Mother's Day Crafts to choose from too in this list.
Supplies
Jar- You will need a Pasta Jar or another larger jar with the labels taken off, washed, and dried.
Tape- You can get Washi tape which comes in many different colors and patterns.
Gems- You will need the adhesive gems to stick to the jar for decoration.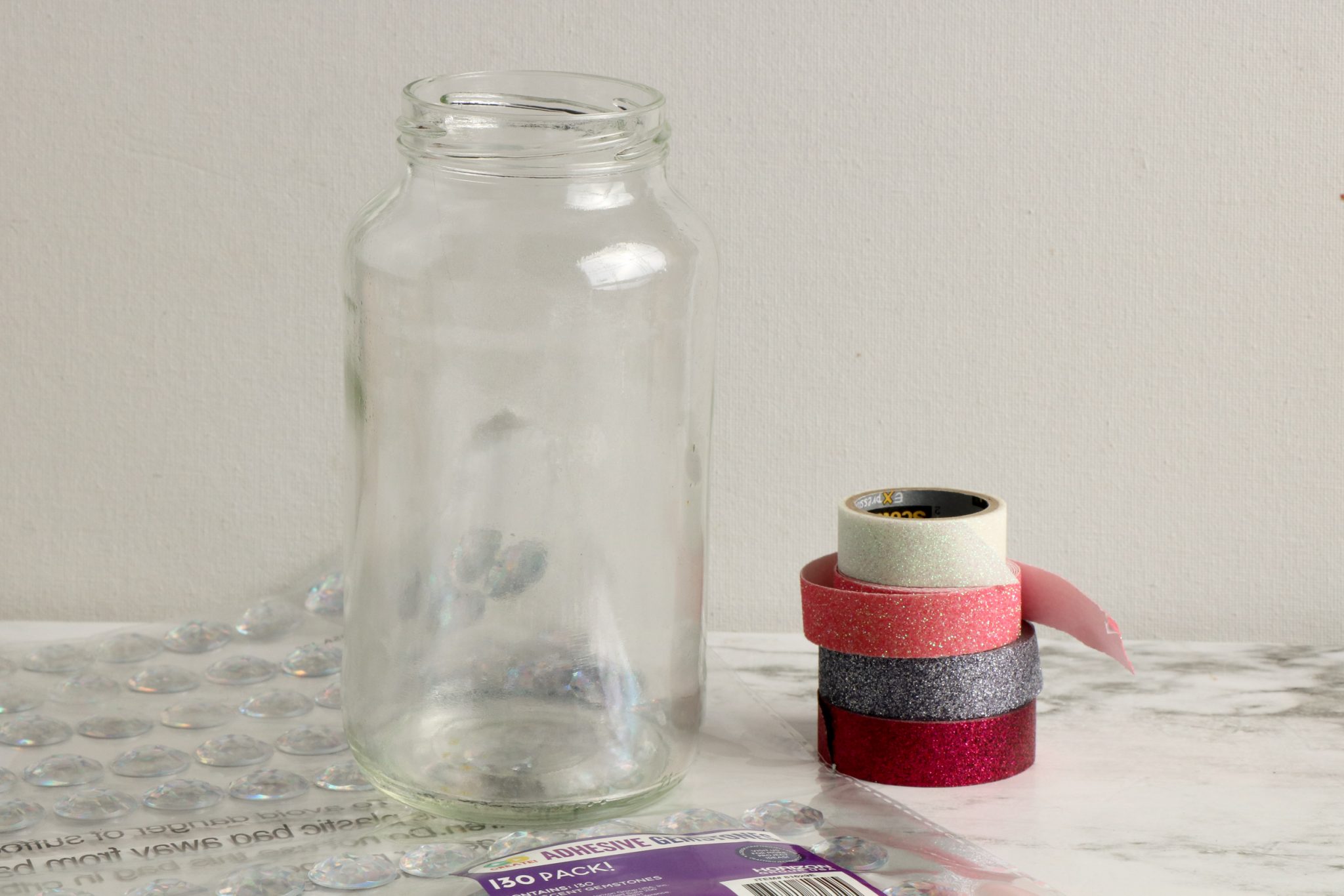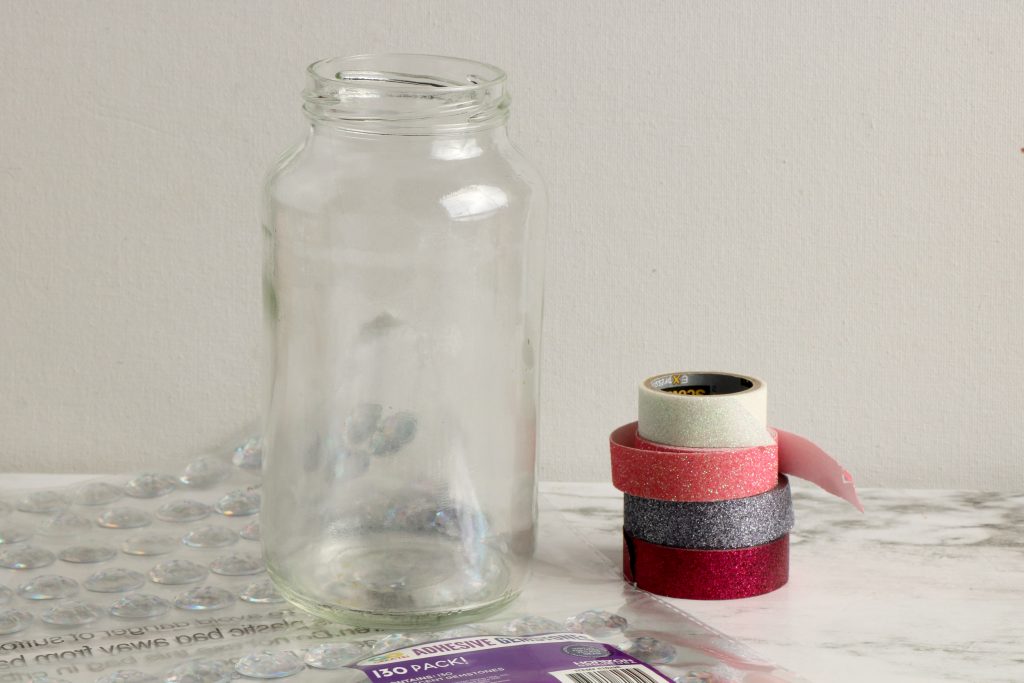 How to Make a DIY Flower Vase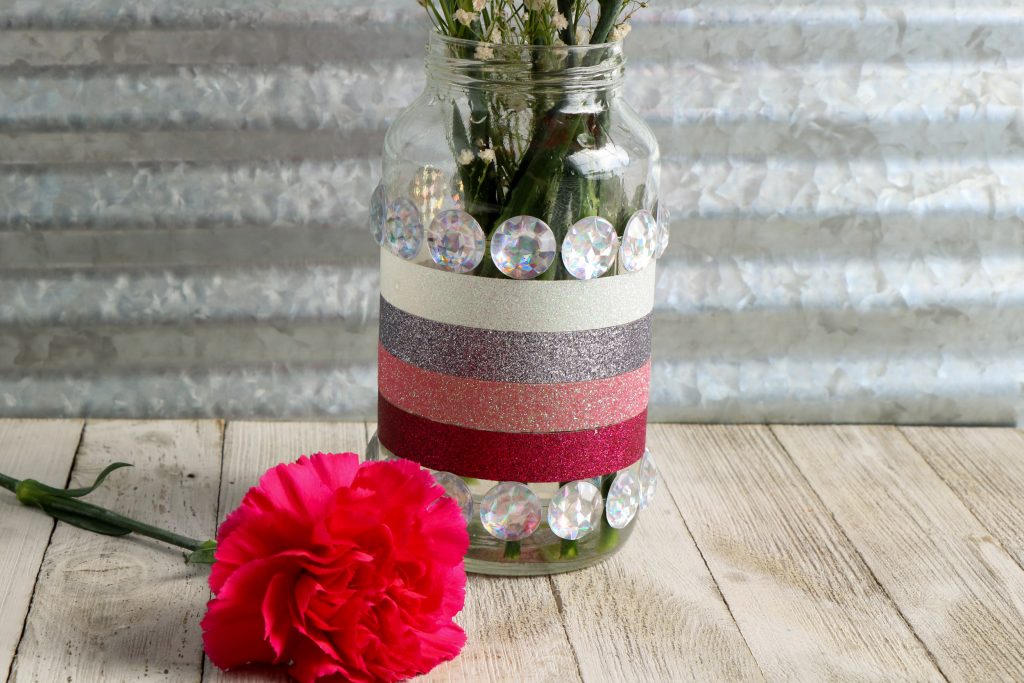 Take the label off of the jar by using Goo Gone. This will get rid of any stickiness leftover from the label.
Begin to wrap some of the colorful tapes around the jar and cut off the excess. Continue with more tape if desired.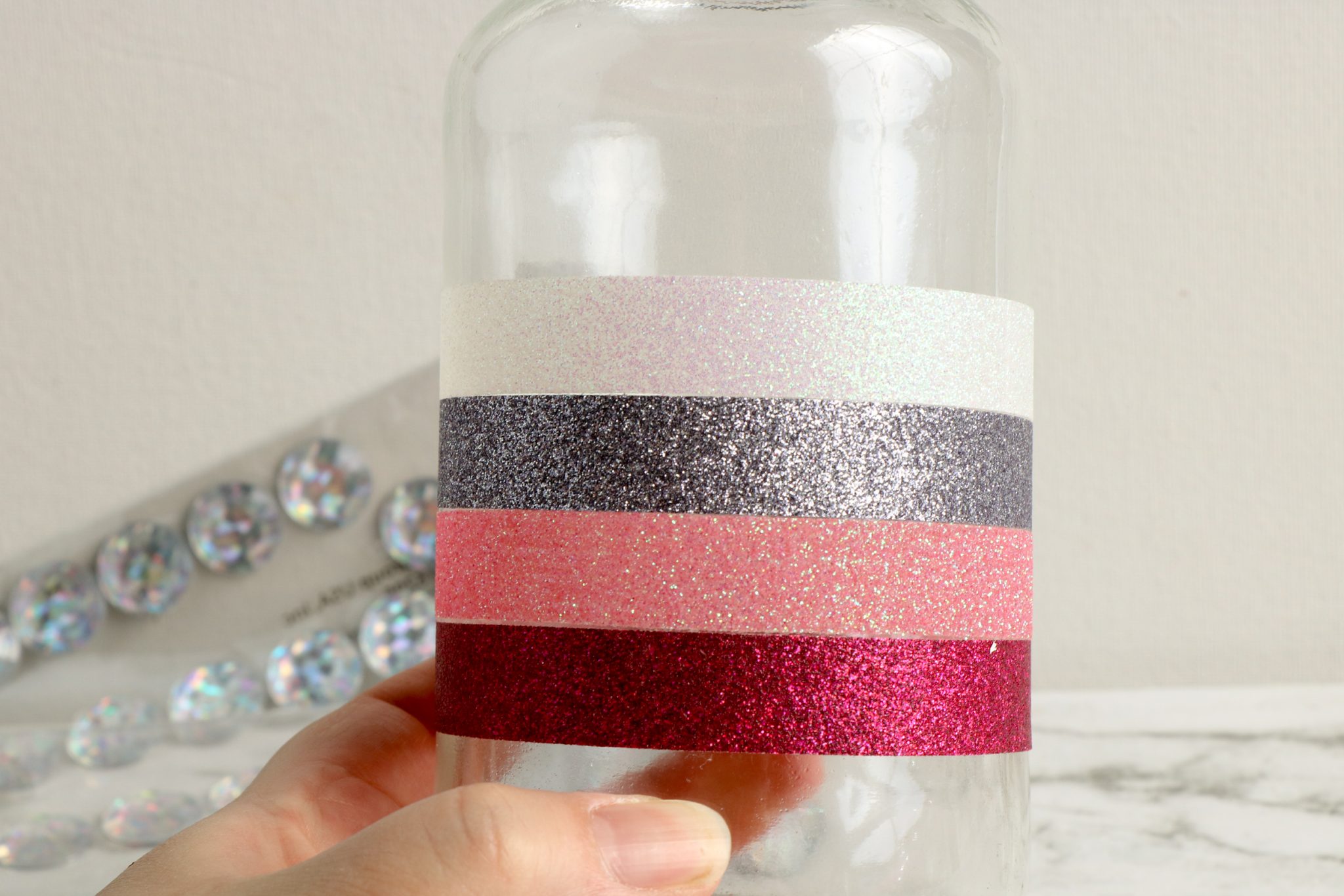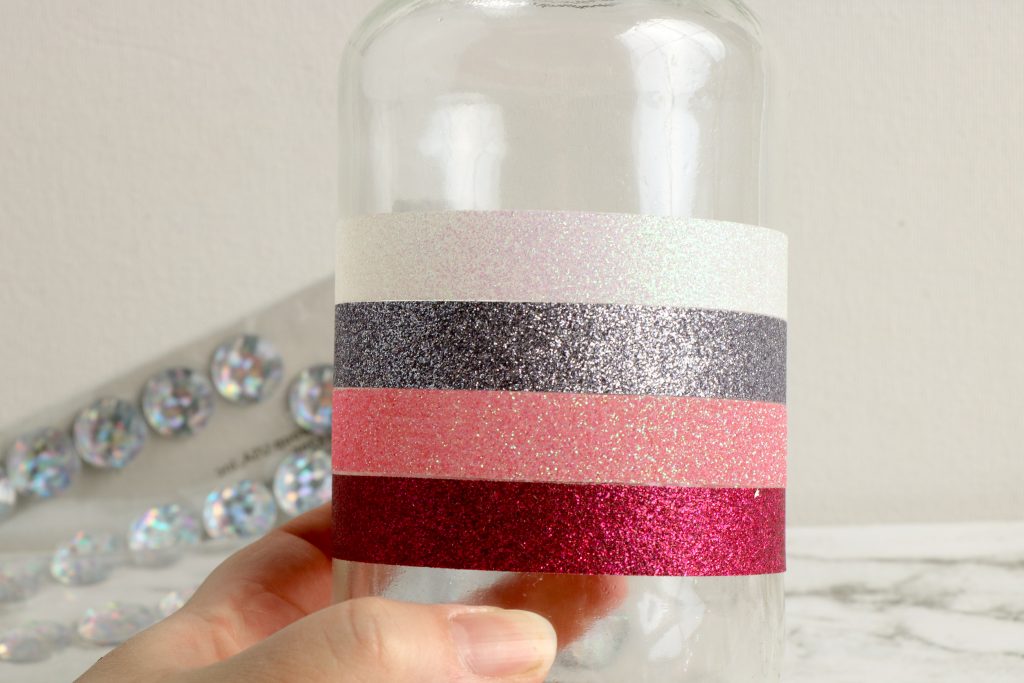 Place a row of the stick on gems on the top and bottom of the tape to decorate.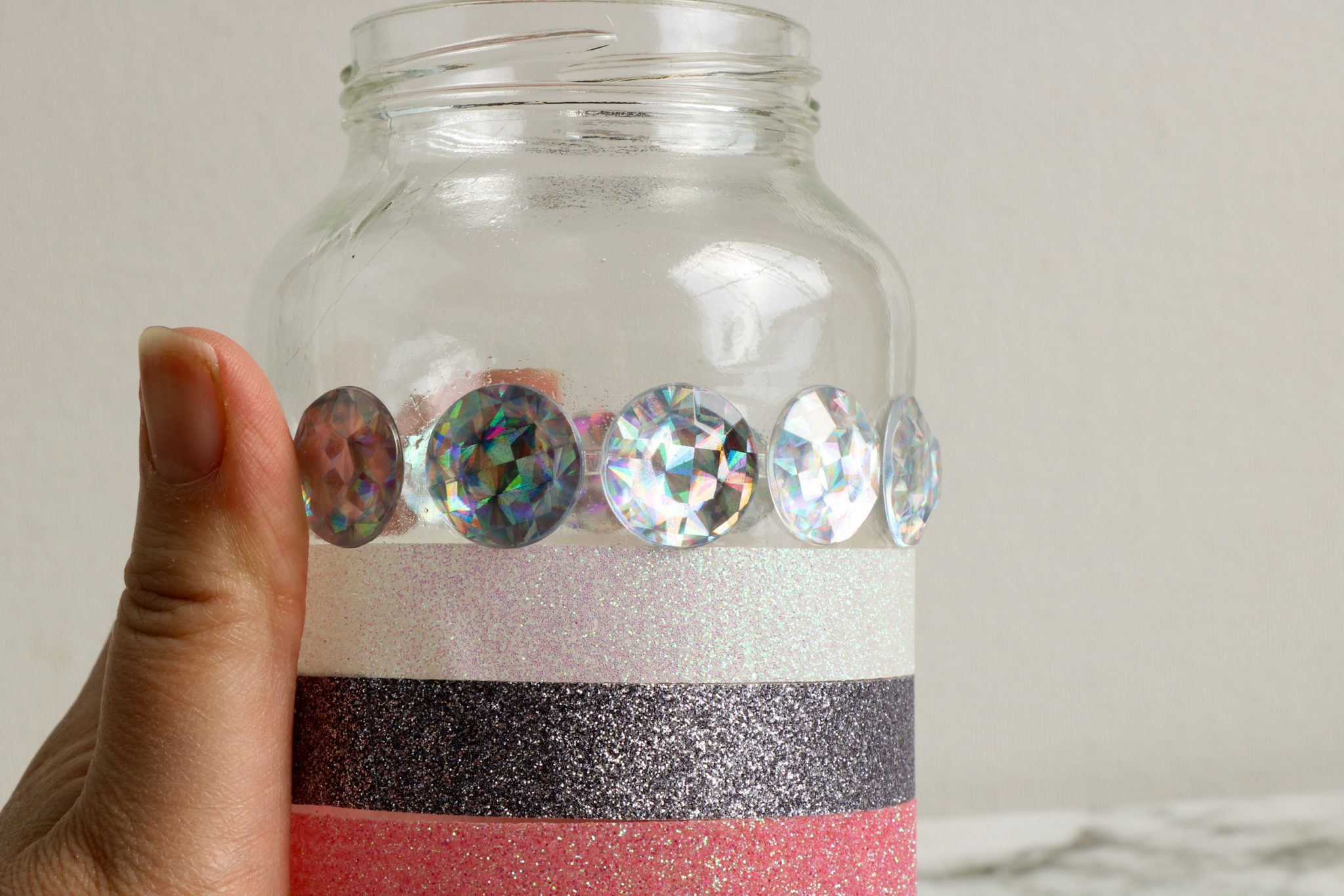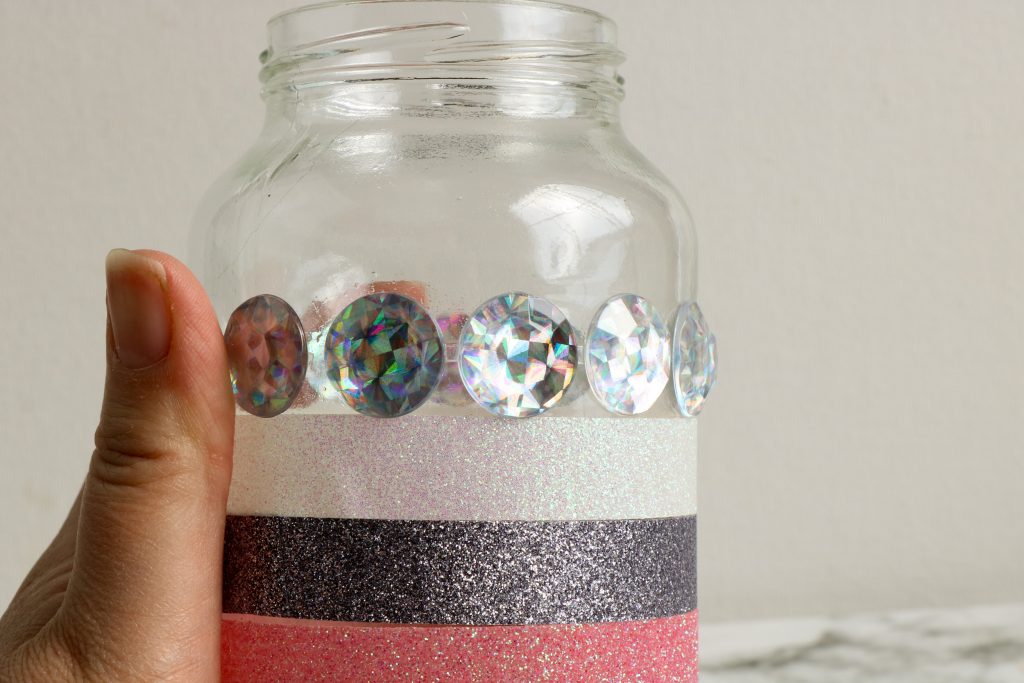 What Kind of jar Do I Need?
For this unique Mother's Day gift, you will find the size of the jar needed in the supplies list. You can choose any size jar you want to make this neat idea. However, the supply list for this specific idea just uses a pasta jar or other larger jars you may have.
How Can I Decorate this Vase?
Decorating the vase is the best part of the whole process. Decorations can be found in the supplies list and consist of colorful tape and gems. You can however go a step further and find other neat and cool things to attach to your vase.
How Should I Clean This Vase?
When cleaning the vase, you will need to make sure that all labels are taken off, then washed, and then, dried. This will prep the vase for the decorations. When you want to clean the inside of the jar, I recommend using a bottle brush for the most effective way to clean it. You do not want to ever place a hand in a glass jar to reduce the risk of it getting stuck or breaking.
Does the jar have to be glass?
The jar used to make this vase does not need to be glass. You can use many other kinds of vases if you don't have a glass jar. Things like ceramic or hard plastic jars/vases work just as well.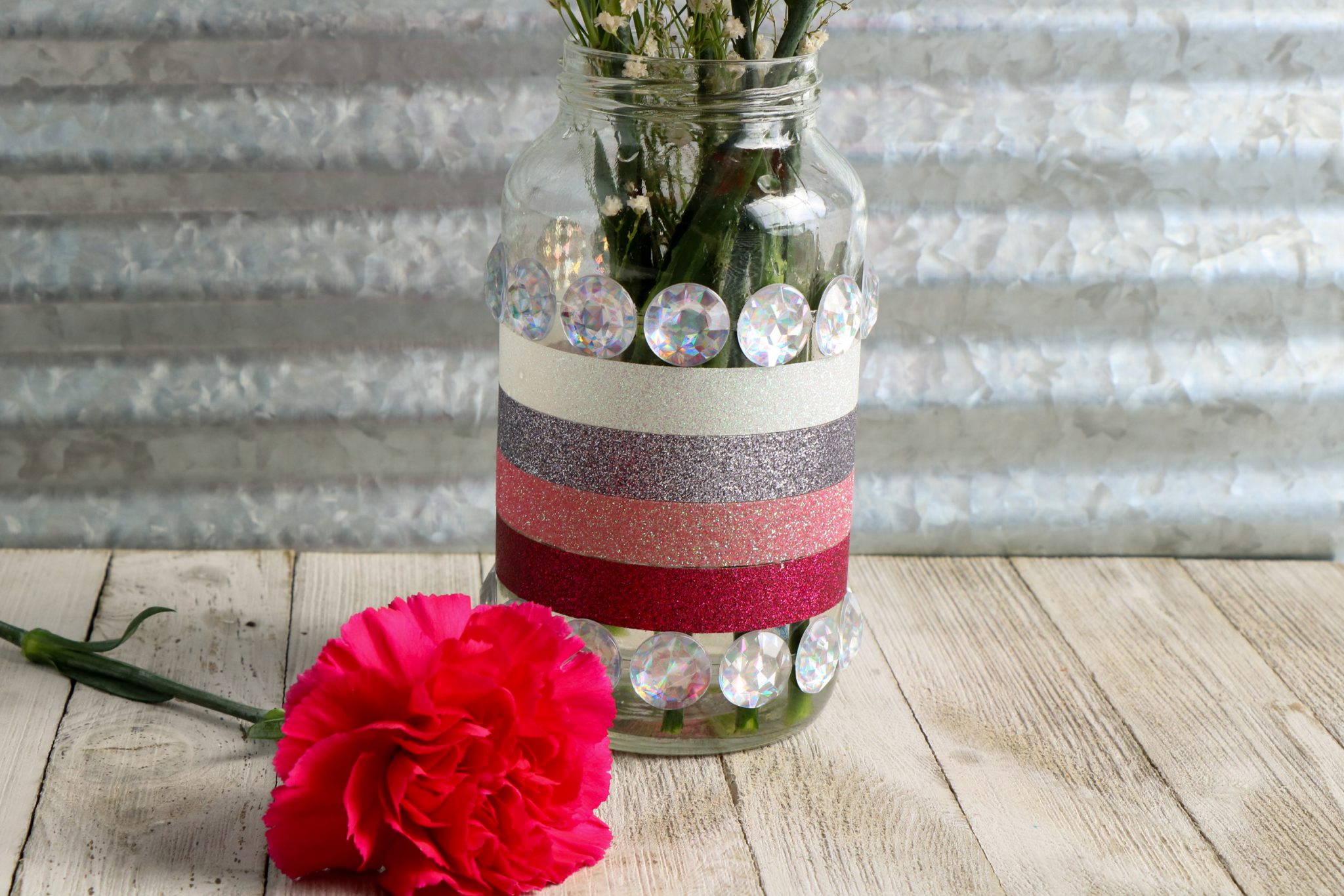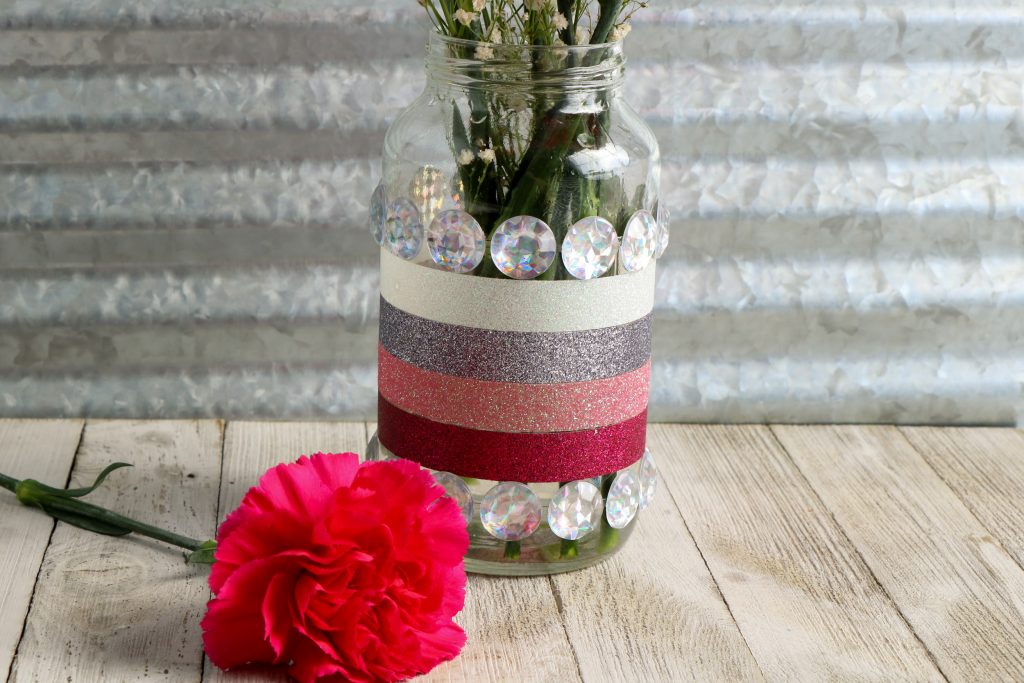 What Kind of Flowers Should I use for a Mother's Day Vase?
You can choose between many different flowers for Mother's Day. The best thing to do is either to know your mother's favorite flower to add to the vase or ask someone who may know to make it a special gift. However, if you do not know, these flowers I have listed are some of the most popular given during Mother's Day. Flowers like tulips have many colors with different meanings that may be a great choice for you (Purple meaning Royalty for example). You can also pick from Orchid's, Carnation's, Peony, or Roses.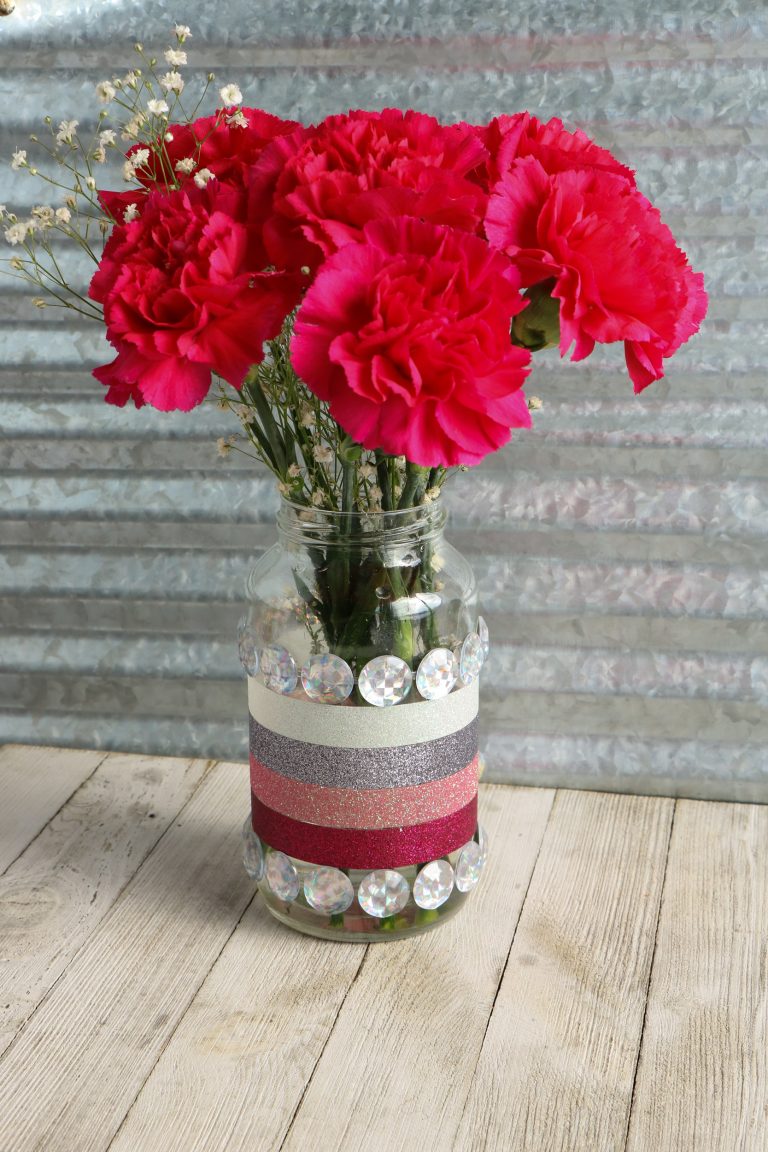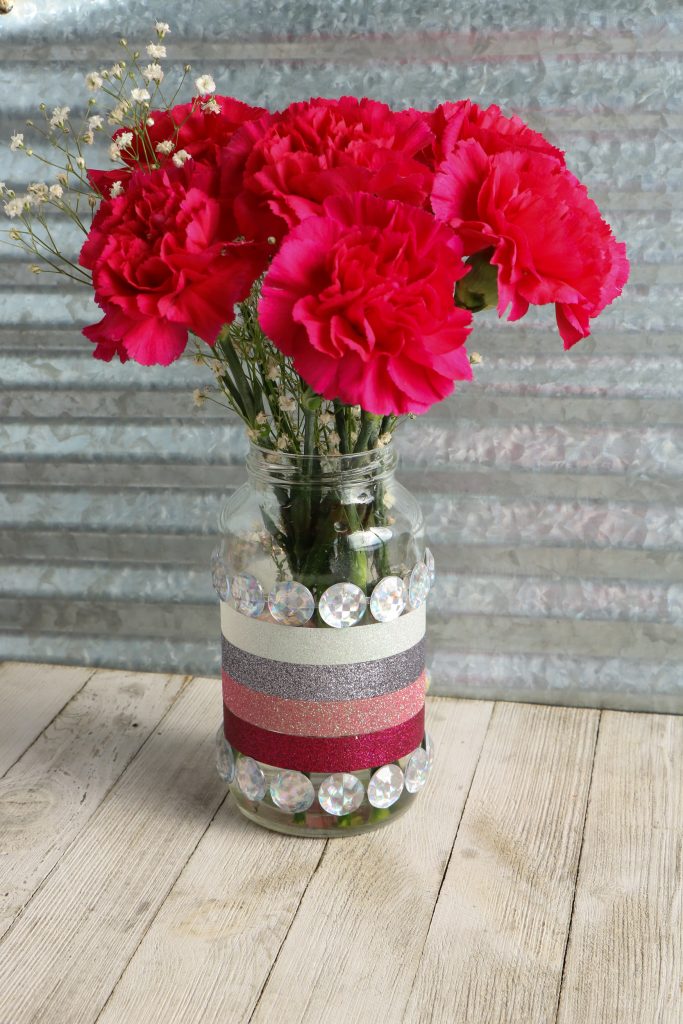 Love Simple Craft Ideas?
Join Our Easy Budget Crafts Group to get even more great ideas and connect with others who love to craft.
More Upcycled Crafts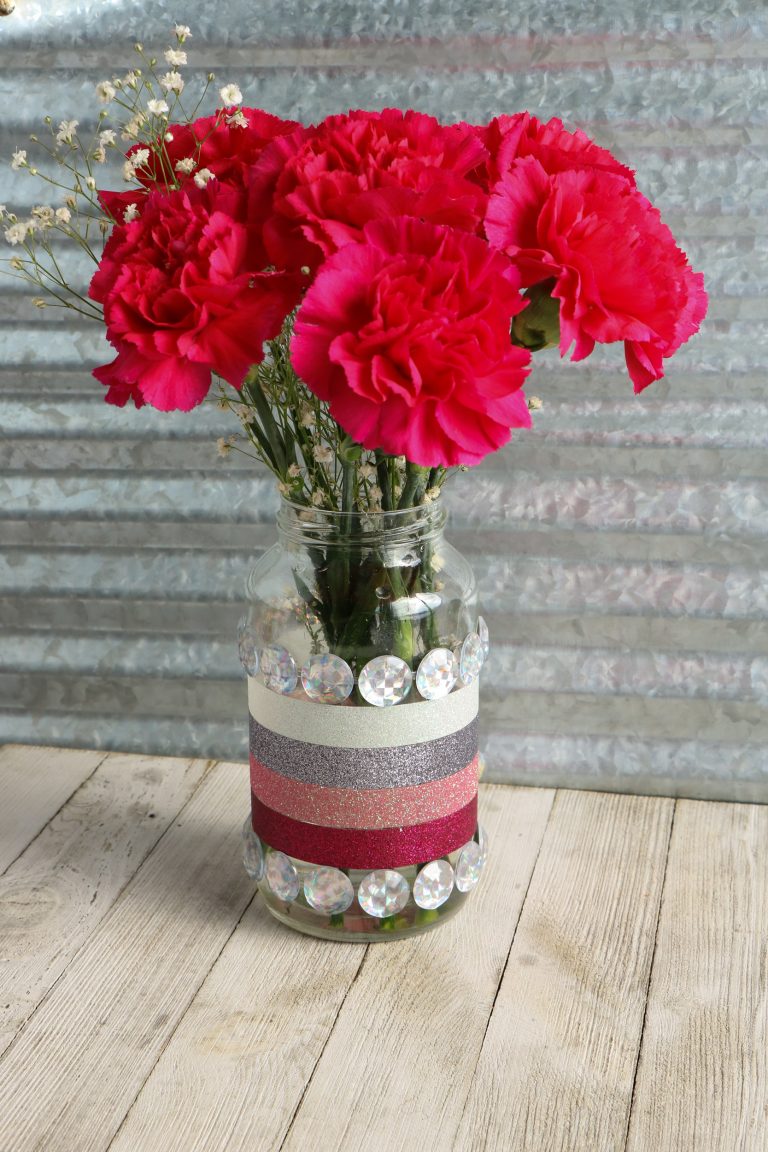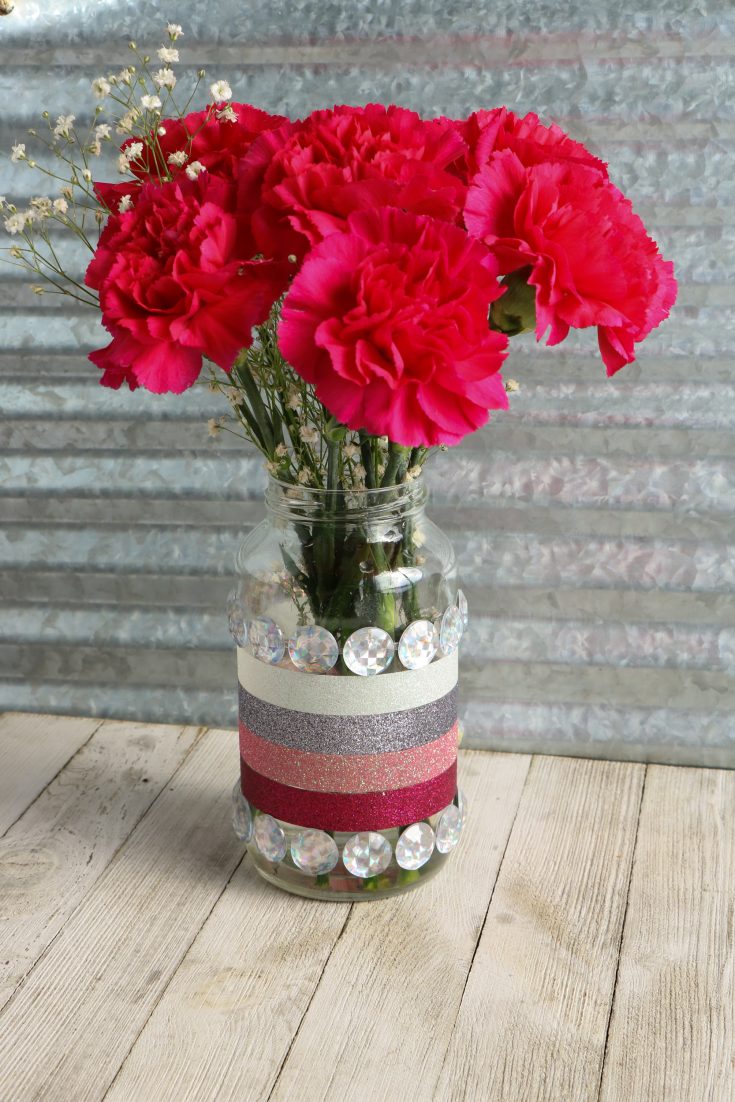 Yield:

1
The Easiest Upcycled DIY Flower Vase - Perfect for Mother's Day
Materials
Pasta Jar or another larger jar with the labels taken off, washed, and dried.
Washi tape comes in many different colors and patterns
adhesive gems
Instructions
Remove the label from the jar using Goo Gone to remove any sticky residue if needed.
Wrap washi tape around the jar and cut where the tape overlaps. Repeat with additional washi tape if desired.
Add a row of adhesive gems above and below the rows of washi tape