These Grinch Rice Krispie Treats are the best ooey gooey dessert that you can make. marshmallow-y treats that are covered with bright green chocolate to remind even the grinchiest Grinch of the best Christmas desserts ever. Kids adore rice krispie treat pops because they are easy to make and to eat. Make these Grinch Pops Today!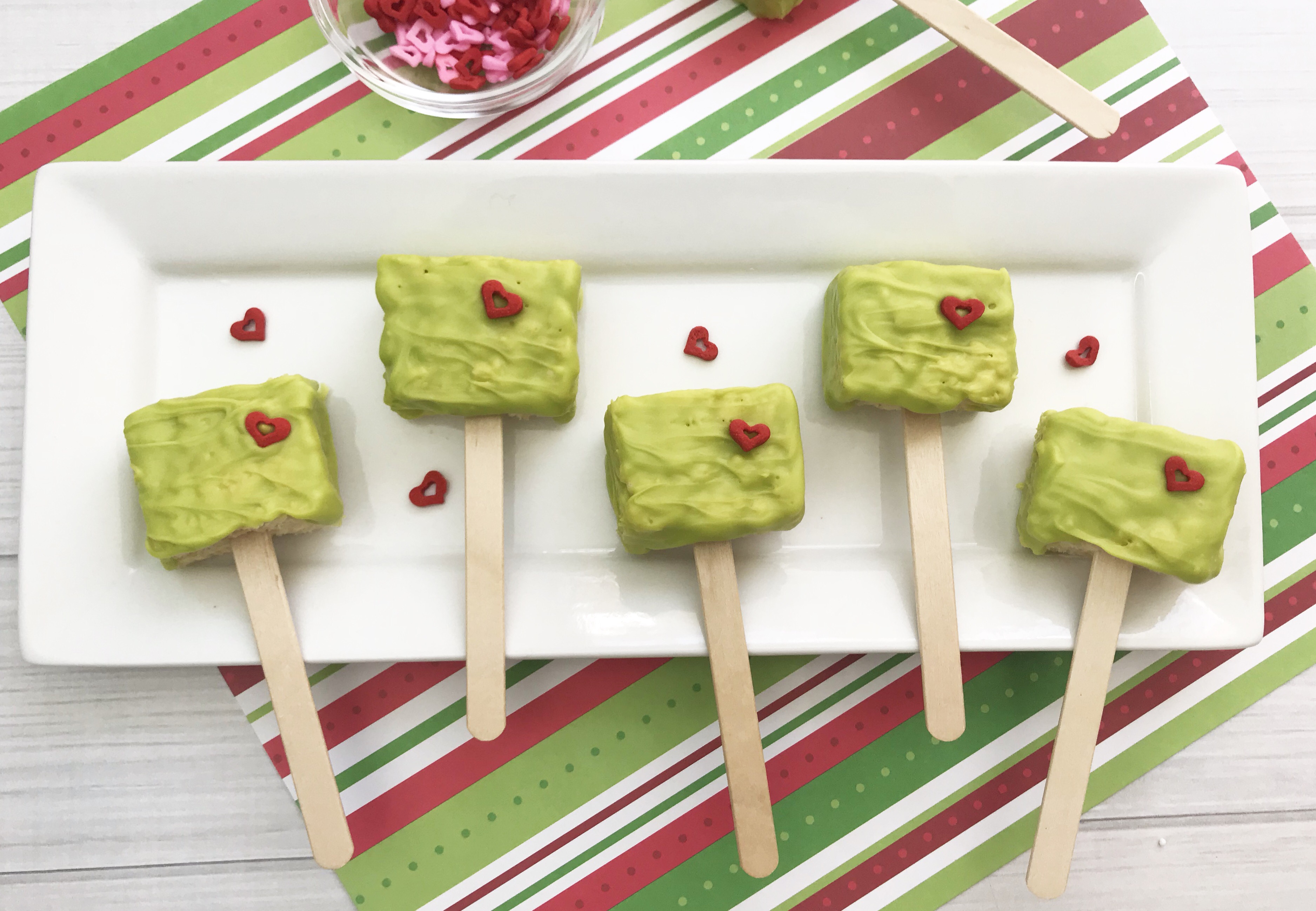 Instagram is one of my favorite places to be. Join us as we share our Perfectly Imperfect Life with recipes, crafts, parenting, and fun! Be sure to check out our stories for real-time fun!
Grinch Rice Krispie Treats Pops
The new Grinch movie just came out, and the girls have fallen in love with the Grinch all over again. I am still partial to the original Grinch cartoon, or if I am watching a live action version, the Grinch Movie with Jim Carey, because I mean, he is hysterical. We love watching Christmas movies, so we have both in our collection, and I plan on getting the new one when it comes out. For the adults watching the Grinch… try this Grinch Cocktail.
Why You'll Love These Grinch Treats
What isn't to love. These Grinch Pops are perfect for the holidays. How many times have the come home from school and said, Oh I need a treat for the class party tomorrow? Um, what? And of course, the kids are horrified at the thought of a simple treat like a box of cookies. I have never understood. Well, if you need a simple classroom party treat, or a Christmas treat and need something that is easy to make, but will look amazing, these simple to make Grinch Pops are perfect.
Sweet, delicious treat that everyone will love. Most people love rice krispie treat pops and these are not only covered in a layer of chocolate, they are also designed to look like the Grinch.
Easy to Make. Grinch Rice Krispie Treats are so easy to make, kids can help. That is perfect because I love anyway to get the kids in the kitchen. The treats are made using store bought rice krispie treats so all you have to do is place them on the stick, dip and chocolate and then add the heart.
Perfect for parties. Because these Grinch rice krispie treat pops are on a stick, it is easy to serve them at a party. The stick also helps to prevent little hands from getting as sticky.
Festive and Fun. Everyone loves the Grinch. That makes these pops a fun and festive Grinch treat for the holidays.
Easy to Package. Make these pops and then place them inside of a food bag. You can give them out as gifts or send them in for a school party.
Equipment Needed To Make Grinch Treats
Double boiler or microwave safe bowl
popsicle sticks
Small paring knife
Ingredients For Your Grinch Rice Krispie Treats
Kellogg's Rice Krispies Treats or scroll down for the Rice Krispies Recipe
Wilton vibrant green candy melts
Red heart sprinkles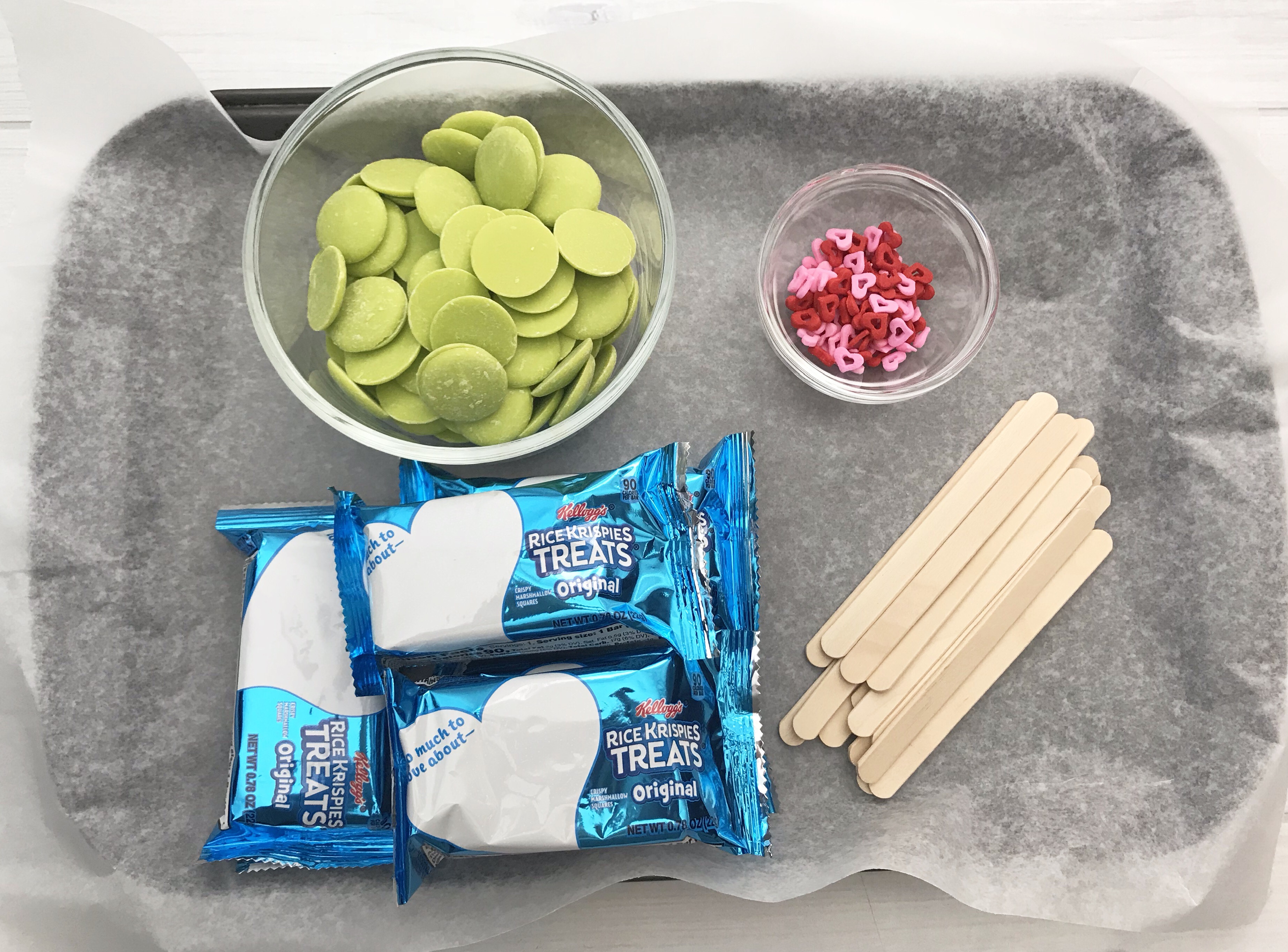 How To Make A Grinch Rice Krispie Treats
Step 1 – Make the Rice Krispie Treat Pops
Take the rice krispie treats and add a small slit in the bottom and place a popsicle stick inside.
Place the treats on the baking sheet and keep them in the refrigerator for about 30 minutes.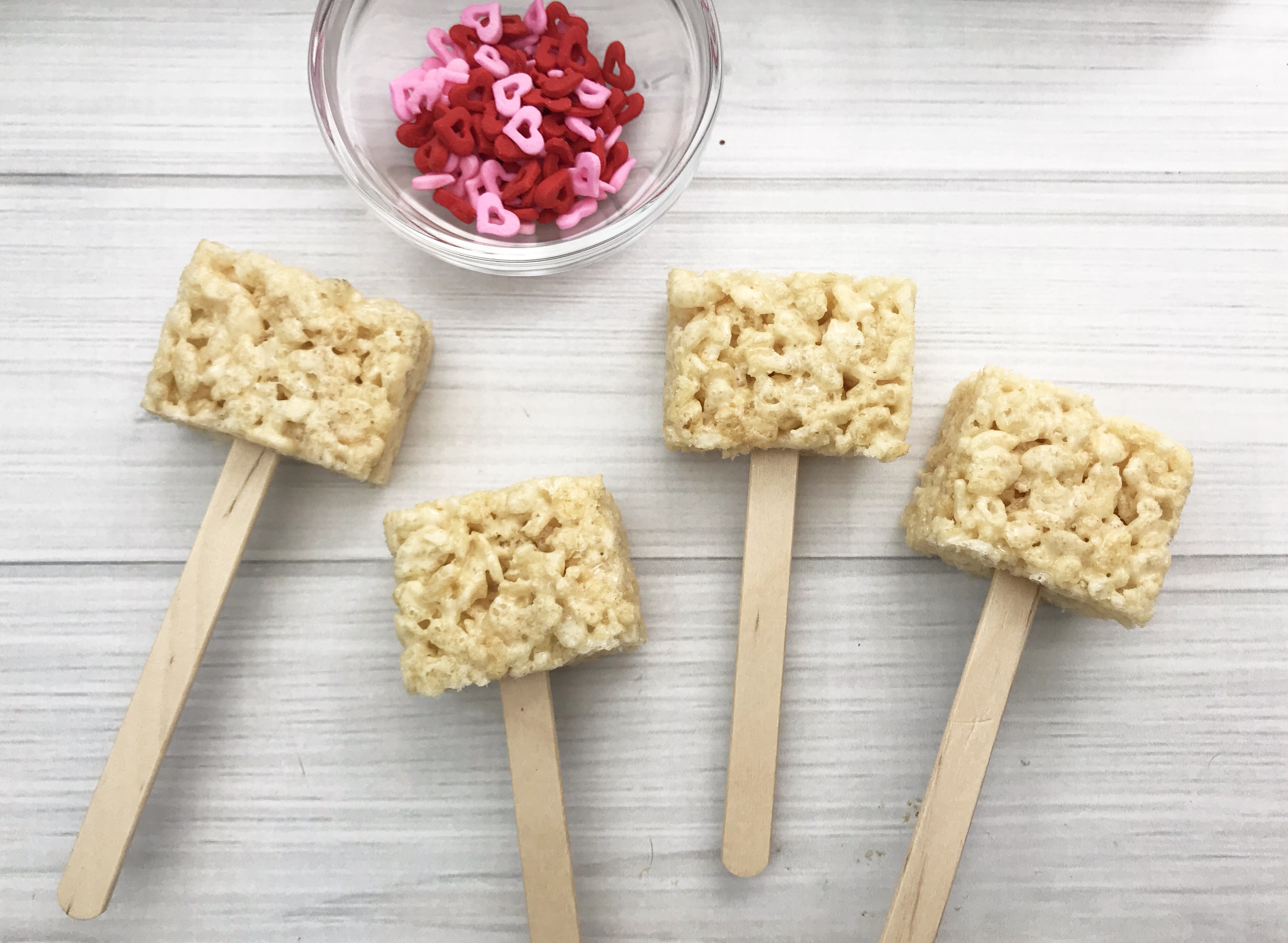 Step 2- Melt the Chocolate for the Grinch Treats
Place the green candy melts in a microwave safe dish and melt them for 30 seconds at a time until melted and smooth.
Step 3- Dip the Grinch Rice Krispie Treats in Chocolate
Dip each of the rice krispie treat pops in the melted green chocolate and let the excess drain off into the bowl.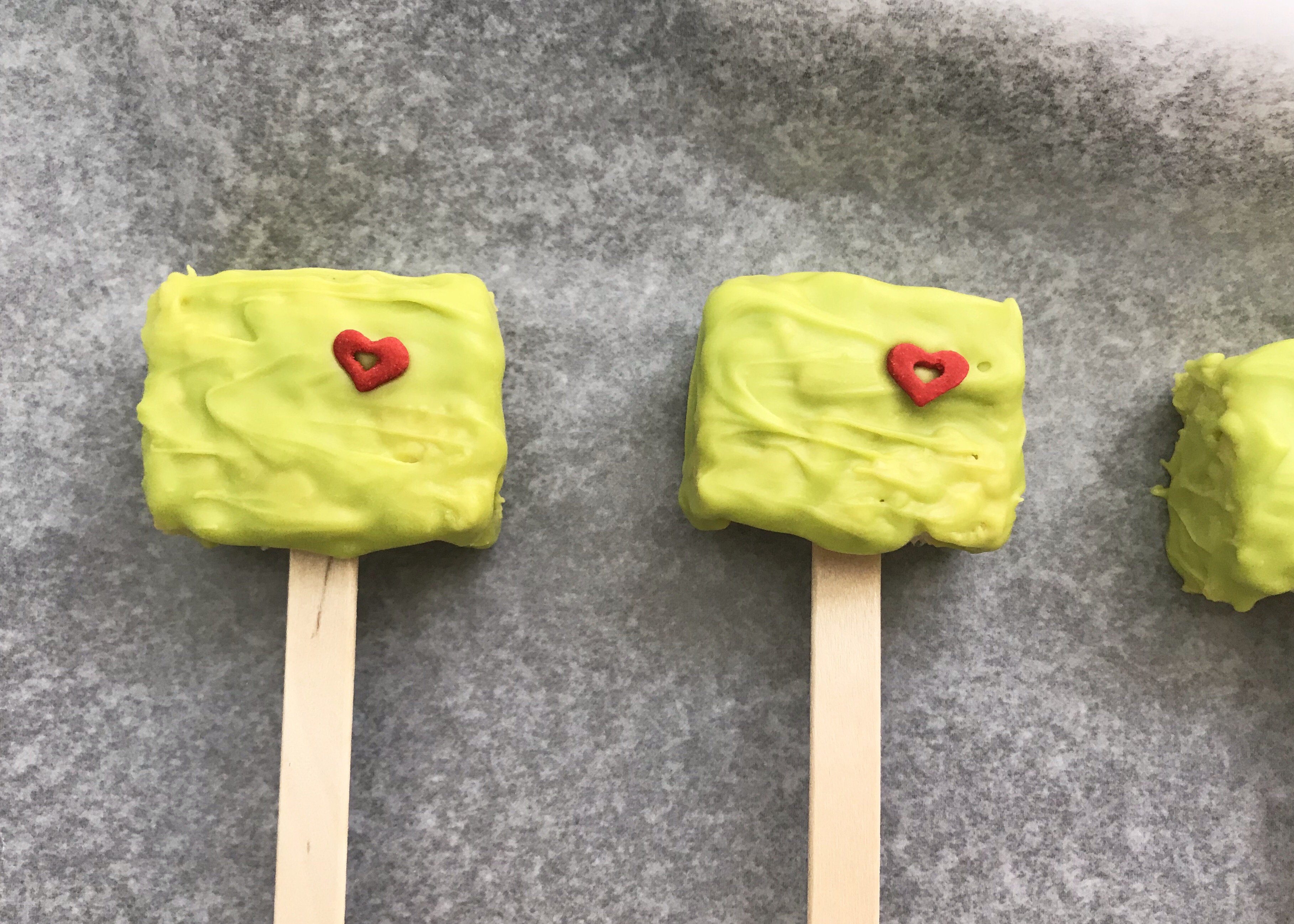 Step 4-Decorating the Grinch Rice Krispie Treats
Place the Grinch Rice Krispie Treats on the baking sheet. Add the heart sprinkle in the corner and let the chocolate harden.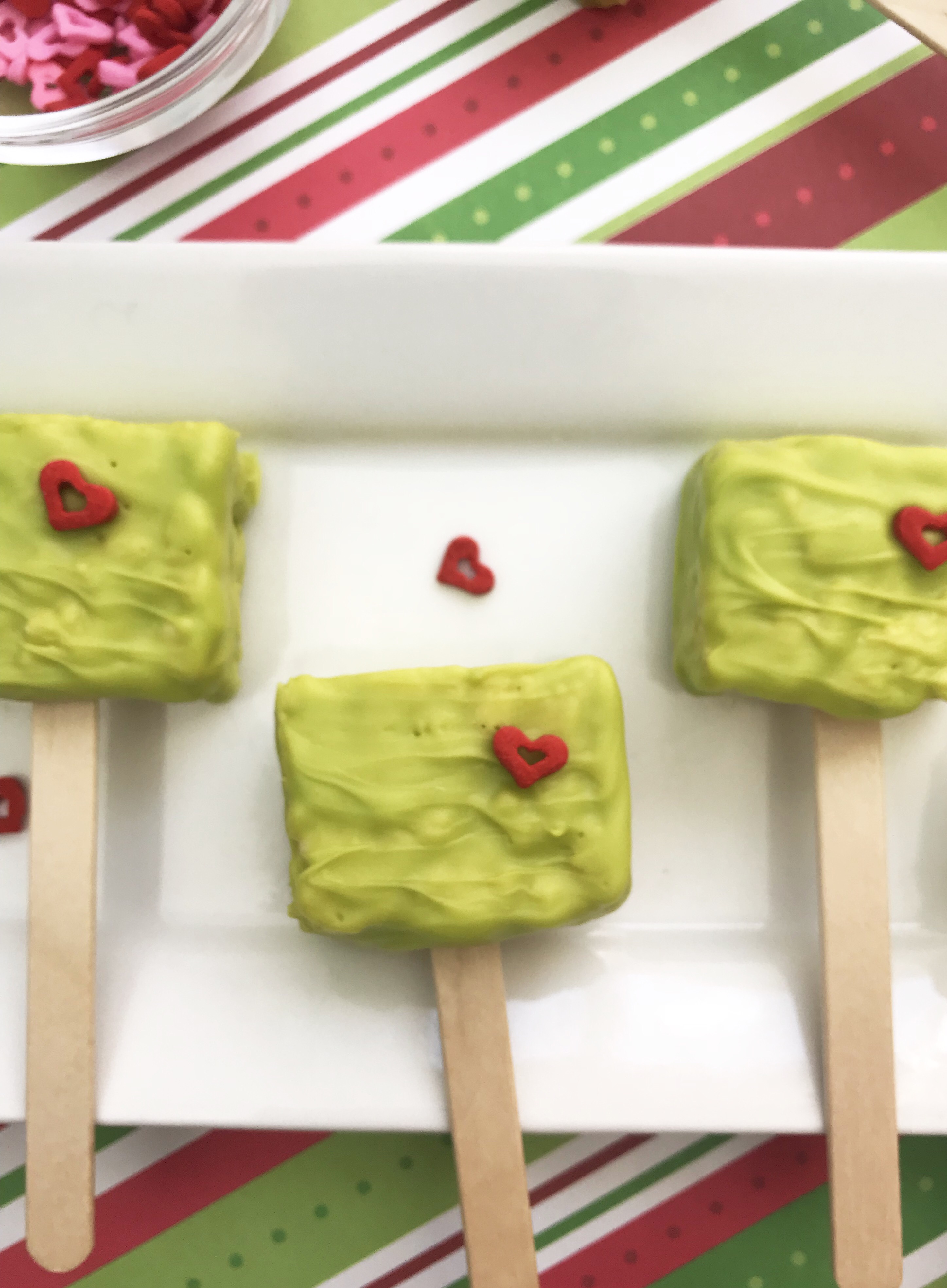 Love Recipes? Join our Facebook Group, The Best Recipes Because Mama Loves to Eat
What to Serve/Pair with Your Grinch Treats
These Grinch treats are perfect for the holidays. You can serve them as party of a party or other get together.
Dinner
You can serve these Grinch Rice Krispie Treats as the perfect dessert to any dinner. Some easy Christmas dinner ideas are Turkey Rice Soup Recipe, Cheddar Broccoli Skillet Dinner with Chicken Recipe, or Mock Pot Roast Meal Recipe- Because I forgot to start to make dinner in the slow cooker
Sides
Of course, if you are making dinner, you need sides to go with it. The Best Healthy Green Bean Casserole, Easy Tri-colored Rosemary Potatoes or Easy Apple Butternut Squash Casserole makes an amazing side dish to enjoy before these Grinch treats.
Cocktails
The kids don't get all of the Christmas fun. Adults will love these cocktail ideas. Of course we have a Grinch Drink Cocktail – A Drink for Christmas. But some other holiday cocktails that you might enjoy are Rudolph's Christmas Themed Cocktail and Peppermint Patty Drink | Peppermint Patty Martini
Popular Substitutions & Additions
Make Your Own Rice Krispie Treats
Add Chocolate Chips before dipping
Can't find green melts? You can also use white and then add green food coloring.
Use a pretzel rod. You can substitute the popsicle stick for a pretzel rod to make this Christmas treat even better.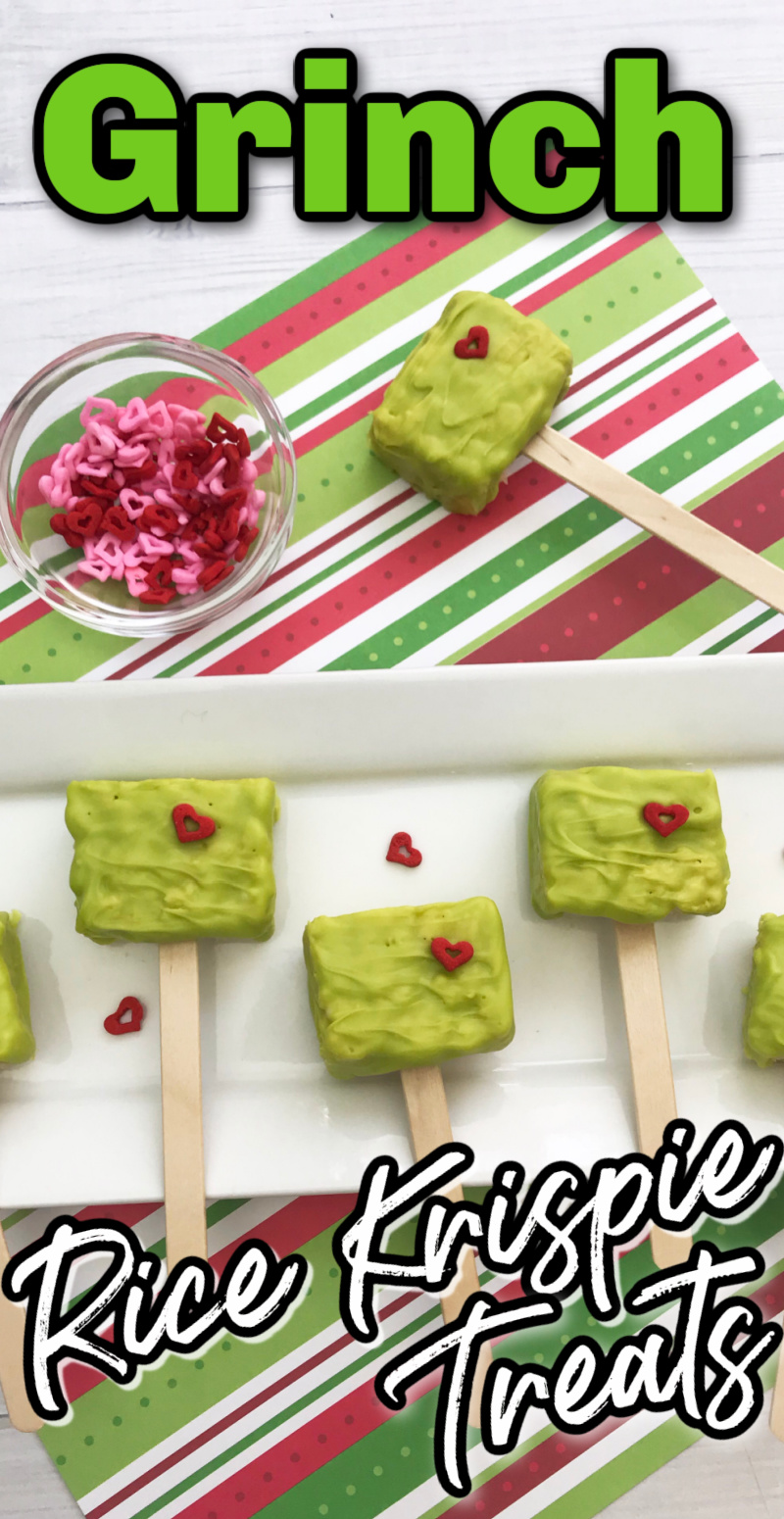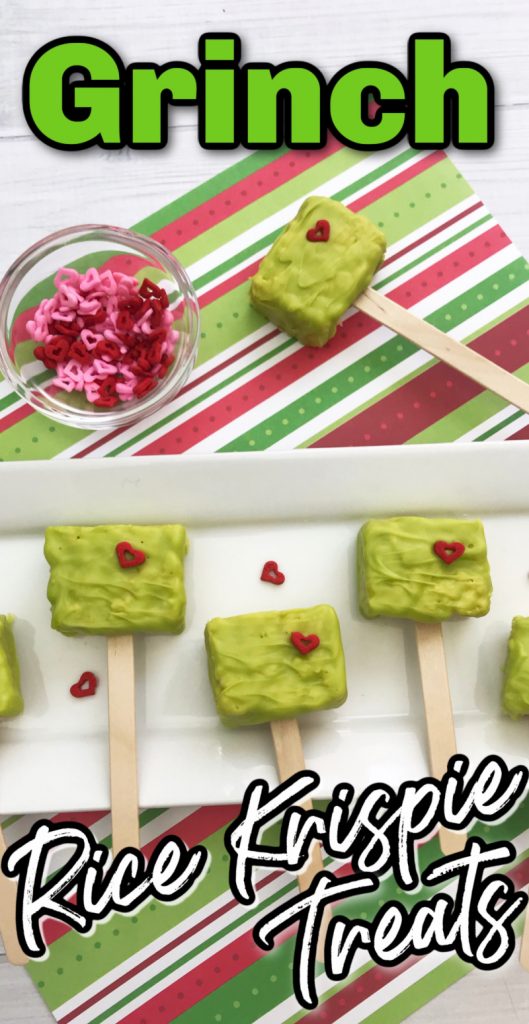 How To Store and Share Grinch Rice Krispie Treats
Best Way To Store Grinch Treats
You will store these Grinch treats at room temperature. As long as it isn't too hot, there is no need to worry about refrigerating the Grinch treats.
Make sure the Rice Krispie Treat Pops are covered well or else they will get hard. You can keep them in an airtight container or in wrap each one individually. If you are giving these as gifts, you can give these pops wrapped in bags like these.
How Long Will Grinch Rice Krispie Treats Last?
Grinch pops will last for about 2 weeks as long as they are covered well.
Can I Freeze Rice Krispie Treats
Yes, you freeze rice krispie treats. Wrap the treats well and you can freeze them for up to 3 months.
Grinch Treat FAQs
Other Christmas Dessert Recipes You'll Love
Don't Forget To Come Back And Let Me Know How Your Grinch Rice Krispie Treats Turned Out!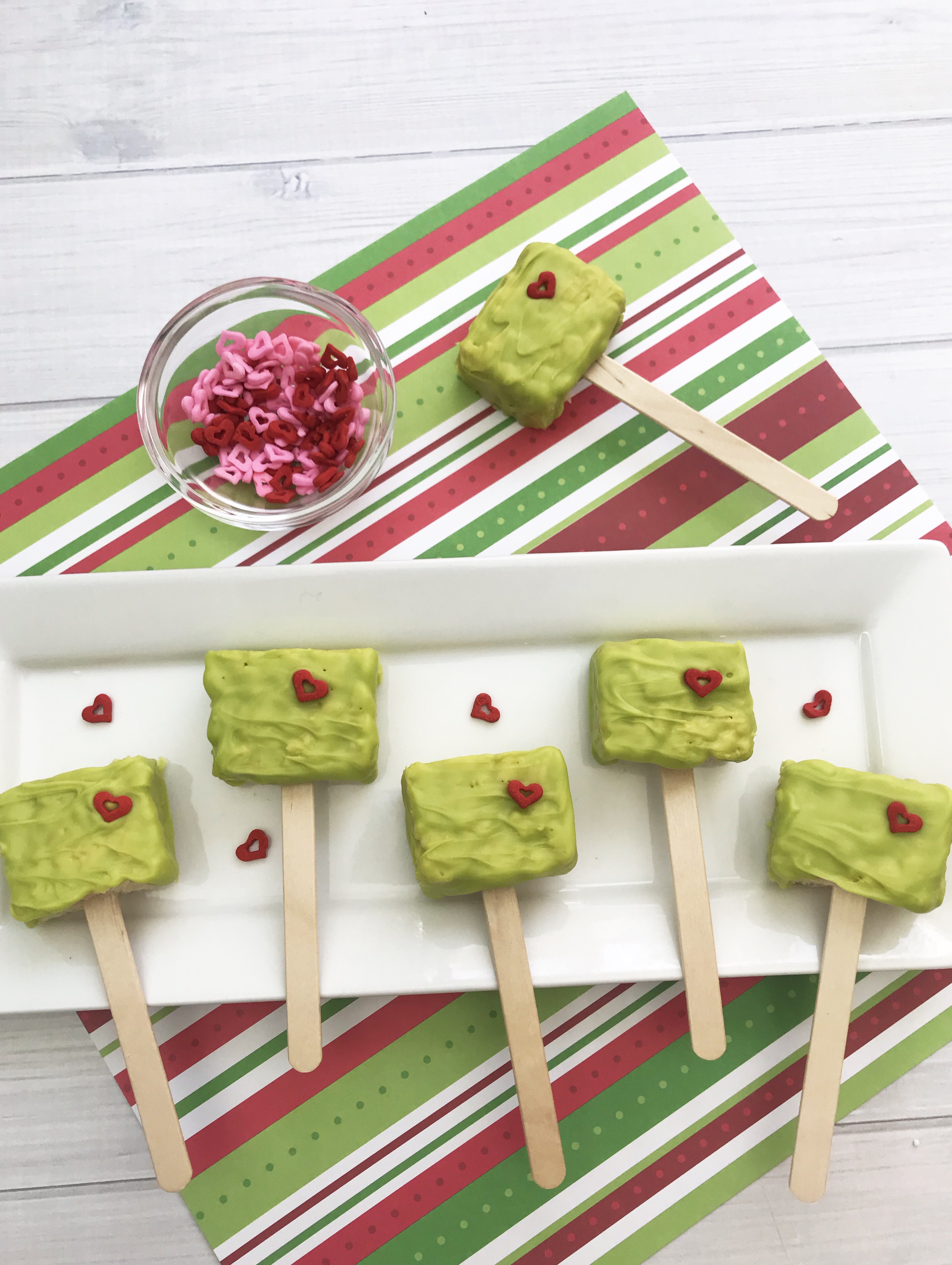 Want more Christmas Fun?
Are you on Facebook? We are too. Join us as we share our Perfectly Imperfect Life with recipes, crafts, parenting, and fun!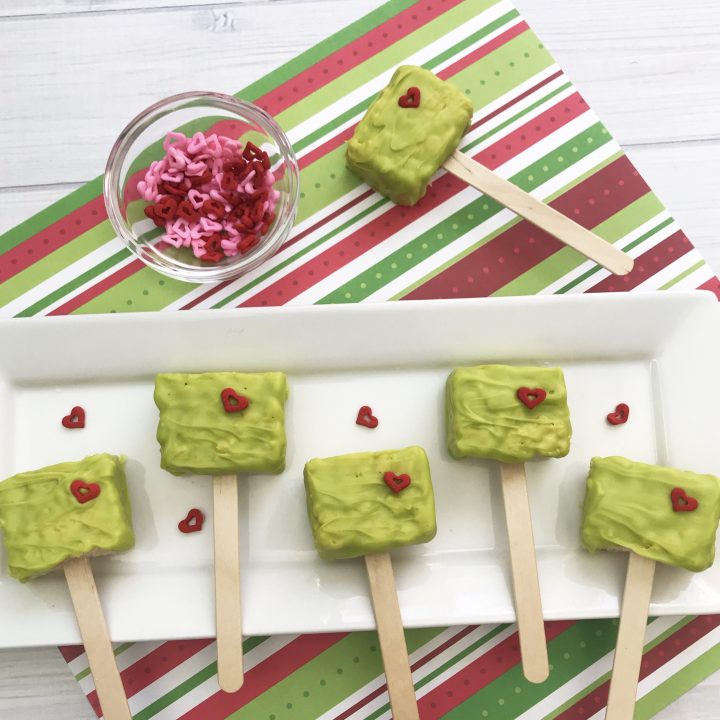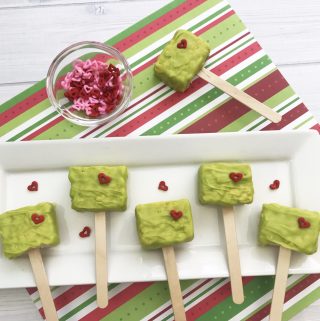 Grinch Pops | Grinch Rice Krispie Bites
Ingredients
8

ct package of Kellogg's Rice Krispies Treats

12

oz

package Wilton vibrant green candy melts

16

red heart sprinkles

16

popsicle sticks

Small paring knife
Directions
Line a baking sheet with parchment or wax paper.

Open the Rice Krispie Treats and discard the wrappers.

Use the paring knife to cut each Rice Krispie Treat in half.

Insert one popsicle stick into the bottom of each Rice Krispie Treat and place on the baking sheet.

Place the baking sheet in the fridge of 30 minutes.

After 30 minutes, remove the treats from the fridge and pour the vibrant green candy melts into a microwave safe dish. Heat in the microwave in 30 second increments, stirring until melted.

Dip each Grinch Bite into the melted chocolate, using a spoon to coat and allowing the excess chocolate to drip back into the bowl.

Place the treat on the prepared baking sheet and place 1 red heart in the upper right.

Repeat with all the Grinch Bites.