Rolo Cookies with Cake Mix are a rich chewy chocolate cookie with the perfect caramel bite on top that is perfect for holiday baking. These 4 ingredient cookies are so simple and easy to make.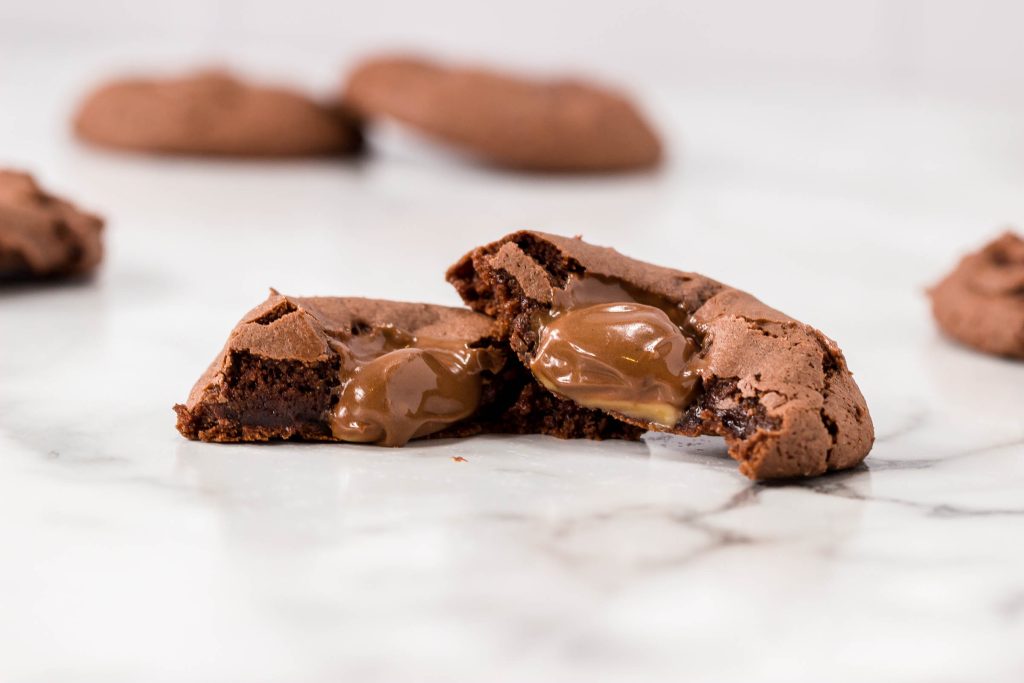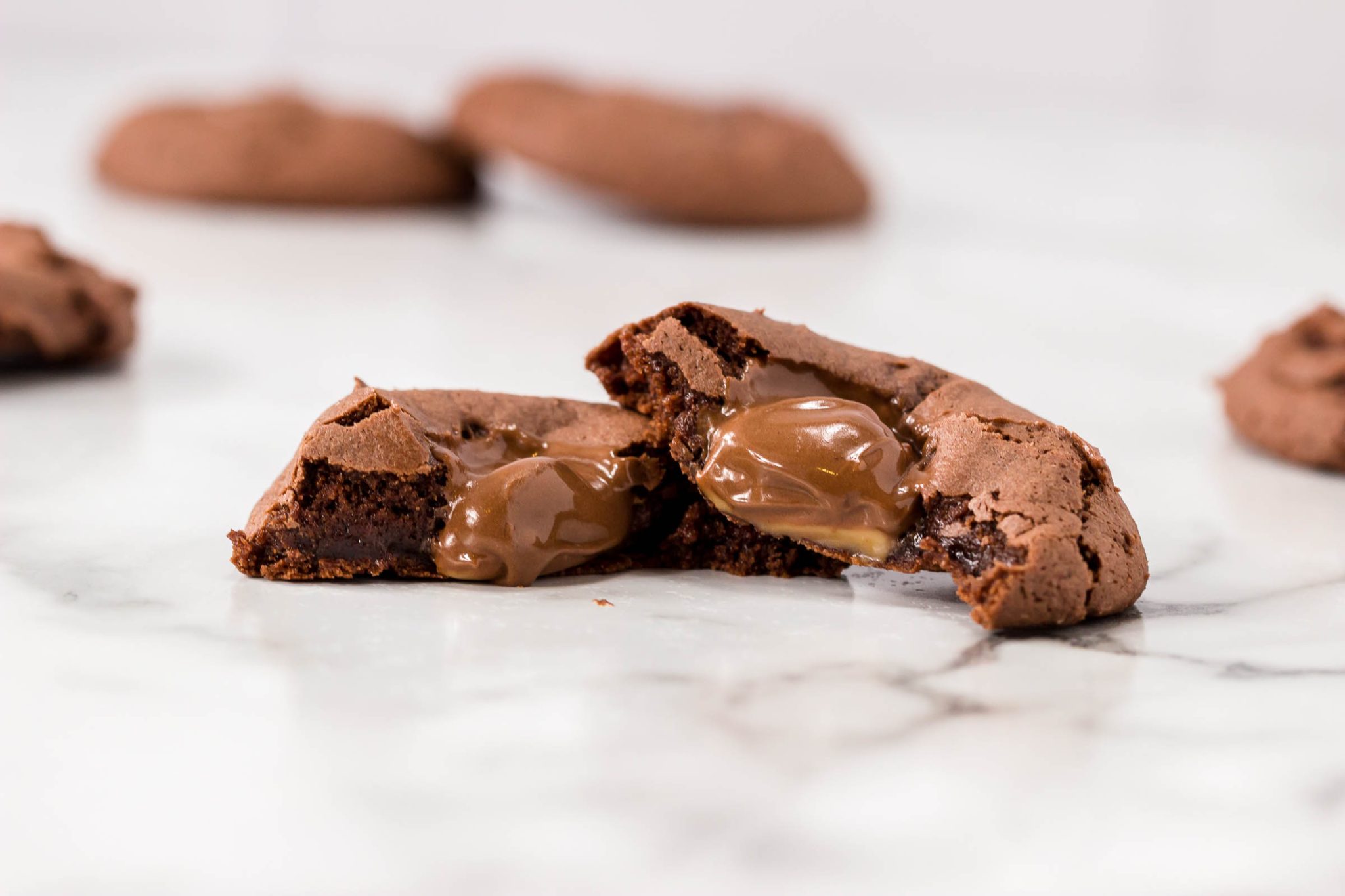 Instagram is one of my favorite places to be. Join us as we share our Perfectly Imperfect Life with recipes, crafts, parenting, and fun! Be sure to check out our stories for real-time fun!
Cake Mix Rolo Cookies
Easy Rolo Cookies with Cake Mix are a delicious and easy treat that you can make at home. The cookies are made with a cake mix, so they are moist and soft. The result is a cookie that is soft, chewy, and full of flavor. Rolo Cookies with Cake Mix are a great choice for any occasion.
The part is there is almost no work to make them and are great for a last minute dessert idea as well as holidays or get togethers. These cookies have been the star of the bake sale many times because one of the kids forgot they needed something, in a few hours.
Can I Make Rolos Cookies with German Chocolate Cake Mix
Yes, it's easy to make a German Chocolate Cake Mix Cookie recipe. I love making Rolos with German chocolate cake. I make Devil's food cake mix Rolo cookies too. Each type of chocolate cake you use will add a slight difference to the cookies.
Can I Make Rolo Cookies with Brownie Mix
Brownie mix is a little different than cake mix. It has a lot fo the same ingredients but in different proportions. You can make Rolo Cookies with Brownie mix but you need to add 3 tablespoons of flour to the cake mix.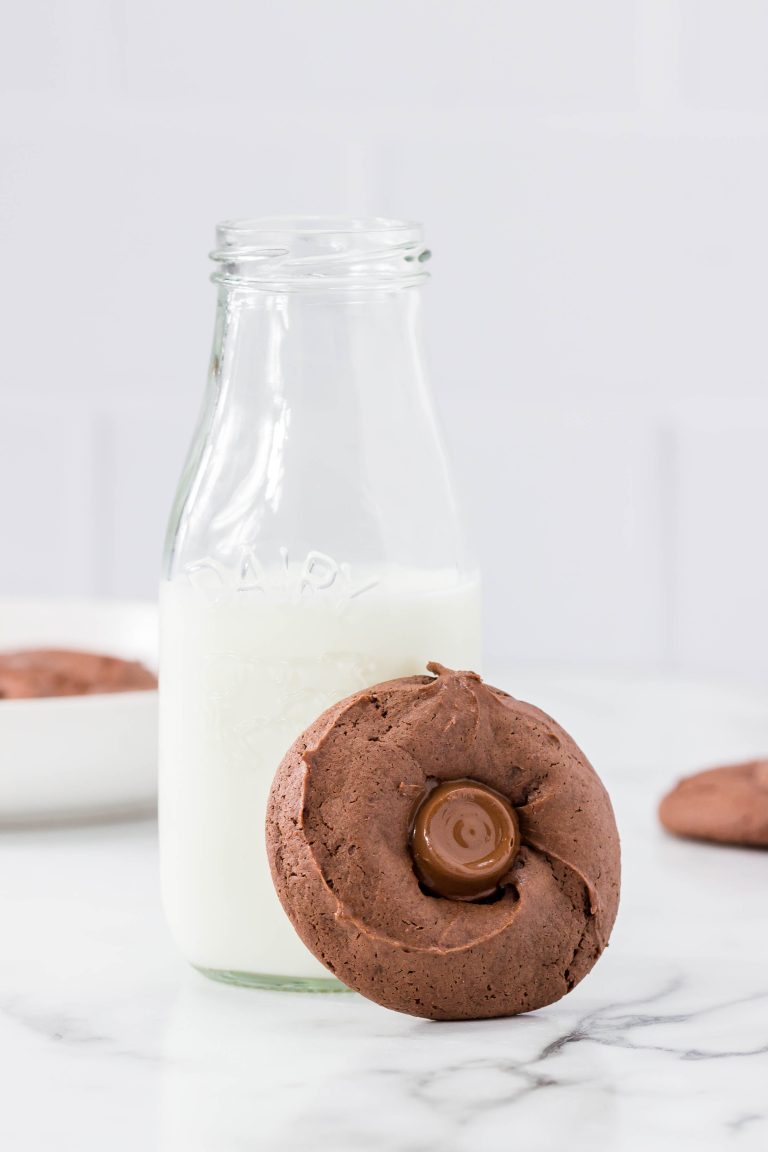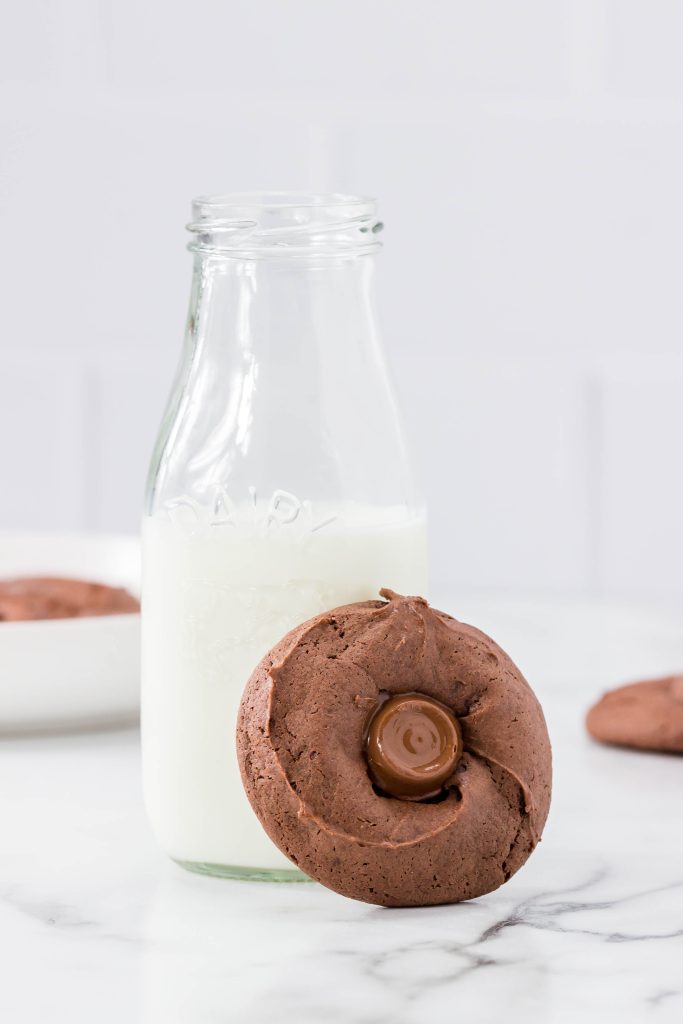 Other candy options
You may love Rolos and you may go to make these cookies only to find that you kids have eaten all of the Rolos. Don't worry, you can still make incredible cookies. Basically, anything chocolate that is leftover Halloween candy can be used in these chocolate cookies. Here are some substitution ideas for Rolo candies in this cookie recipe.
Snicker– I like to use the mini ones or I chop them. Remember that Snickers also have peanuts in them for people with allergies who do not like nuts.
Hershey's Kisses– You can use original Kisses or you can get creative with the different flavors. There is a caramel version, but there are so many others, like birthday cake, chocolate covered cherry. Seriously you can take these cookies in a whole new direction with these.
Mini Reese's- If you are a peanut butter lover, you know, I don't even have to explain how good this would be.
Andes Mints– I haven't tried this yet, but it is on my list.
M&Ms– Again, there are so many varieties that you can change things up easily.
Milk Duds- My kids love these cookies with Milk Duds.
Sea Salt– I would add sea salt to any of the rich candies, like Rolos, Kisses or Reese's. It cuts the sweetness and adds a ton of flavor.
Add powdered sugar. If you want to take the cookies to a new level, add powdered sugar over the top.
Want to make these 4 ingredient Rolo cookies in to 5 ingredient Rolo cookies, you can add cream cheese. This makes these cookies truly decadent. You can beat in 8 ounces of cream cheese to these cookies.
You can make these cookies more like my other cake mix cookies by using a yellow cake min and then adding the Rolo on top. That is also a simple swap. If you like Rolos with other flavors as well, you can try adding them to the top of the Cake Mix Peanut Butter cookies as well.
More Cake Mix Cookies
How to Store Rolo Cookies
These are easy cookies to store. They will keep at room temperature on the counter in an airtight container for up to a week.
Will These Cookies Stay Soft and Gooey
These are soft, chewy cookies and the Rolo gets gooey and created the perfect texture. The cookies will stay soft as long as they are stored properly. Prevent them getting stale and the cookies will stay soft.
Love Recipes? Join our Facebook Group, The Best Must Try Recipes, Easy Delicious Recipes for Everyone
Freezing 4 ingredient Rolo cookies
These cookies are easy to freeze. You can freeze the dough before you bake them. I love to have ready made cookie dough, already scooped, in the freezer. Then I graba. few and can bake them and have a few cookies whenever I want them.
The idea is to freeze the cookies once they have been baked. Once the cookies have cooled, you can place them in a plate or place the cookie sheet directly in the freezer. Freeze the cookies for about 30 minutes until they are hard. Then you can place the cookies in the freeze bag. This prevents them from sticking together when you try to take some of the cookies out but not the whole batch.
To thaw, place the cookies on the counter for 4 hours.
How to stuff candy into a cake mix cookie
My easiest way, don't. So when I make my Rolo Cookies, I do not bother to stuff the Rolo inside. I like it right on top. This saves me time and then I don't have to worry about stuffing candy into the cake mix cookie.
However, I know some people like that bite into the cookies and getting the ooey gooey chocolate and caramel inside. In that case, you will want to take a pinch of cookie dough and press it out in your hand. Once it is large enough, place the Rolo inside and wrap the cookie dough around it. You ca do this with any candy.
If you are using a cookie scoop, then you will do the same thing except take the dough out of the scoop and place it in your hand before pressing it out.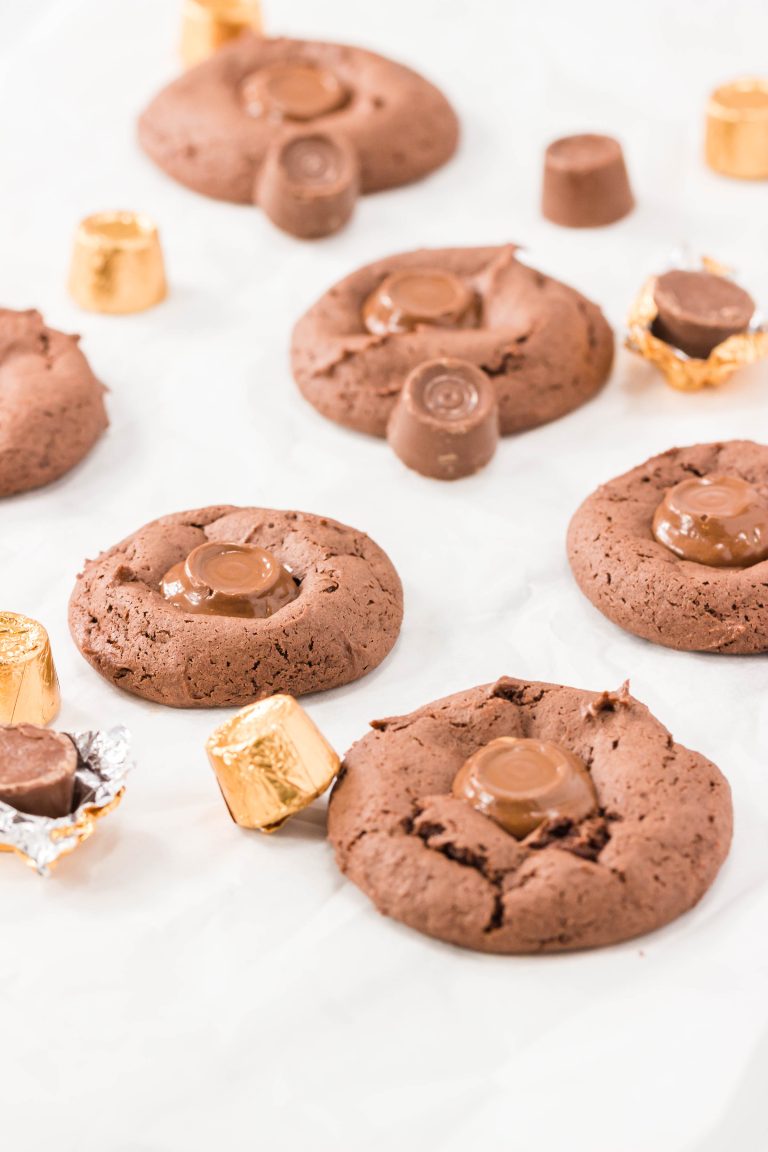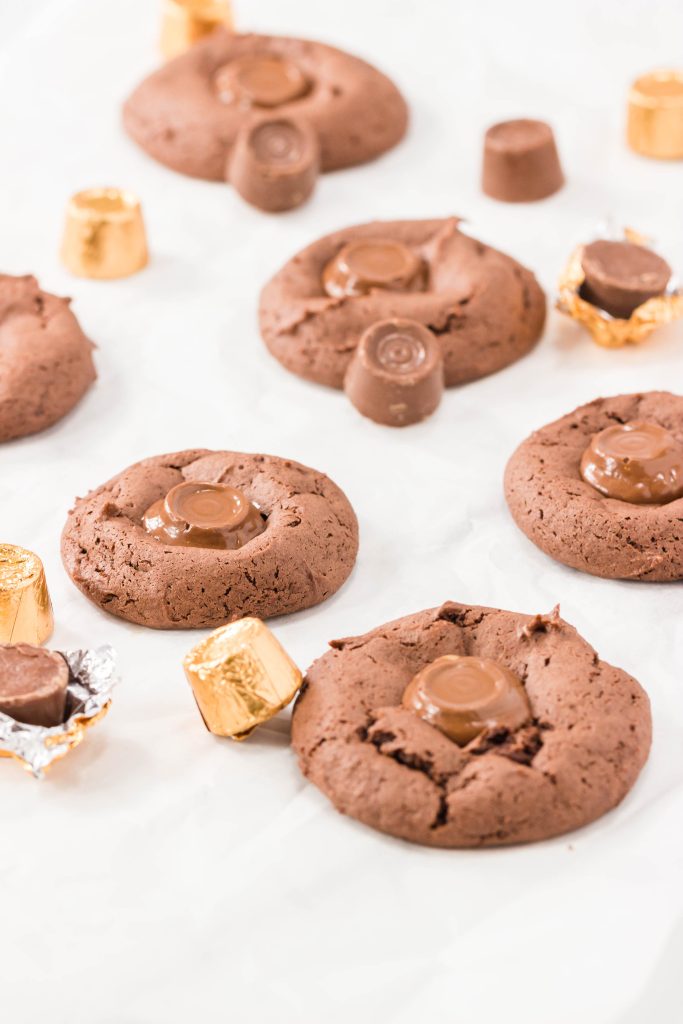 How to keep dough from sticking to your hands
If you are trying to stuff the cookies and you are having a problem with the dough sticking to your hands there are a few things that you can do. First, I always recommend putting the dough in the refrigerator for about 30 minutes. This will make the dough harder and makes it easier to work with.
Another option is to lightly spray your hands with baking spray. This will help with the stickiness too. You will have to reapply every few cookies.
Baking Tips for This Chocolate Rolo Cookies Recipe with Cake Mix
These cookies are so easy to make, it is almost impossible to mess them up.
When the dough is too sticky, place it in the refrigerator for about 30 minutes. This also helps if the cookies seem to be spreading too much.
Do not overbake them. The cookies will still be soft when they are done. Do not wait for the cookies to be completely set or for the edges to become brown, they will be burned.
Do not over beat the dough. The dough should be mixed until it just comes together. If you over beat the cookies, you will lose that fluffy, dense, chewy cookie texture that you get with these cookies.
Use parchment paper. I always recommend using parchment paper on the baking sheet. It prevents sticking and makes it easier to remove the cookies.
Unwrap the Rolos. I would either unwrap the Rolos while the cookies are baking or buy the ones unwrapped. You want to add the candies quickly so the heat of the cookies affects them.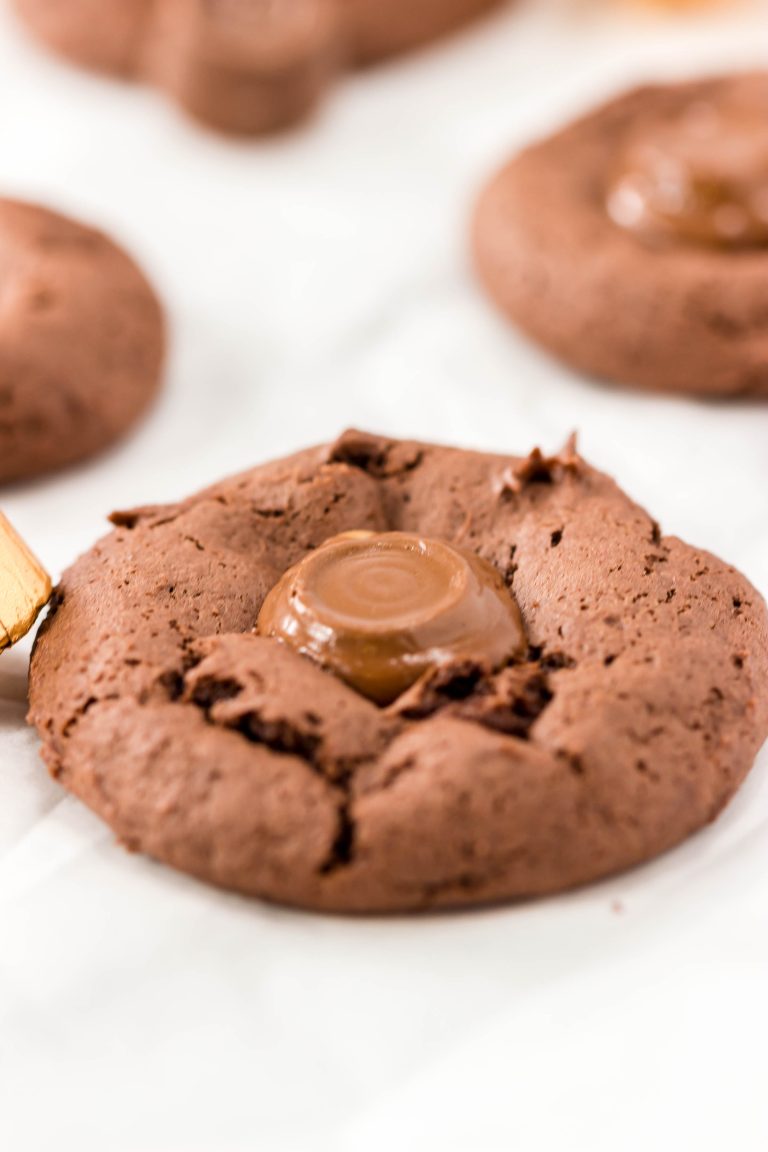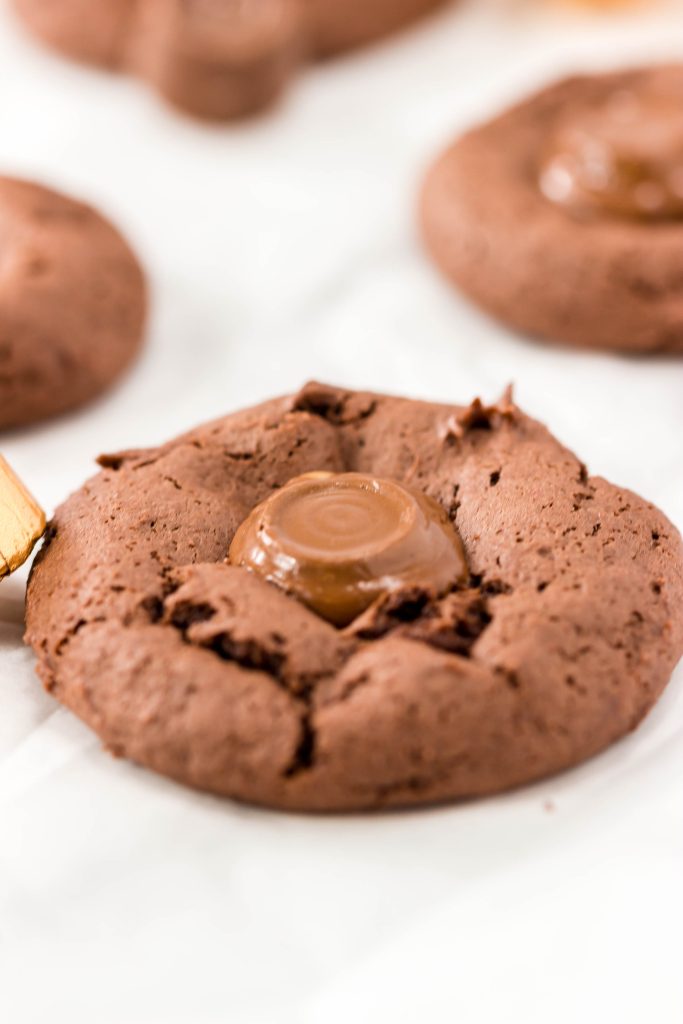 What Supplies do I Need
Hand mixer or stand mixer
Baking sheet
Ingredients
Get the full list of ingredients, with measurements, and step-by-step instructions at the bottom of the post in the printable recipe card.
Chocolate Cake Mix
Eggs
Vegetable oil
Rolos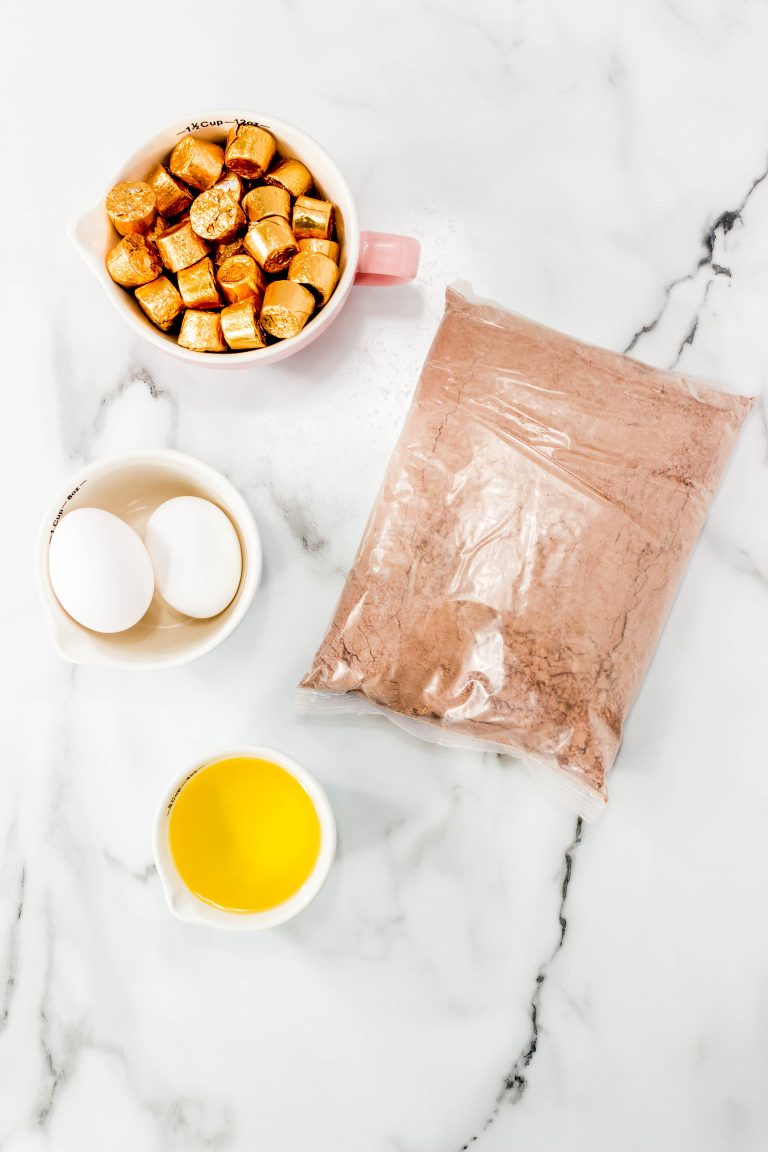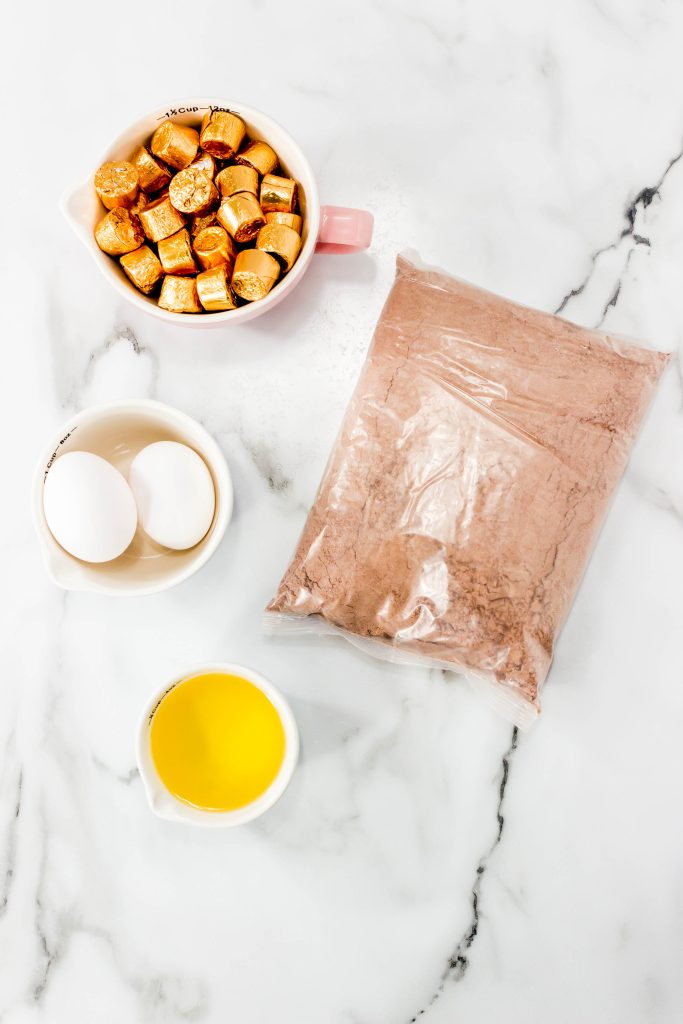 How to Make Rolo Cookies with Cake Mix
Preheat the oven while making the cookie dough.
Mix together the ingredients, except for the Rolos.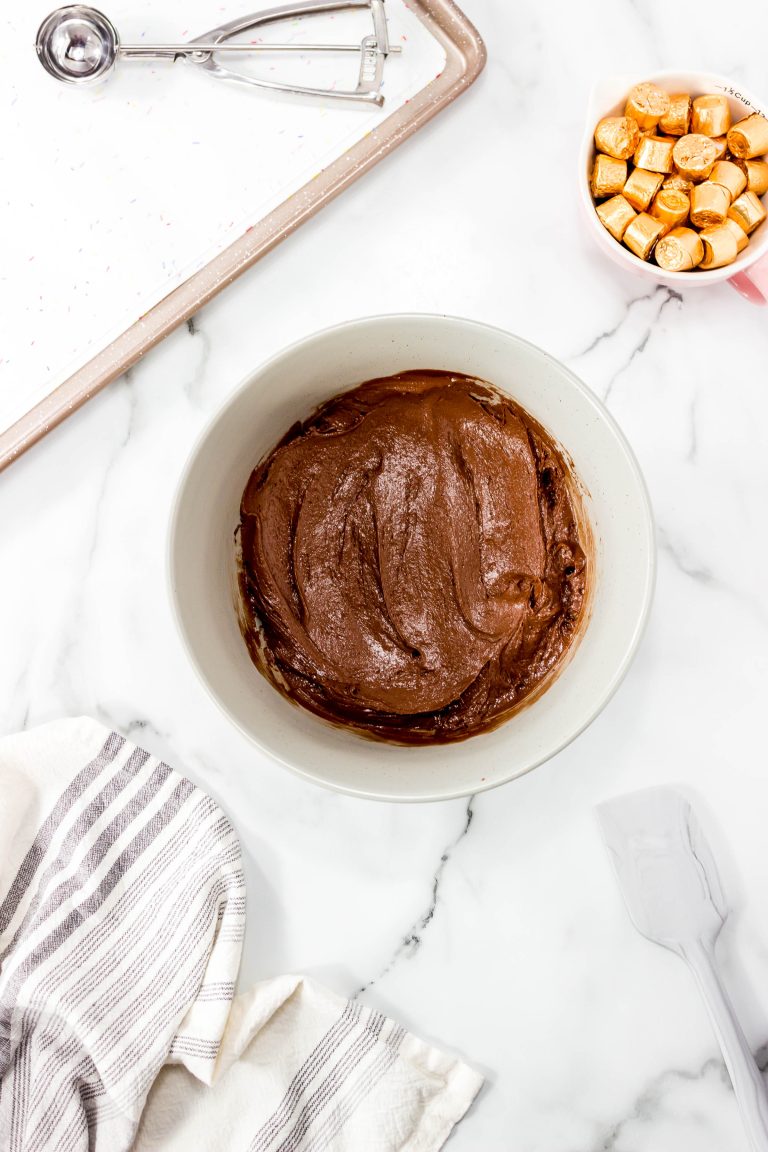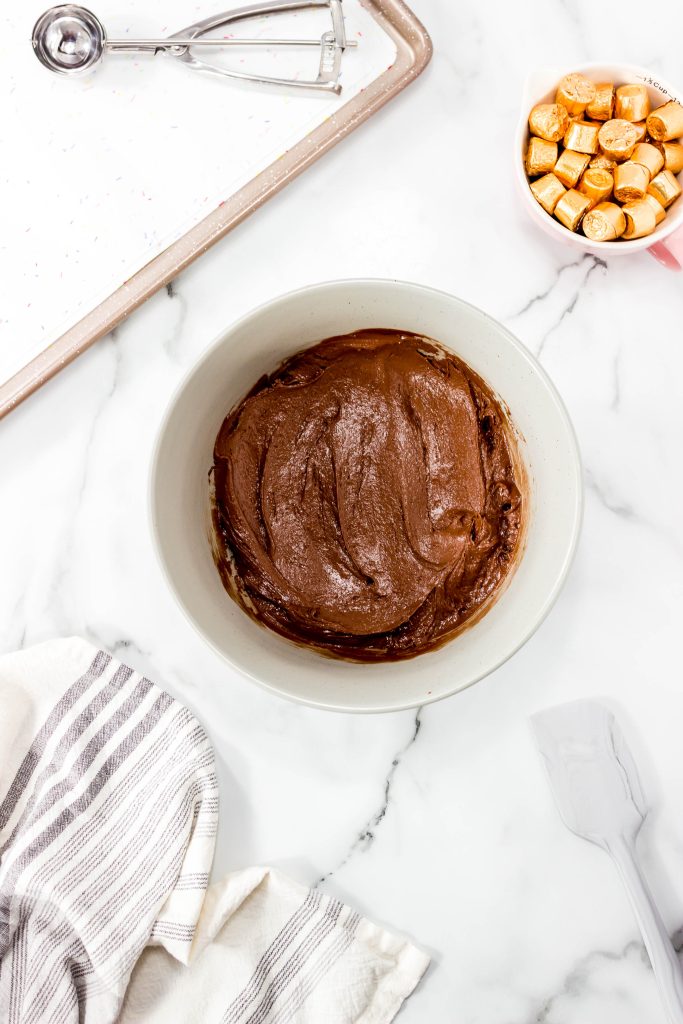 I do not stuff my cookies, but it if you wanted to stuff the cookies, there is where you would place the Rolo inside of the dough, however, for my method, scoop the cookie dough using the cookie scoop and place them on the cookie sheet.
Bake.
Once the cookies come out of the oven, place the Rolos on top of the cookies immediately.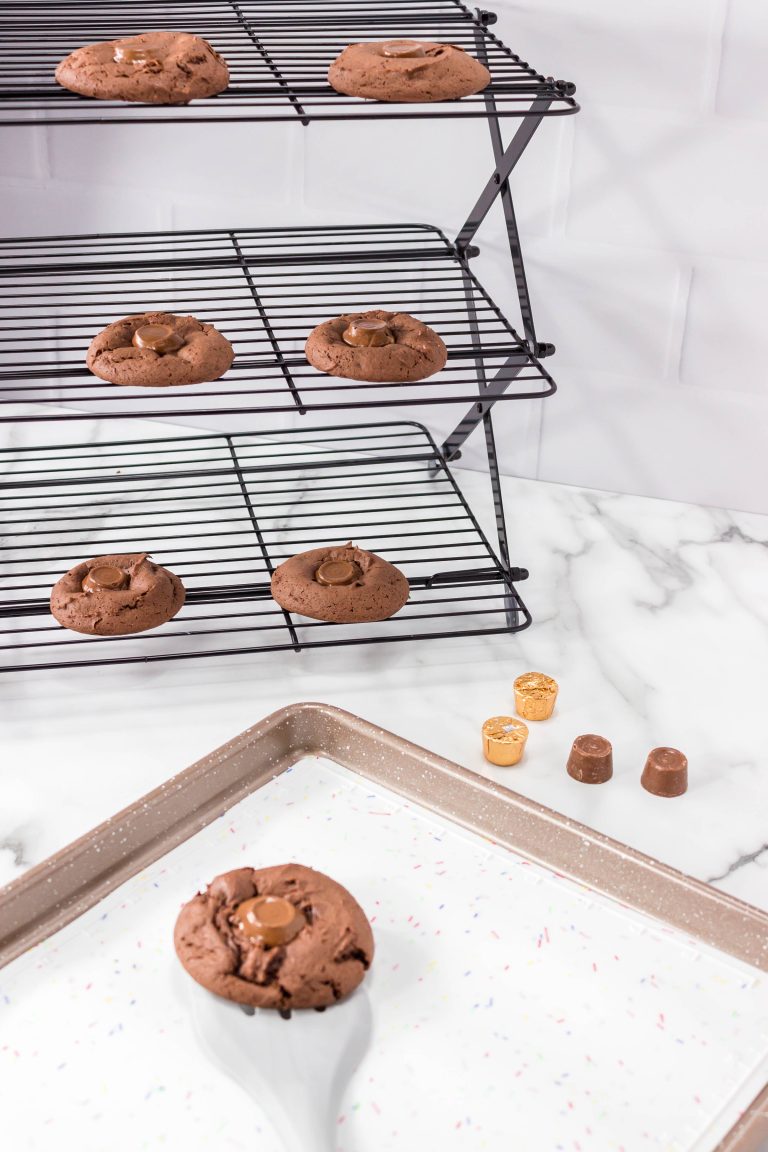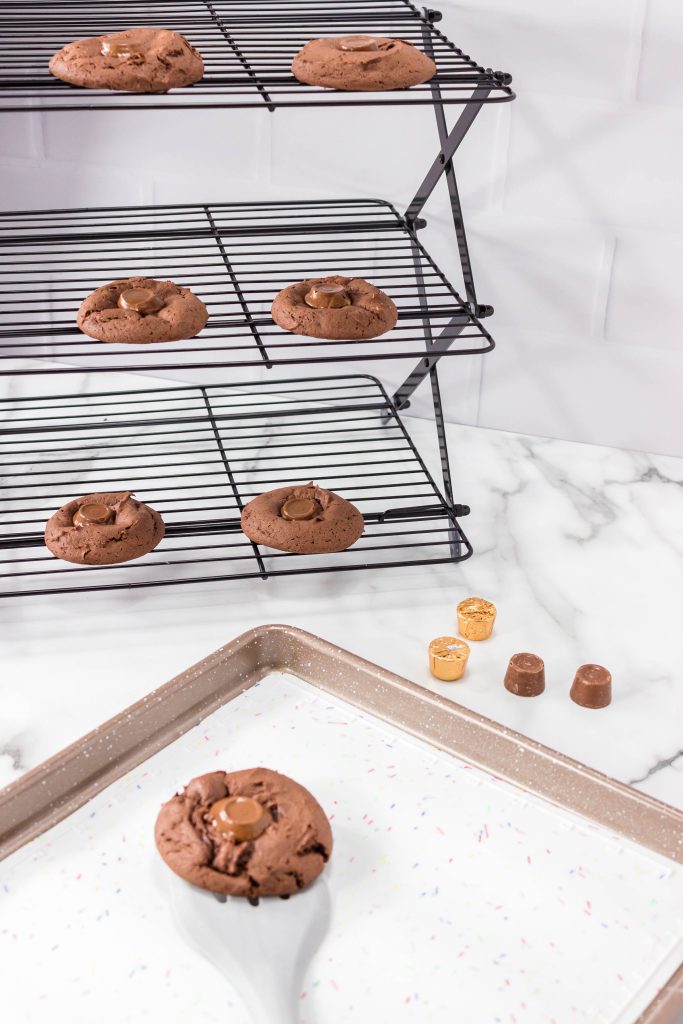 Let the cookies cool and then carefully move them to the cooling rack to cool completely.
Enjoy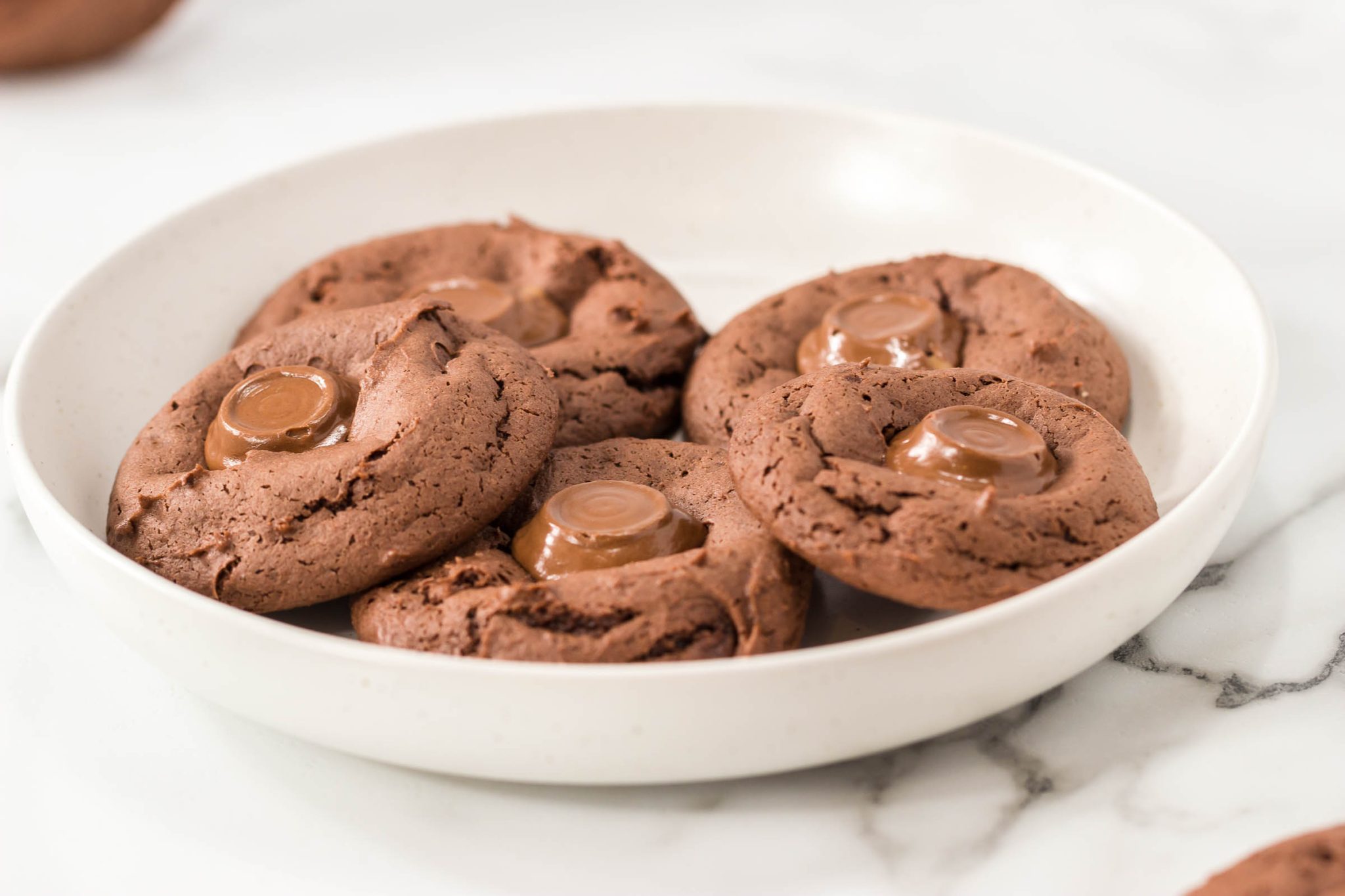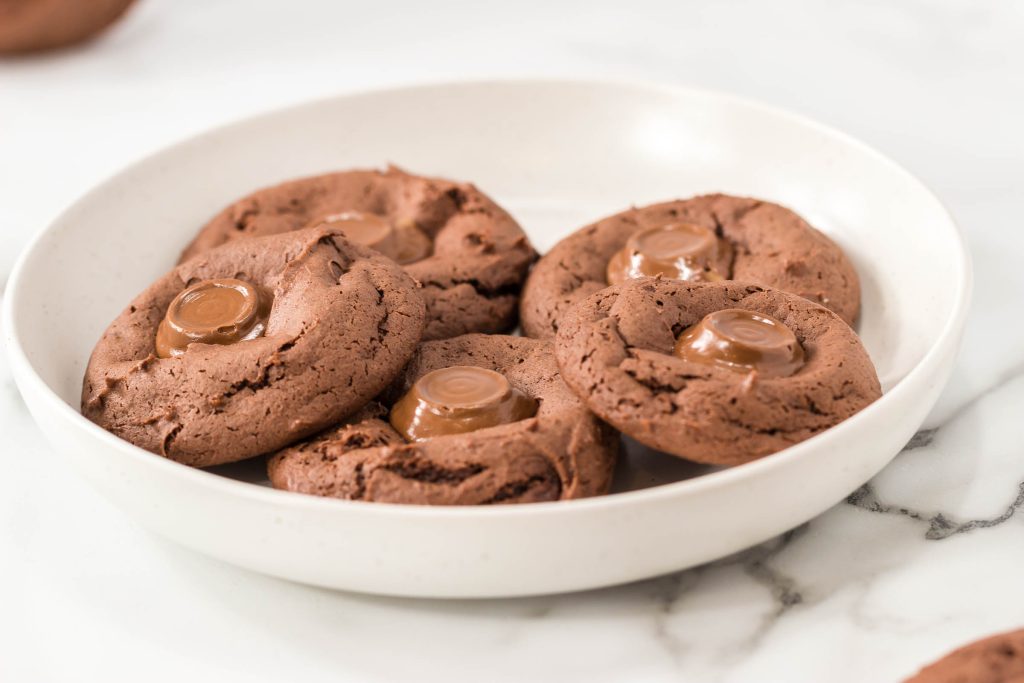 More Cookie Recipes
Are you on Facebook? We are too. Join us as we share our Perfectly Imperfect Life with recipes, crafts, parenting, and fun!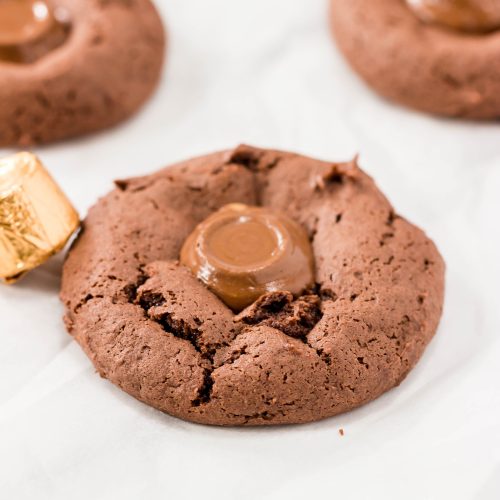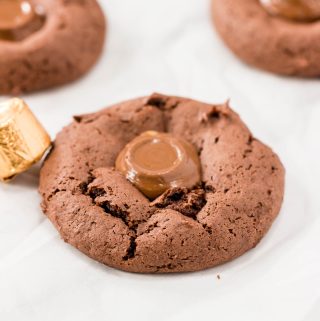 Rolo Cookies with Cake Mix
Rolo Cookies with Cake Mix are rich chocolate cookies with the perfect caramel bite on top that is perfect for holiday baking. These 4 ingredient cookies are so simple and easy to make.
Equipment
Large sized bowl

Hand mixer or stand mixer
Ingredients
1

box

Chocolate Cake Mix

18.25 oz

2

eggs

½

cup

vegetable oil

17

Rolos

or one for each cookie
Directions
Preheat the oven to 350 degrees.

In a large mixing bowl, add the cake mix, the eggs, and the oil.

Using your mixer, mix the ingredients following the directions on the box for a normal cake mix.

Using a cookie scoop or a tablespoon, or a teaspoon depending on what size cookies you are looking for, spoon the dough onto the silicone baking mat. Leave 2" between each cookie.

Place the baking sheet into the oven and bake for 10 minutes.

Once the cookies are done, remove the cookies from the oven and immediately place the Rolo candies on top of the cookies.

Allow the cookies to cool on the cookie sheet for a few more minutes. Then remove them and place them on a cooling rack to allow them to cool completely.

Enjoy!
Nutrition
Calories:
132
kcal
Carbohydrates:
27
g
Protein:
2
g
Fat:
2
g
Saturated Fat:
1
g
Polyunsaturated Fat:
1
g
Monounsaturated Fat:
1
g
Trans Fat:
1
g
Cholesterol:
20
mg
Sodium:
159
mg
Potassium:
18
mg
Fiber:
1
g
Sugar:
17
g
Vitamin A:
35
IU
Vitamin C:
1
mg
Calcium:
26
mg
Iron:
1
mg