Meet the ultimate recipe for busy people: a one-pot Skillet Pasta with Meatballs. It is perfect when your entire day filled with things to do and you don't have much time to make an amazing meal, it can be quite difficult to find quick recipes that are good but this dish has both of them in spades.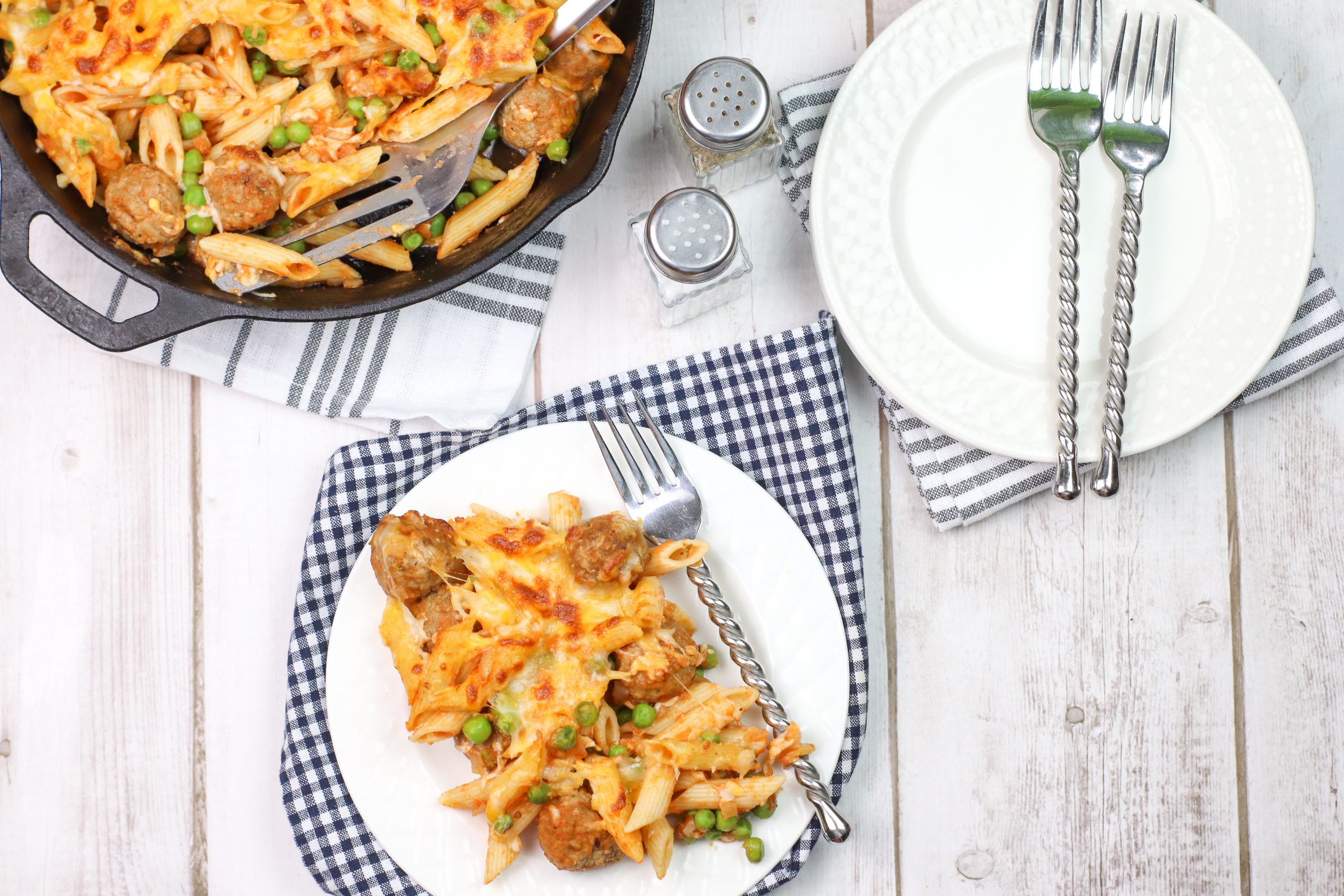 Instagram is one of my favorite places to be. Join us as we share our Perfectly Imperfect Life with recipes, crafts, parenting, and fun! Be sure to check out our stories for real-time fun!
Delicious Pasta Skillet with Meatballs
This Ground Beef Skillet is so good! This recipe uses premade meatballs, but you can make your own homemade if desired. The recipe, in general, is very simple and only uses a small list of ingredients like pasta, peas, onions, hot sauce, and cheese. The meatballs and pasta allow the recipe to be super filling and great for feeding a large family.
When it comes to delicious pasta dinners, I can not get enough. Some of my other favorite dinners are Amazing Copycat Cheesecake Factory Louisiana Chicken, The Best Delicious Baked Ziti, Lightened Up Pizza Pasta Bake, and The Best Tuscan Chicken Pasta Recipe.
Making dinner in a skillet is so simple. You can make almost anything in a frying pan. I like to make Lemon Rosemary Chicken | Easy Skillet Chicken, Autumn Vegetables and Pasta Meal, and Cajun Pork Chops Skillet Meal are some of my favorites.
Can You Cook Pasta in the Skillet?
Yes, you can cook the noodles in a skillet. When adding the pasta to a skillet, you will want to make sure there is liquid in the skillet. The liquid will make sure the pasta cooks thoroughly and doesn't burn.
How to Make Pasta Flavorful?
The best way to add flavor to the noodles is by adding seasonings and other ingredients to the recipe. To start, cook the pasta partially. Next, you will add the pasta with your other ingredients to cook the rest of the way and absorb the flavors.
What Else Can I Add to My Pasta Skillet?
Definitely add additional vegetables to your recipe if desired. Any type of vegetables as well as seasonings will add flavor and texture. Also, add a blend of different meats if desired as well.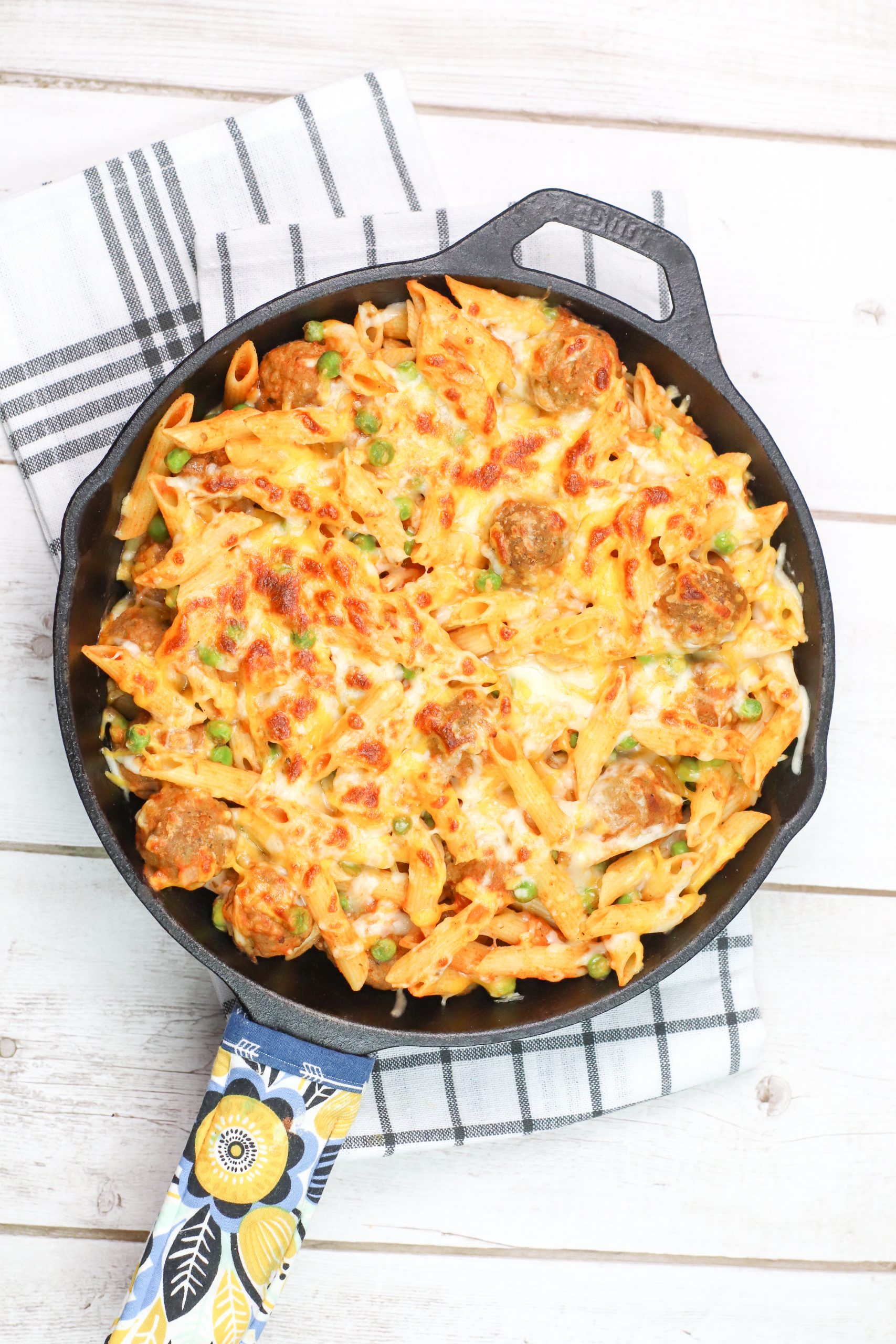 Can I Make This a Sausage Skillet Pasta Recipe?
Yes, you can use sausage in this skillet recipe. Swap out the meatballs for the sausage. Make sure to cut the sausage into bite-sized pieces.
How to Store Pasta Made in a Skillet?
You will want to store the recipe in an airtight container. Next, place the recipe in the fridge. You can also place the recipe into a Ziploc bag as another option.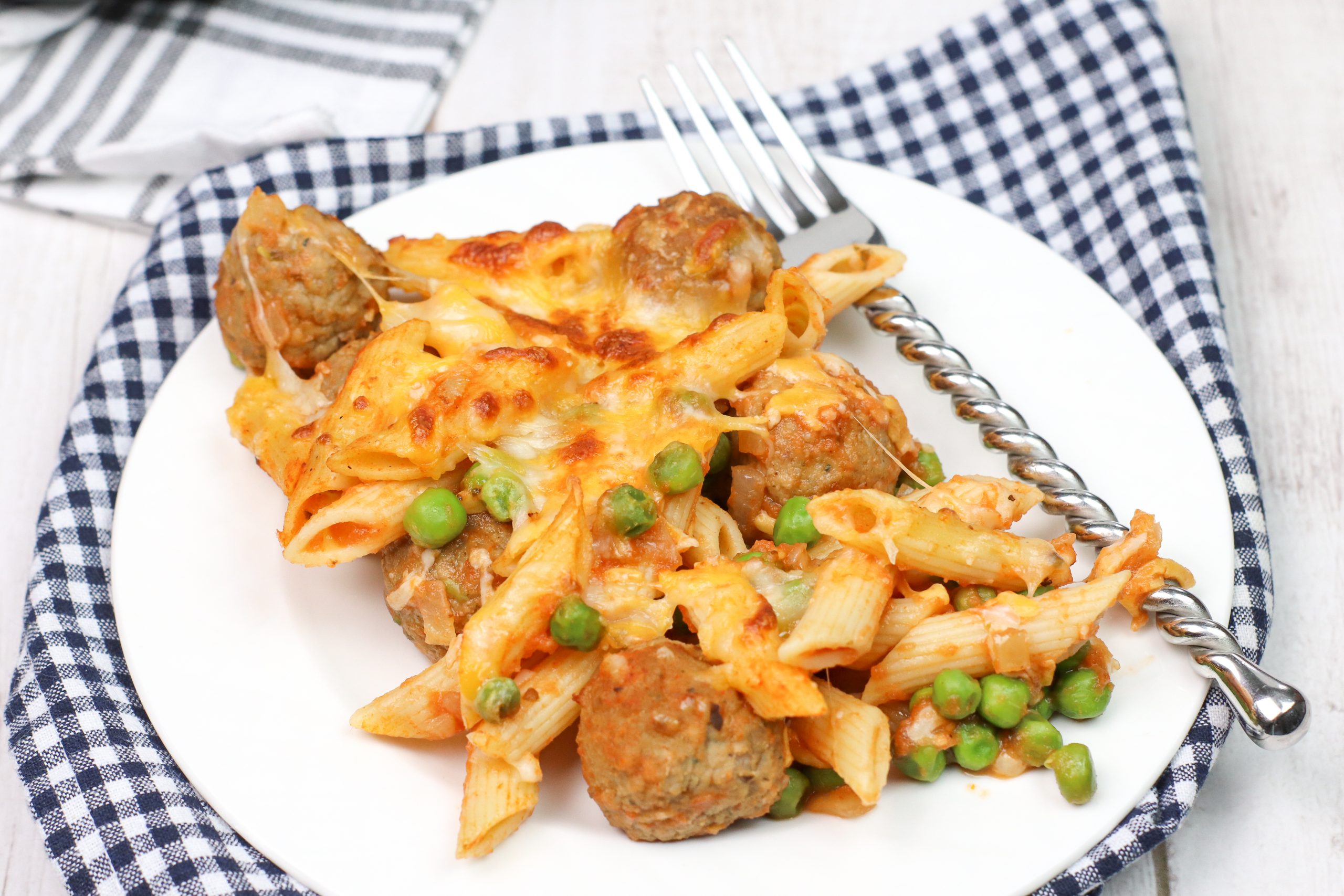 How Long Do The Leftovers Last?
This pasta recipe can last a while depending on where it is store. The container the recipe is placed in is also a big help in making sure the recipe doesn't go bad. Placing the recipe in the fridge will allow the recipe to last up to 5 days.
Variations to this Recipe
You can swap the meatballs with other meat is you prefer. You can use ground beef, chicken or pork. You can also add diced chicken or even sausage to this recipe. Spicy sausage is a great addition to this recipe, although some kids do not enjoy it with too much spice. Adding more vegetables is a great way to stretch your meal without a lot of added cost. This skillet pasta is a simple dinner that can easily be changed to make it exactly how you like it.
Can This be a Freezer Meal?
This recipe can be made into a freezer meal. Since you do not want to freeze the frying pan, you will need to make cook this recipe first and then move it to an airtight container or freezer bag. This is a great way to have dinner on hand that only needs to be reheated.
Another way to freeze this recipe is to not make it in a skillet. I know that seems backward since it is a skillet pasta meal, however, this makes it easy to freeze. You can heat everything and then freeze it before you bake it. Then you will add it to the skillet when you are ready to serve it to finish it off. You can also store it in a disposable pan and then it can go directly into the oven when you are ready to serve it.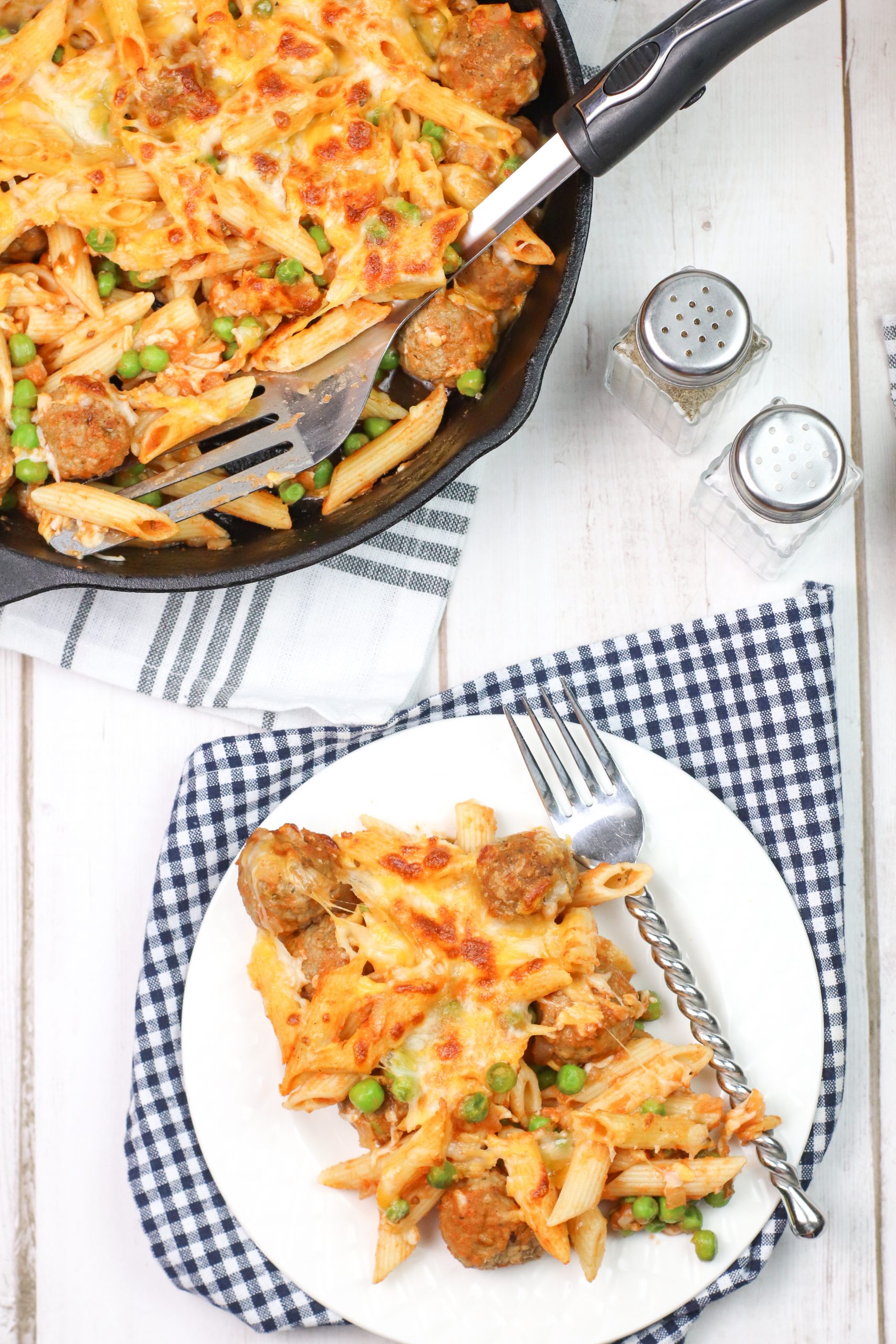 Ingredients
Meatballs- You can use frozen or homemade.
Pasta- Follow the instructions on the box.
Peas- You will need to thaw the frozen peas.
Sauce- You can use your favorite pasta sauce.
Onion- You will need a chopped yellow onion.
Vegetable oil- You can use canola oil as a substitute.
Hot Sauce- This will add spiciness to the recipe.
Water- This will be added to the skillet.
Cheese- You will need Colby jack cheese for this recipe.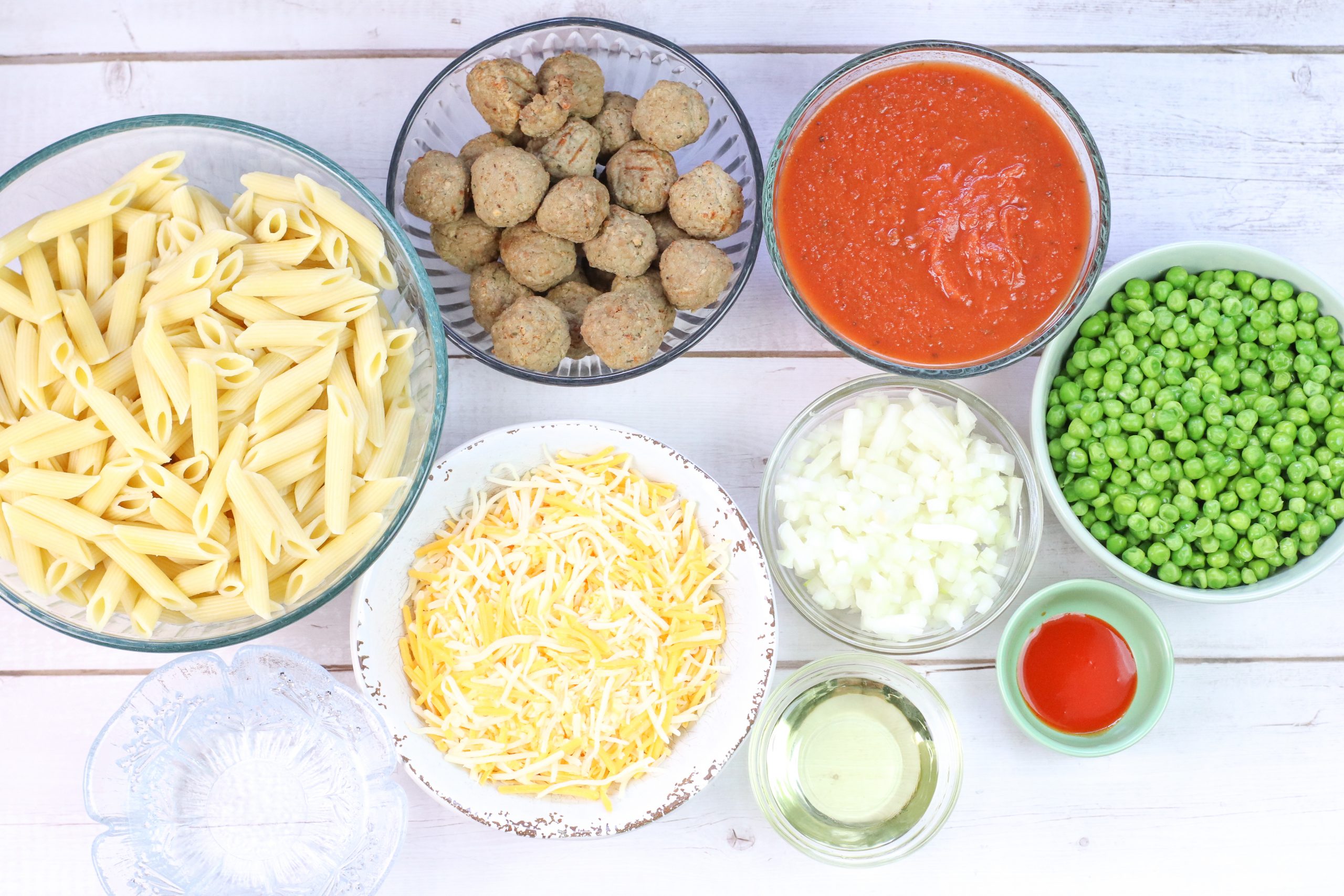 How to Make Cheesy Pasta Skillet with Meatballs
To start, set the oven to broil.
First, in a shallow dish, add in all the dry ingredients and whisk to combine.
Secondly, place a 12-inch iron skillet on medium heat with a bit of oil.
Next, add in the onions and stir every now and then until it becomes golden brown.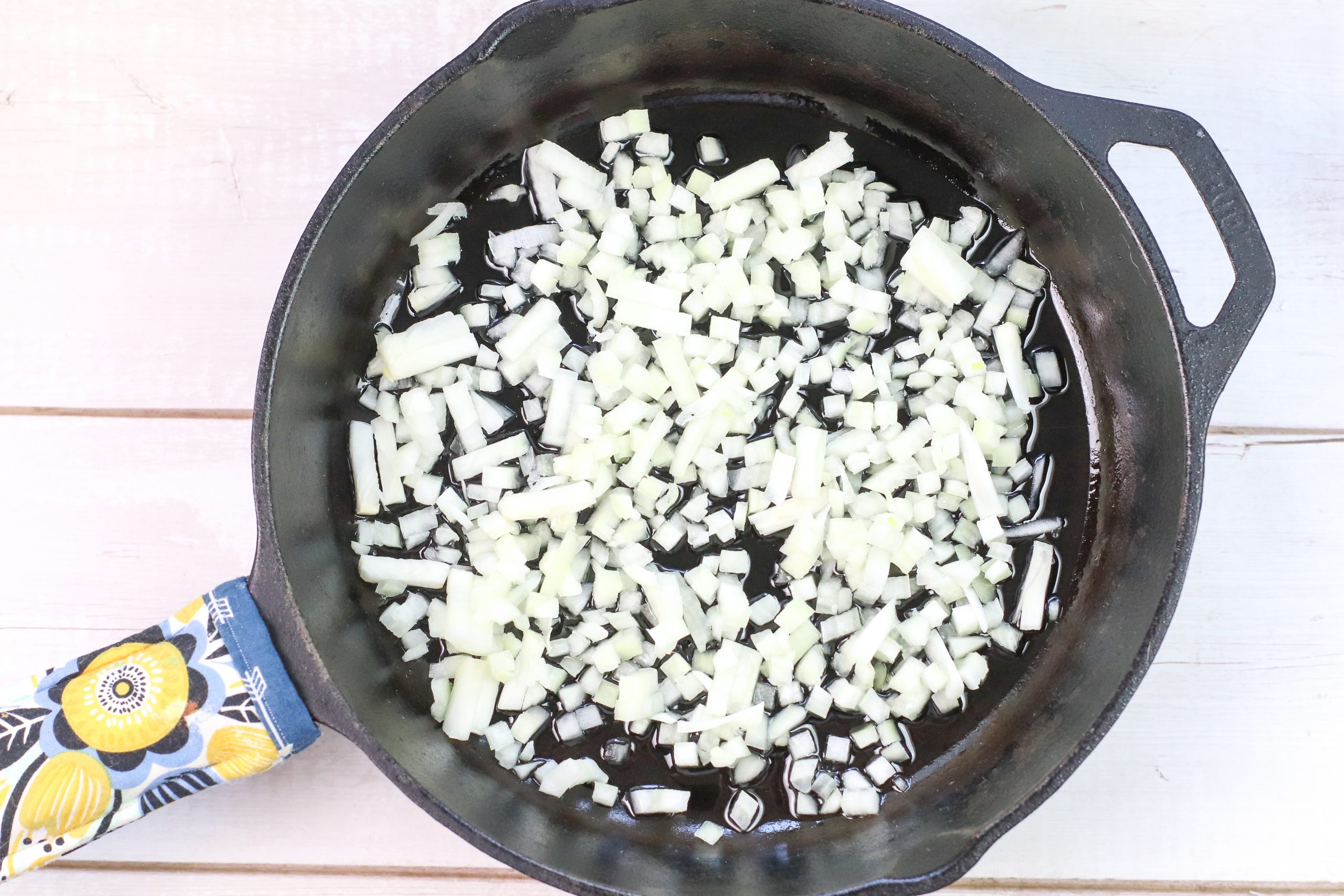 Next, add in the meatballs and heat until fully cooked.
After, add in the peas, sauce, and water.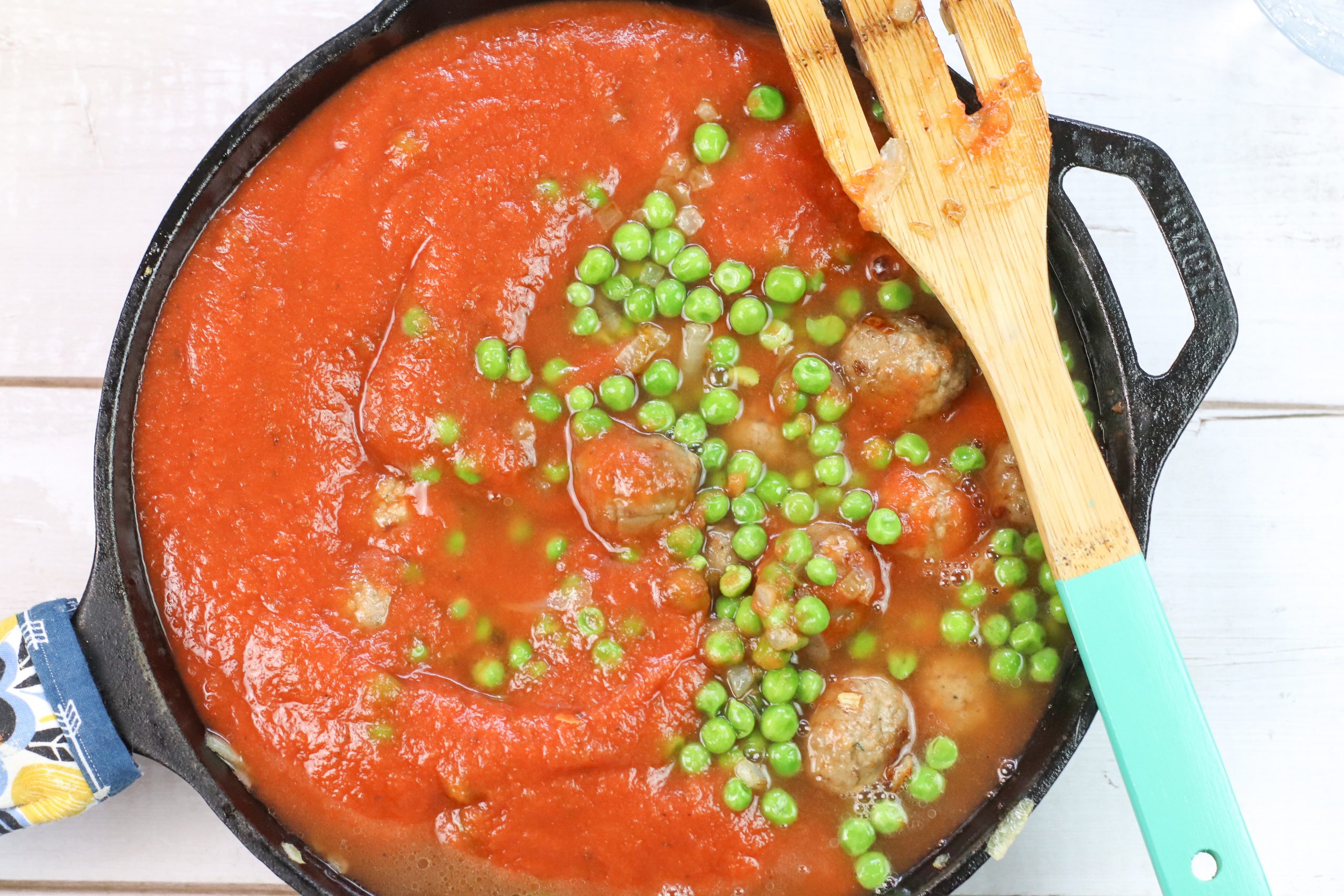 Then, put in the noodles and a cup of Colby jack cheese.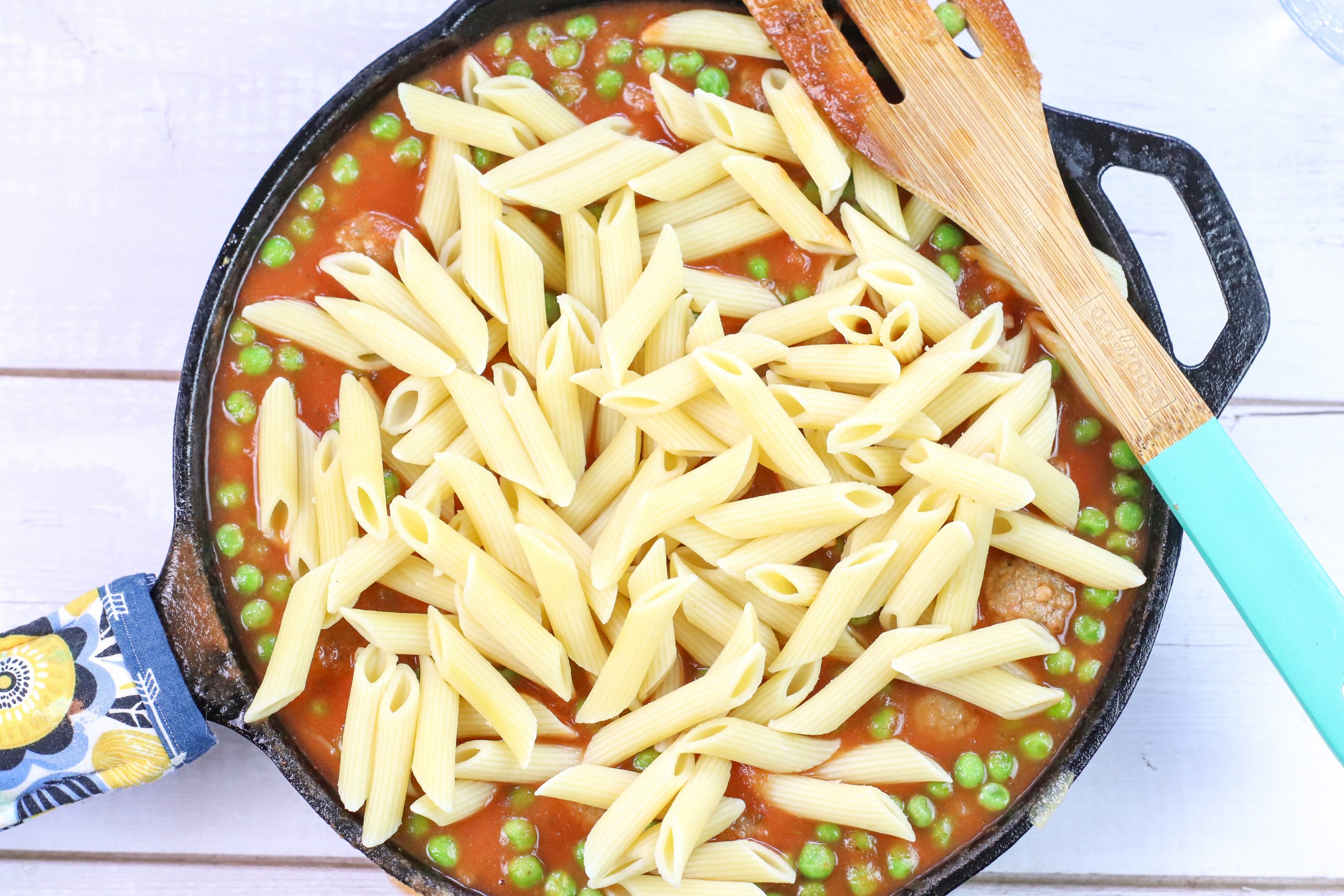 To finish, top the finished recipe with some more cheese and put the recipe into the broiler. Heat until the cheese is melted and starts to bubble, this should take about 3-5 minutes.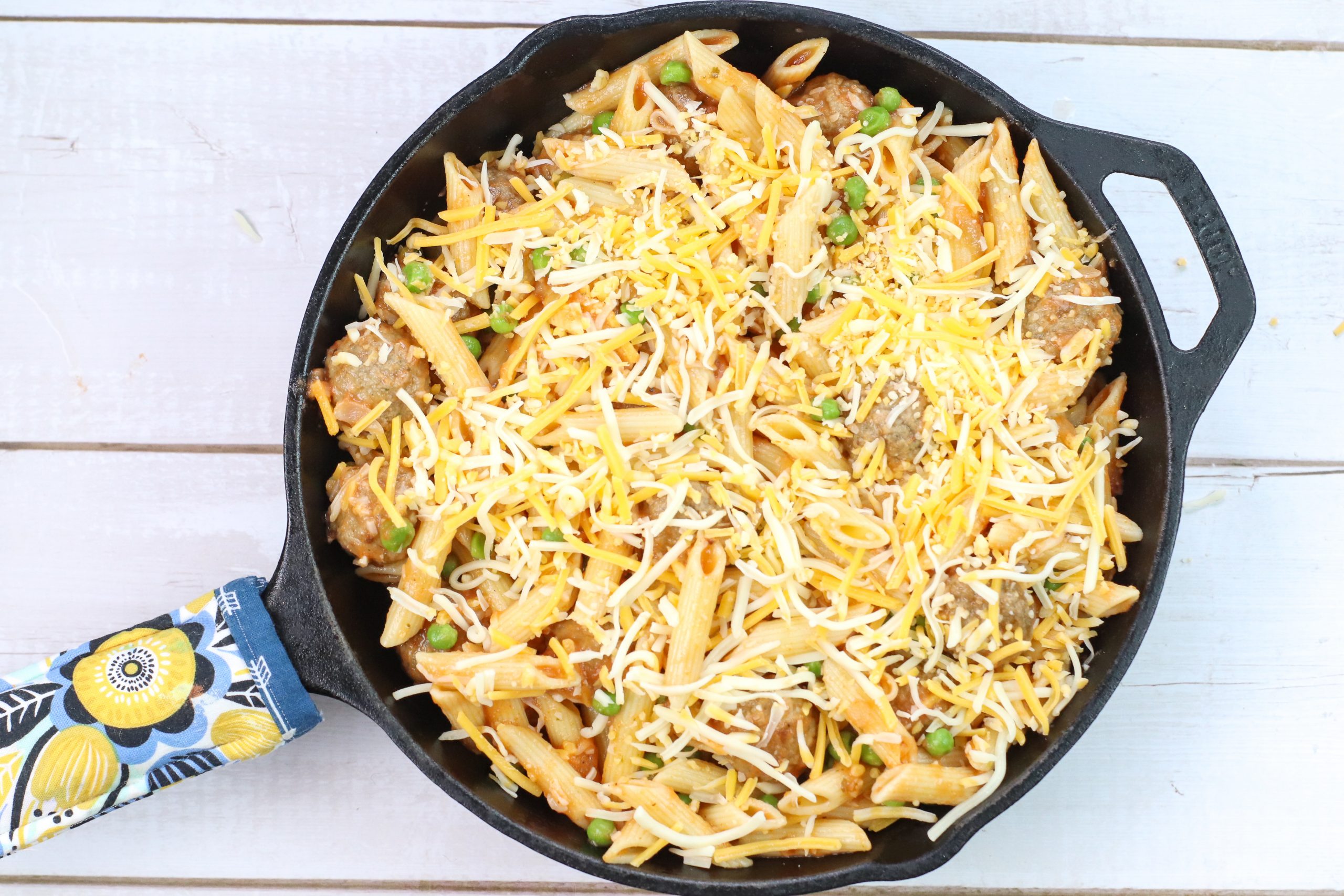 Finally, serve and enjoy!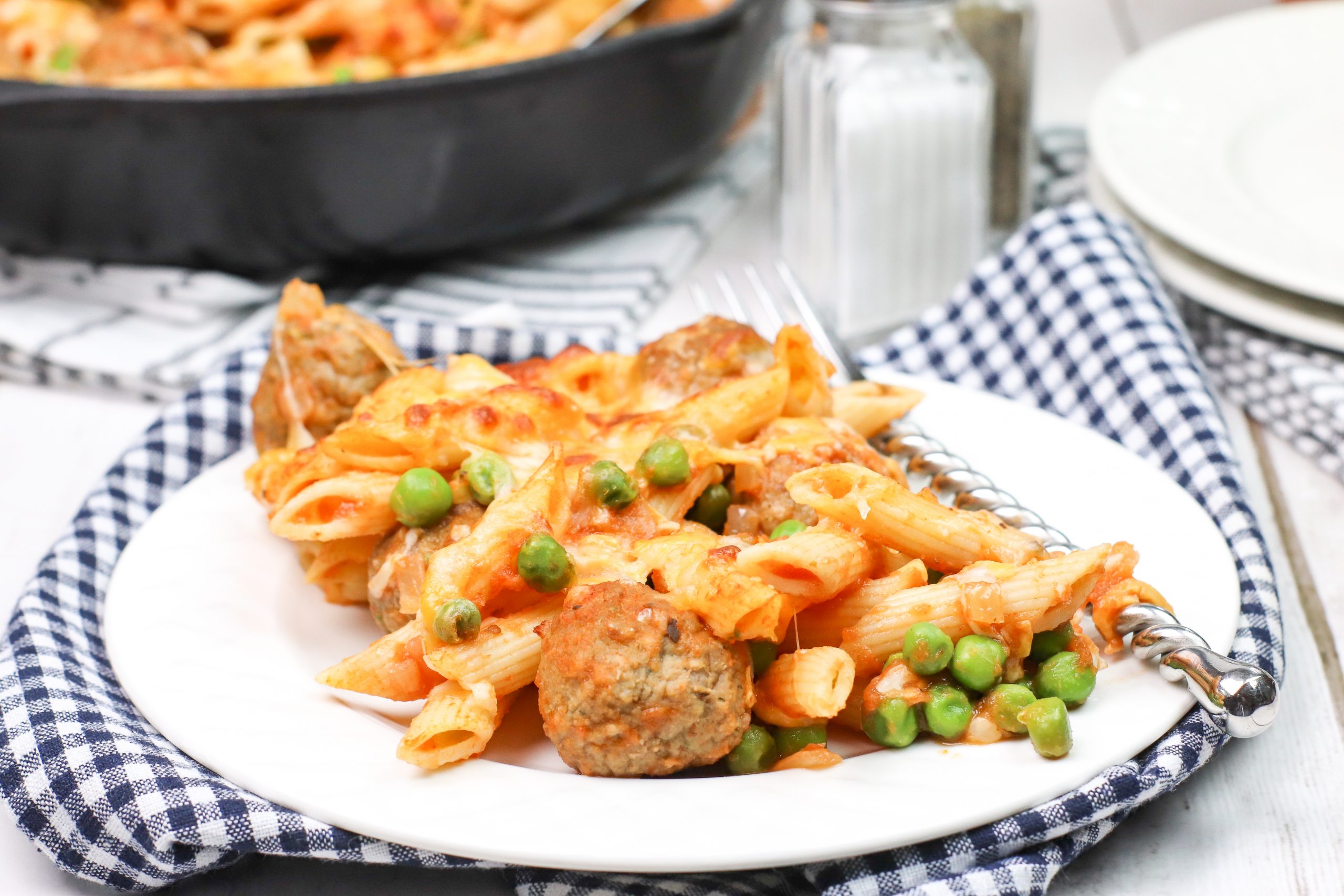 More Skillet Dinner Recipe: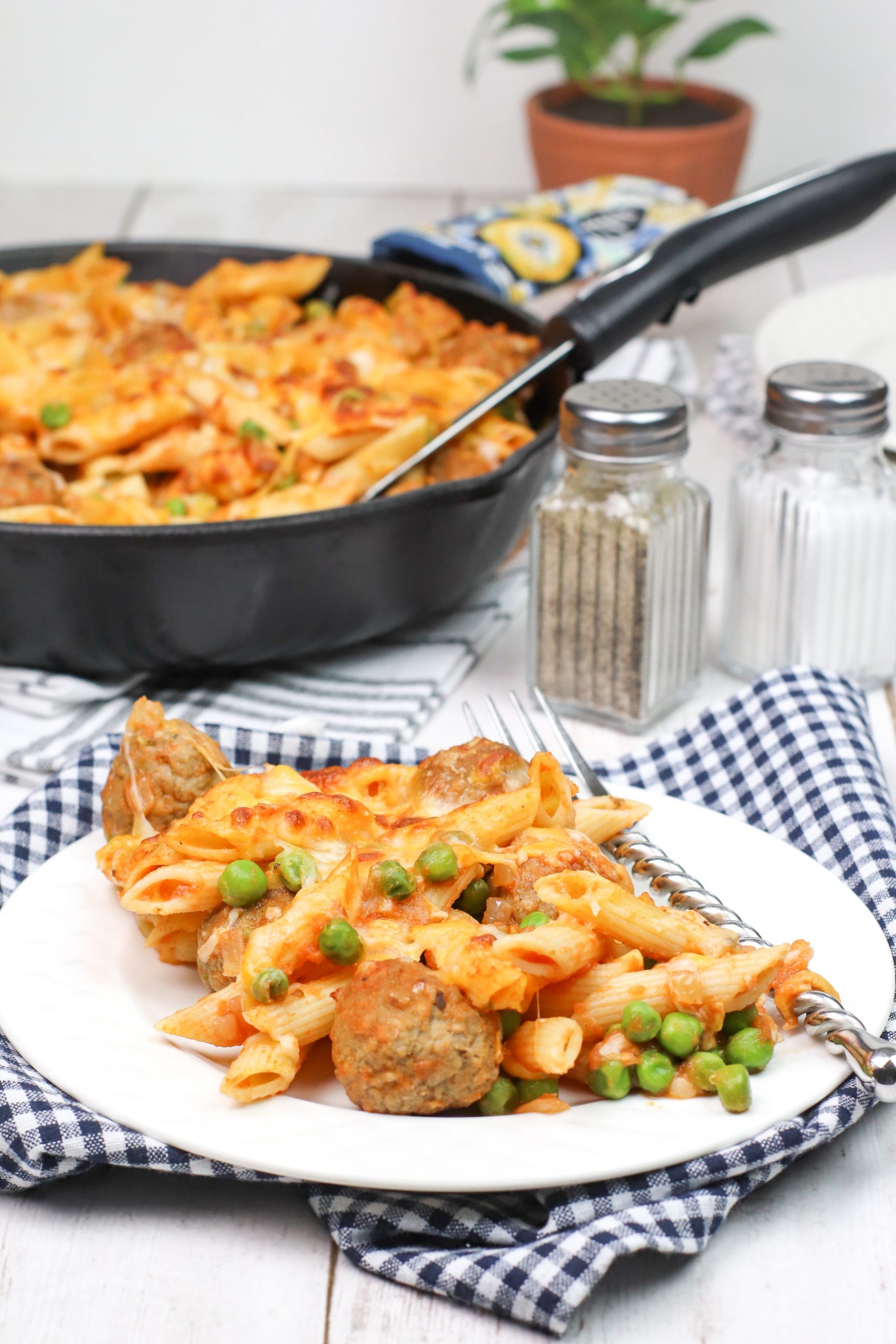 More Pasta Dishes
Love Recipes? Join our Facebook Group, The Best Must Try Recipes, Easy Delicious Recipes for Everyone
Want something low carb? Learn how to cook spaghetti squash perfectly every time so it tastes amazing.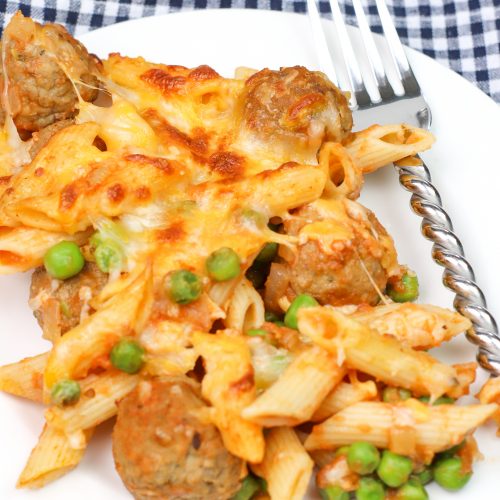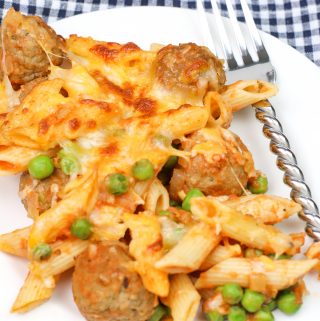 Meatball Skillet Pasta Recipe
Meet the ultimate recipe for busy people: a one-pot skillet pasta with meatballs. It is perfect when your entire day filled with things to do and you don't have much time to make an amazing meal, it can be quite difficult to find quick recipes that are good but this dish has both of them in spades.
Ingredients
1

batch

homemade meatballs

You can also use frozen meatballs

16-

ounce

pasta cooked according to package directions, and drained

12-

ounce

frozen peas thawed

24

ounces

pasta sauce

1

small yellow onion chopped

2

tablespoons

vegetable oil

2

teaspoons

hot sauce

½

cup

water

2

cups

shredded Colby jack cheese
Directions
Preheat oven to broil.

Add all dry ingredients to a shallow dish. Whisk well.

In a 12-inch cast-iron skillet, add oil and heat over medium heat. Add onions and cook, stirring occasionally, until they just begin to brown.

Add in the meatballs and cook until heated through, if the meatballs are already cooked. If not, cook until fully cooked. You might need to drain the grease if they are not precooked.

Stir in the peas, marinara sauce, and water.

Stir in the pasta and 1 cup of cheese.

Sprinkle the dish with remaining the remaining cheese and place the skillet under the broiler until the cheese is brown and begins to bubble (about 3 to 5 minutes)