Are you wondering what to do with all that leftover turkey after Thanksgiving? There are so many wonderful things to do with turkey after the big day, but here's one that is a bit out of the ordinary, but absolutely delicious. Have you tried to make noodle casserole from your leftover turkey? If not, you're in for a treat. It's super easy to make, doesn't take all day, and it gives you something yummy to do with all that turkey you may have leftover. You can forget all about those boxes of noodle mix (you know the popular ones you are supposed to add hamburger too) and instead sink your teeth into something healthy and good for you. Even the kids will love it!

Instagram is one of my favorite places to be. Join us as we share our Perfectly Imperfect Life with recipes, crafts, parenting, and fun! Be sure to check out our stories for real-time fun!
Why You'll Love This Turkey and Noodle Casserole
Turkey Noodle Casserole comes together fast and it is great any time of year. It has a comfort meal fee to it and it just tastes so good. Even my fussy eaters love when I make it. What I love the most about this casserole is it works with whatever you have. If you have canned veggies, use canned. If you have macaroni noodles, those work great, too. Even the condensed soup can be swapped out for the cream of mushroom or even cream of celery.
Feed a crowd. If you need a recipe that can feed a ton of people, then this casserole is for you.
Leftover Turkey. Thanksgiving is right around the corner, so use this recipe for your leftover turkey.
Perfect for any occasion. This recipe is great for brunch, lunch, dinner, or any other occasion where you need a delicious and filling meal.
Easy to find ingredients. All of these ingredients can be found at your local grocery store for a budget-friendly and tasty recipe in no time.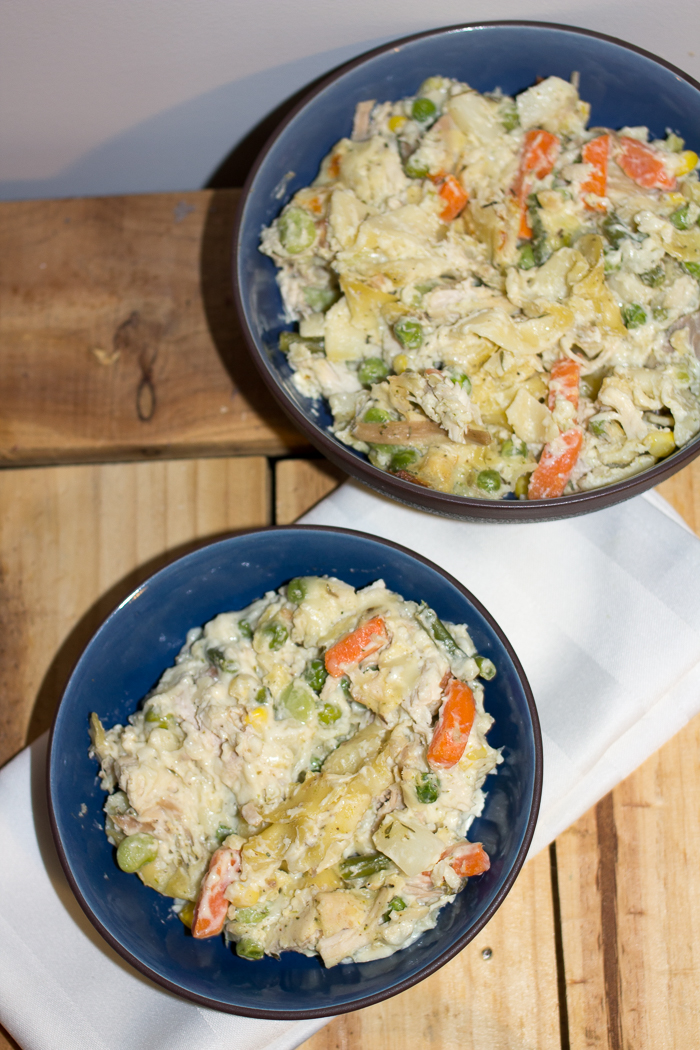 Love Recipes? Join our Facebook Group, The Best Must Try Recipes, Easy Delicious Recipes for Everyone
Equipment Needed To Make Best Turkey Casserole with Noodles
Ingredients For Your Turkey Noodle Casserole
Noodles– Use egg noodles for this recipe.
Turkey– Use your leftover Thanksgiving turkey.
Vegetables– Use frozen and mixed veggies for this recipe.
Chicken Soup– Use condensed 98% fat-free soup.
Sour Cream– Use fat-free sour cream for a creamier casserole.
Milk– Use fat-free milk for this recipe.
Thyme– Use the dried Thyme for additional flavoring.
Sage– Use dried Sage for additional flavoring.
Salt– Use this to bring out the flavors.
Pepper– Use this for taste.
How To Make A [Turkey Noodle Casserole
Step 1- Noodles.
Follow the instructions on the noodles box.
Step 2- Combining ingredients.
Add all of the ingredients into a large bowl.
Step 3- Preparing baking dish.
Grease a 2-quart baking dish and add in the noodle mixture.
Step 4- Baking the casserole.
Place into the oven for 25-30 minutes at 350 degrees until heated and bubbly.
What to Serve with Your Turkey Egg Noodle Casserole
This delicious and hearty is great for dinner time and it's always best when served with sides. Take any of these suggestions and you are sure to have an amazing dinner for any occasion.
Sides
You can enjoy this amazing Turkey Casserole with this amazing The Best Creamy Cucumber Salad Recipe Ever, Broccoli Bacon Salad without Mayonnaise, or this Asian Cabbage Salad with Peanut Dressing.
Desserts
After enjoying this delicious recipe, there is nothing better than having a great dessert afterward. You can have this Crunch Top Apple Pie, The Best Healthy Crustless Pumpkin Pie Perfect for Dieters, or these How to Make The Best Apple Pie Cupcakes.
Cocktails
Sometimes it is nice to enjoy a nice drink along with your meal. So, you can try out these tasty cocktails. This amazing Delicious Apple Cider Old Fashioned Cocktail Recipe, Rudolph's Christmas Themed Cocktail, or these other amazing Holiday Cocktails.
Popular Substitutions & Additions
Don't have egg noodles? You can use whatever noodles you want for this recipe and no matter what it will come out great.
Don't want turkey? Use other meats of your choice if you don't want turkey. Use things like chicken, beef, or pork.
Don't have mixed vegetables? You can use single frozen veggies like corn, green beans, peas, carrots, etc.
Are you on Facebook? We are too. Join us as we share our Perfectly Imperfect Life with recipes, crafts, parenting, and fun!
Turkey Egg Noodle Casserole FAQs
How To Reheat & Store Turkey Noodle Casserole?
You can place a serving of the recipe onto a serving plate and reheat it in the microwave. You can also reheat the recipe in the oven again.
Best Way To Store Leftover Turkey Recipes with Egg Noodles Leftover?
The best way to store the turkey casserole is in an airtight container. You can place the recipe in a baking dish with a lid and put it into a fridge or freezer to last longer.
How Long Will Turkey Noodle Casserole Last In the Fridge?
If the recipe is placed in the fridge and stored correctly, you can keep it for up to 5 days.
Can I Freeze Turkey Noodle Casserole Recipe?
Yes, you can freeze this noodle casserole. Freezing this recipe can extend the shelf life of the recipe greatly.
Can I Use Rotisserie Chicken Instead?
Yes, you can use Rotisserie chicken for this recipe. You can also use diced chicken for the casserole.
Can I Use Different Noodles in this Turkey Egg Noodle Casserole?
Yes, you can use different noodles for this casserole. You can use penne, shells, elbows, and more.
Can I use Greek Yogurt Instead of Sour Cream?
Yes, you can use greek yogurt instead of sour cream. It is lower in fat, calories, and has more protein. In WW it is lower in points, being free on purple and blue and low on the green.
How Many Weight Watchers Points in This Weight Watchers Leftover Turkey Recipe
When making this recipe, it is important to use low-fat or fat-free versions of the ingredients. When you follow the recipe, the recipes come in at:
Purple- 2
Blue- 6
Green- 8
You can also use Fat-Free Greek Yogurt instead of using fat-free sour cream. If you use Greek yogurt, this recipe comes in at
Purple- 1
Blue- 5
Green- 7
Other Weight Watchers Leftover Turkey Recipes You'll Love
Have you joined our Weight Watchers Facebook Group? Free recipes and support. Perfect for everyone!
Want to Weight Watchers for almost free? Get a Year's Membership for the Price of a Month – Learn More About Healthi – Use Code Coach_DebiMurray to save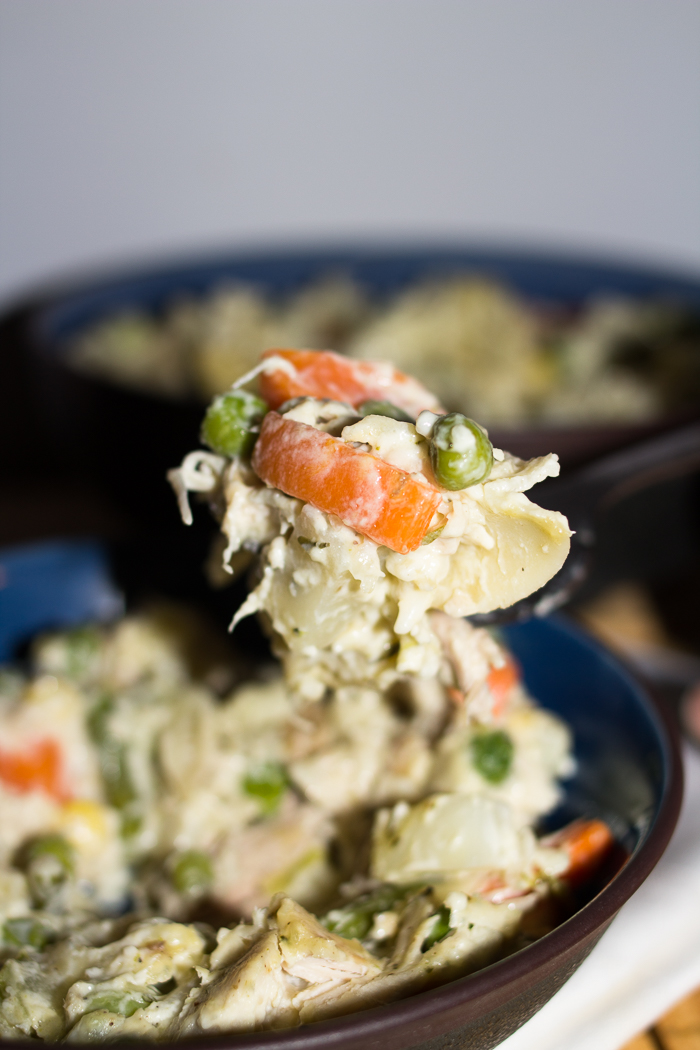 Need more ideas and help to stay on track with Weight Watchers?
Save Money on Weight Watchers- Get a Year for the Price of a Month – Everything You Need to Know About iTrackBites – Use Code Coach_DebiMurray to save
Don't Forget To Come Back And Let Me Know How Your Turkey Noodle Casserole Turned Out!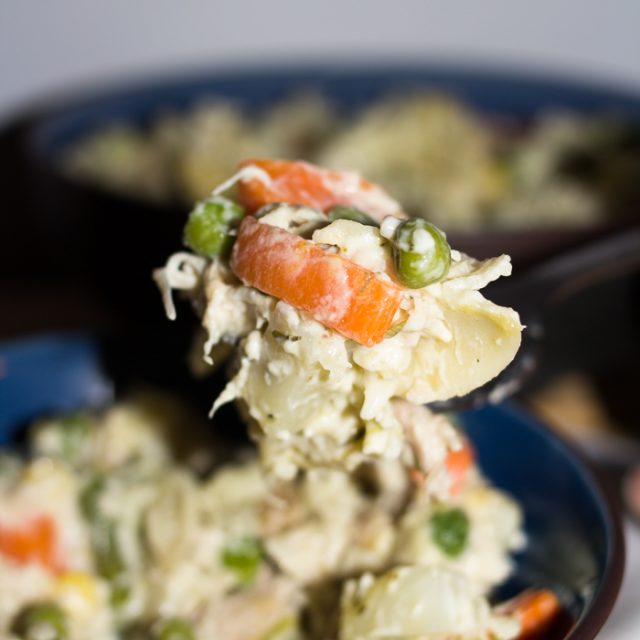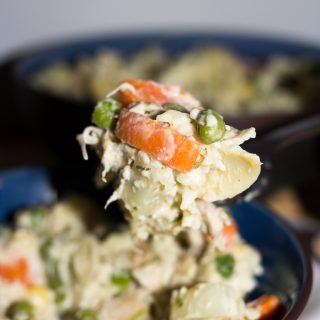 Leftover Turkey Noodle Casserole
Ingredients
1

lb

package of uncooked egg noodles

4-5

cups

leftover turkey You can do as much or as little as you like

1 1/2

packages frozen mixed vegetables

2

can condensed cream of chicken soup

2

cups

sour cream

1/2

cup

milk

1 1/4

tsp.

dried thyme

1/2

tsp.

dried sage

3/4

tsp.

salt

1/2

tsp.

pepper
Directions
Cook noodles according to directions.

Mix together all of the ingredients in a large bowl.

Spoon noodle mixture into a greased 2-quart baking dish.

Bake at 350 degrees for 25 – 30 minutes until heated through and the bubbly.